Best Airbnb & VRBO Vacation Rentals Near Carmel-by-the-Sea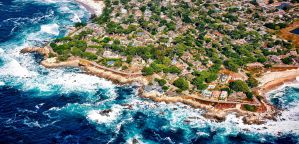 Carmel-by-the-Sea is a beautiful town along the California coast just five miles south of Monterey. The town is known for its dramatic views, white sand beaches, and award winning restaurants. From town you can drive along the scenic California coastline and take in the beautiful setting.
There are a wide range of vacation rentals near Carmel-by-the-Sea. Many have the charming personality that is iconic to the town, and some over luxurious touches such as pools and high end furnishings. Below are some of our favorites.
Where to stay near Carmel-by-the-Sea
Contents: Hacienda Aguajito - Luxury Carmel-by-the-Sea VRBO Vacation Rental | Majestic Carmel-by-the-Sea Vacation Rental | Beautiful One Acre Gated Carmel Estate Fully | Gorgeous Redwood Home Steps to the Beach | 4 Bedroom Carmel-by-the-Sea VRBO Vacation Rental | Carmel Modern Hacienda For Rent | Luxury Penthouse in Carmel | FairyTale Cottage - Carmel-by-the-Sea VRBO Vacation Rental
Jack's Peak
,
Carmel
,
California
This Hacienda is truly one of a kind. It was built over an eleven year period and sits on 11 acres of land. It is filled with collectibles and has the feel of a palace. This unique property has been features on such shows as The Discovery Channel's "Ultimate Homes - Great Escapes."
The 5 bedroom villa has space for up to 12 guests. The landscaping is beautiful with terraced gardens and patios that let you enjoy a truly unmatched experience in a stunning setting.
Hatton Fields
,
Carmel
,
California
This is a 5-bedroom, 5-bathroom estate that is built on one of the largest lots in town. It's conveniently located just a half mile from town and a mile from the beach.
The colonial style estate has beautiful woodwork and a gourmet kitchen. This is a grand property that is filled with luxury and special touches.
Rancho Rio Vista
,
Carmel
,
California
This stunning 4 bedroom estate has space for up to 8 guests. It's a gated property with a number of luxury amenities. Built on one acre of land, there's an outdoor pool table, a basketball court, trampoline, chicken coop, playground and so much more. The property is maintained to the highest standards and the experience is unmatched.
Carmel Point
,
Carmel
,
California
This gorgeous 6000 sq ft house has 5 bedrooms and space for up to 9 guests. The outdoor space is perfect for gatherings of all kinds including reunions, weddings, and get-togethers. There's a private pool that's heated for part of the year.
Inside there's a formal dining room, fireplace, gourmet kitchen, and any other amenities you might need. This house is truly a unique option in the area.
Mission Fields
,
Carmel
,
California
This 4-bedroom, 3-bathroom house is another beautiful option near Carmel-by-the-Sea. It's located on a small hill with views of the rolling hills around it. You can walk to the beach or nearby shops, or you could enjoy the beautiful outdoor space with its patio and fire pit.
The house has a gourmet kitchen and all of the amenities you might need to enjoy your vacation.
Carmel Point
,
Carmel
,
California
This house is a popular option in Carmel, as it has 3 bedrooms and 3 bathrooms and is comfortable for a small group or a small family. The house has been beautifully renovated and is both comfortable and stylish. The open floor plan means you can enjoy quality family time as you prepare meals or dine together. The outdoor setting is also beautiful and relaxing.
Golden Rectangle
,
Carmel
,
California
This Carmel house has a number of comfortable touches and a relaxing atmosphere. The 3-bedroom, 3-bathroom vacation rental has a nice long list of features and has room for up to 6 people. It's centrally located but still has plenty of space. There's a full chef's kitchen and a stunning outdoor space that's perfect for group gatherings. Whether you're traveling as a group or with family, this VRBO is a beautiful option.
Northeast Carmel
,
Carmel
,
California
With the character of a French country home, this 2 bedroom cottage is the perfect option or couples or small families. It's fairytale style with stone fireplaces and wood floors give it a lot of character and personality. It's convenient location near town also appeals to many visitors.
Some photos are courtesy of VRBO.com.
Share This Article