The Best Airbnb Places to Stay in Stroudsburg and Delaware Water Gap (Poconos)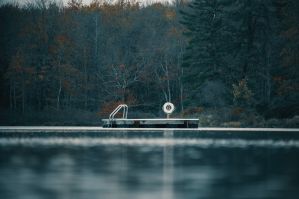 Stroudsburg is full of historical charm. This small town has beautiful architecture, great shopping, art galleries, wineries and breweries, museums, golf courses, restaurants, and bars. And don't miss the famous Sherman Theater! It's no surprise that this is a popular destination. Every summer the town hosts StroudFest, a family-friendly festival with live music, food vendors, and arts and crafts on the streets. And in the winter, don't miss the Winterfest with the famous Christmas Tree lighting ceremony. And nearby you'll find the Delaware Water Gap National Recreation Area with plenty of hiking trails, wildlife viewing spots, and amazing views over the surrounding hills. Also, this area is home to the Poconos NASCAR Raceway which brings in plenty of visitors during big events, too.
If you're looking for a great place to stay in Stroudsburg, look no further. We have researched the best Airbnb cabins and houses in and around Stroudsburg for your next trip to the Poconos. Most of the following rental properties have fully-equipped kitchens, laundry, extra bedrooms, and plenty of historical and mountain charm. If you are traveling as a family, a group of friends, or just a couple looking for somewhere romantic to stay, then read on because these places to stay are great for all types of visitors.
What are the best houses and apartments in Stroudsburg on Airbnb?
This 2-bedroom house in the historic downtown area of Stroudsburg sits in the best location to explore everything in town. With an elegantly historical charm both inside and out, this house has plenty of comforts mixed in with the atmosphere. With laundry, a full kitchen, and clean bathrooms, this is a good spot for a couple or a small family wanting to explore the area.
Here's a 2-bedroom craftsman style house with plenty of charm in a great location. As it sits close to the historic downtown, visitors can walk to plenty of shops and restaurants. The interior is cozy but not cramped. With a nice fireplace and a convenient kitchen, any couple or small family would be quite comfortable here. It's kept very clean, too.
This super-cute bungalow is close to all of the action in the historic center. With a fully-equipped kitchen, laundry, and nicely appointed furnishings, you really can't go wrong here. And it's also
very affordable
. With 2 bedrooms and 1 bathroom, it's just the right size for a family or a couple. They also provide a crib and other baby gear if you have a little one.
This 1-bedroom condo sits right on Main Street and is within walking distance to pretty much everything in the historic downtown of Stroudsburg. It's nicely appointed with a modern bathroom and comfortable furniture. The kitchen is more of a kitchenette, but it has enough of what you need to make some basic meals if you get tired of all of the nearby restaurants (but why would you?). And the front porch is terrific!
Here's a 2-bedroom apartment in a nice area of town with a full kitchen. It has a historical charm with modern touches. This is an ideal place for a family as the second bedroom has bunk beds. And at an affordable price, you really can't go wrong here for what's offered; it's a terrific value!
Located just off of Main Street in the town of Delaware Water Gap (next to the park area) is this charming studio apartment with a modern bathroom and a fully-equipped kitchen. As it's within walking distance to nearby shops and restaurants, as well as the park area, this is an ideal spot for a couple looking to get out into nature and have a romantic getaway.
Check out the photos!
If you're traveling as a couple and looking for a romantic getaway, the Cherry Valley Manor B&B has rooms available on airbnb for a variety of prices depending on the room. They are all very nicely appointed with elegant furnishings and sparkling clean bathrooms. And there's a pool! The location is also terrific as it's close to everything in town. The room includes a nice breakfast for 2 as well.
This spacious 2-bedroom apartment is in a house not far from the park. With modern amenities and a full kitchen, anyone would be comfortable here. It's a good space for a family. And as it's within walking distance to shops, restaurants, and hiking, the location is ideal, too.
Share This Article
Budget Your Trip

Budget Your Trip
is all about finding out how much everything costs so that you can travel cheaper and longer. With
average daily travel costs
that are calculated from the budgets of real travelers, you can find out how much money you need to plan your next adventure. On this website you can also find travel advice, accommodation reviews, and activity suggestions.
More Accommodation Options
Check out other places to stay in amazing destinations around the world.
Pin This Page
Some of the links on this website are sponsored or affiliate links which help to financially support this site. By clicking the link and making a purchase, we may receive a small commission, but this does not affect the price of your purchase.