5 Best Airbnb Vacation Rentals for Couples on Boca Grande & Gasparilla Island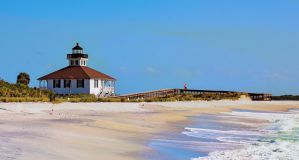 Boca Grande is located on Gasparilla Island in southwest Florida. It's an upscale area with a mix of seasonal residents and a small year-round population. The area is filled with old Florida charm and there are many classic homes in the community. There are also luxury resorts, miles of pristine beaches, and several natural areas such as the nearby Cayo Costa, which can only be accessed by boat.
Couples love Boca Grande for its romantic and tranquil setting. Many of the vacation rentals are in houses with multiple bedrooms, so prices can be a bit higher than other nearby areas, but the homes are luxurious and the amenities are impressive. Below are some nice options for couples in the area.
Where are the best places to stay for couples in Boca Grande?
Contents: 3BR Charming Beach Cottage with Pool | The Beachfront Sanctuary on Shore Lake | Boca Grande Beach Cottage | Boca Grande Beach House | 2 Bedroom BG Beach House
This charming beach cottage offers the perfect setting for couples who want to enjoy privacy and a larger space without the high price tag. The house is part of a larger building that is well maintained with beautiful landscaping. There's a heated pool and convenient beach access down a sandy path. The house comes equipped with beach chairs and an umbrella. There's also a golf cart available for rent that you can use to explore the area.
This house makes a wonderful romantic retreat for couples who want to enjoy a comfortable beach vacation.
If money's no object, this 3 bedroom "sanctuary" offers a true beach escape. It's modern decor, bright and airy atmosphere, and rooms filled with natural light make it a true modern paradise.
The house offers privacy, luxury, and a pristine sandy beach. Inside there's an open floor plan and designer furnishings. The large open windows look out on the blue waters of the Gulf of Mexico. There's a state-of-the-art kitchen and bedrooms that are professionally designed.
Outside there's a grand deck, a private pool, and lounge chairs that are perfect for relaxing. The ocean is just steps away.
This 2 bedroom Boca Grande Beach Cottage has a classic beach style and a vacation vibe that's perfect for a couple's retreat. There's a full kitchen that's nicely furnished and fully stocked. There's a balcony off of the master bedroom and a nice outdoor space with a grill, table, and community pool that guests enjoy.
The condo is also conveniently located just a short walk from the beach (well, it's really right on the beach so there's not really a walk!). It's also walking distance from town as well as near several bike trails, so you can easily get anywhere.
This beautifully decorated beach house is located on Pilot Street, which is a quiet setting. The house is close to the beach and walking distance to town.
There are 3 bedrooms and more than enough space for a couple to spread out. There's a large great room and a nice kitchen, but the real selling point is the outdoor space. There's a private deck with a seating area, a grill, and landscaping that makes the space private and peaceful.
This 2 bedroom unit is part of a 1 story duplex. It's the south unit, and it offers a modest, comfortable, and affordable option for couples. There are 2 bedrooms, a living room, and a kitchen. There's also a screened porch where guests can enjoy the Florida weather.
The location of this house is great. It's right across the street from the beach and there are tennis courts nearby as well. You can also be in the town of Boca Grande in just a short walk.
Some photos are courtesy of airbnb.com.
Share This Article