Groups love Pensacola for its diverse activities, natural beauty, and pristine white beaches. There's a culturally rich downtown with a beautiful historic area. There are also more lively beach areas and nearby communities that have a small town vibe. Groups usually appreciate vacation rentals and AirBnBs because they offer more space and kitchens where you can prepare meals. Below are some great AirBnBs in the area for groups.
Pensacola Beach
Groups love Pensacola Beach because it really has something for everyone. There's a lively beach scene, great restaurants, and beautiful white sand beaches. Some of the area's best vacation rentals for groups are listed below.
Beautiful 2 Bedroom Condo
This beautiful 2 bedroom condo can sleep groups of up to 6 people including the sofa bed. It's located in a beautiful complex that has a heated Gulf side pool and hot tub as well as easy beach access. The unit has a king-sized bed in one bedroom and a queen-sized bed in the other. There's also a nice outdoor space with excellent views.
Beach & Bay Waterfront Townhouse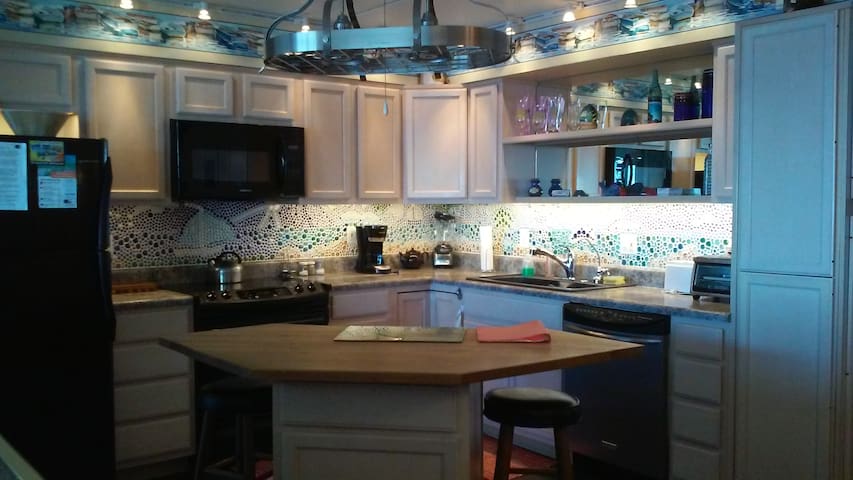 This 2 bedroom townhouse sits on Little Sabine Bay and is across the street from the beautiful white sand beaches of the area. The unit is a nice option for groups of up to 6 people. There's a queen bed in one bedroom, a full bed in the other, and a sofa bed in the living area. The space is a comfortable 1000 sq ft and the kitchen is well stocked so groups can enjoy preparing their own meals.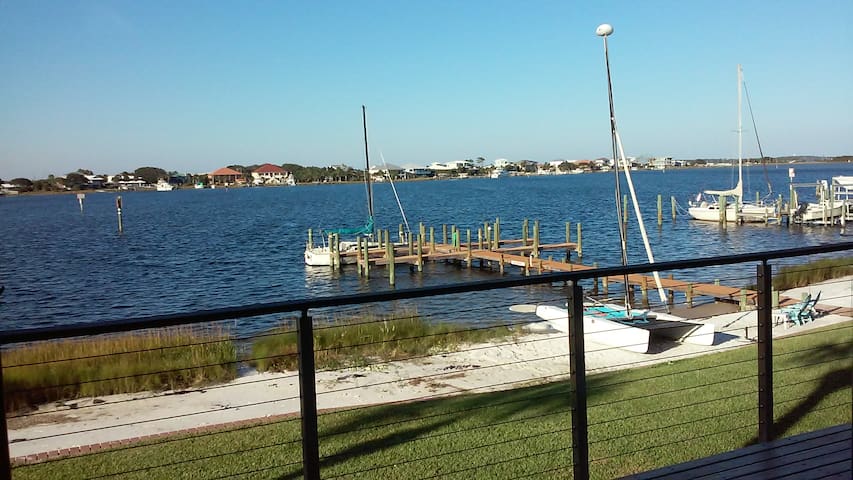 Bella Vida
This 2 bedroom condo is on the 7th floor of Sabine Yacht and Racquet Club and it offers impressive views of the Emerald Waters. The unit has 2 bedrooms with a king sized bed in one room and 2 queen beds in the other. The complex has plenty of amenities including a pool, tennis courts, sauna, fire pit, boat ramp, and fitness center. There are also plenty of great restaurants nearby, or you could prepare your own meals in the kitchen.
Beautiful 2 Bedroom Condo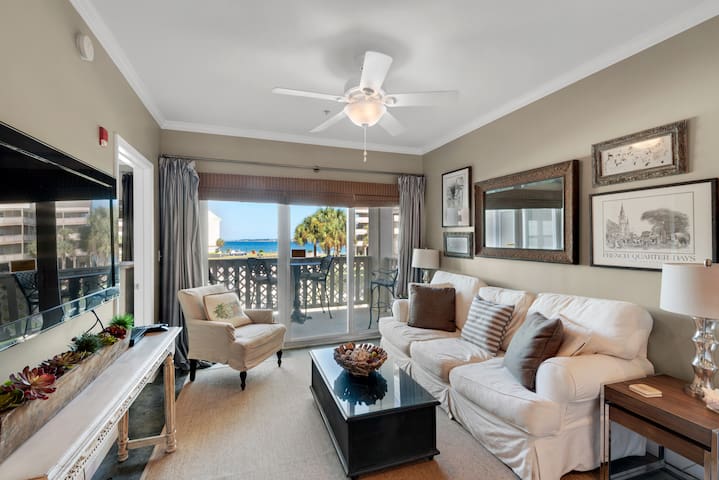 This 2 bedroom condo has a king bed in one bedroom and a queen in the other. Including the pull-out sofa it can sleep up to 6 people. It's beautifully furnished and is in a convenient location walking distance to the beach as well as many great restaurants. There's also a pool and a dock that guests can use.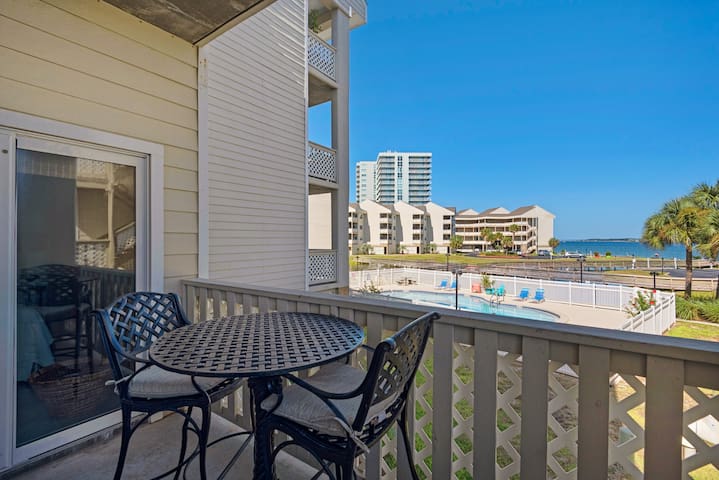 Downtown Pensacola
For groups that want to take advantage of the area's history and culture, downtown Pensacola is a great area. There are a few great properties for groups, some of which are mentioned below.
Casa Tarragona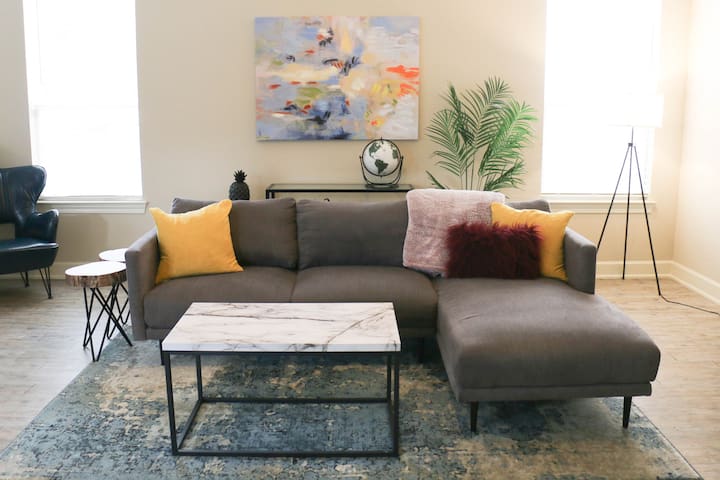 This simple 2 bedroom home is a great option for small groups that want to spend some time in downtown Pensacola. It's just a short walk from restaurants, coffee shops, and everything that Palafox Street has to offer. The home is well decorated and there's a full kitchen if you're hoping to prepare your own meals. There's also a private patio and a fenced in backyard.
Downtown Pensacola Cottage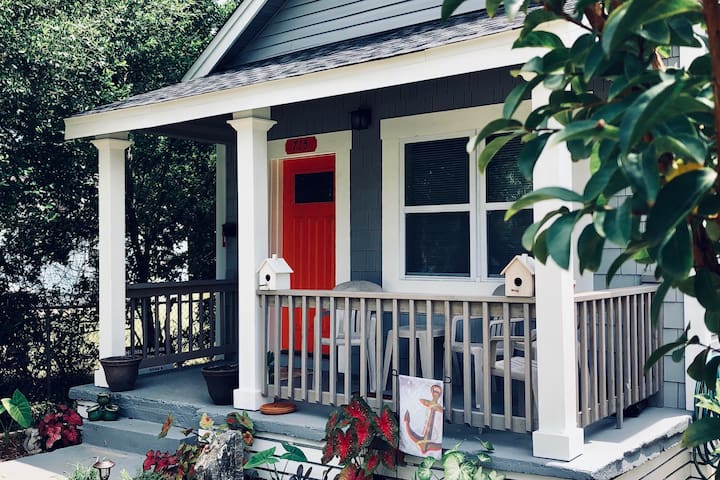 Another charming downtown home, this 2 bedroom house is nicely located and makes a peaceful retreat for a small group. The house was built in 1918 but has been renovated to include a kitchen and everything a group might need.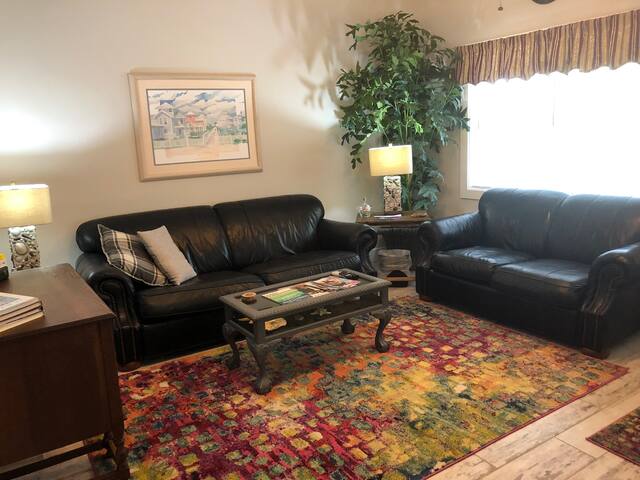 Navarre
Navarre is a laid back beach community that has pristine white beaches and a relaxed vibe. The area is situated between Gulf Islands National Seashore and Navarre Beach Marine Park, so it's the perfect destination for nature lovers. Groups who want to enjoy the quiet setting will appreciate the AirBnB's that are found throughout the area. Below are just a few options.
Ocean Sound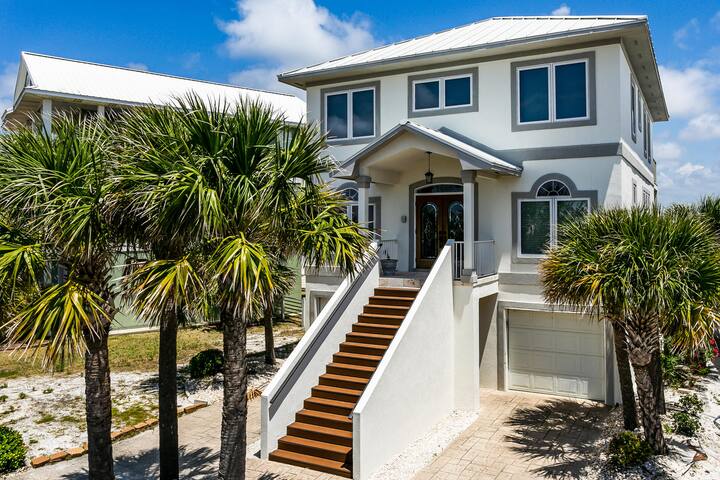 This 5 bedroom house can fit up to 12 people, so it's perfect for large group gatherings. It is in the Caribbean Isle gated community which has a pool, hot tub, sauna, and tennis courts. The house is also just a short walk from the beach.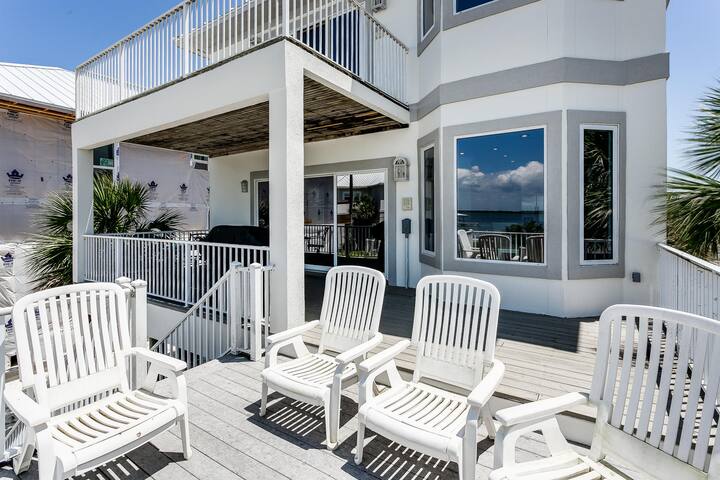 Summerwinds Resort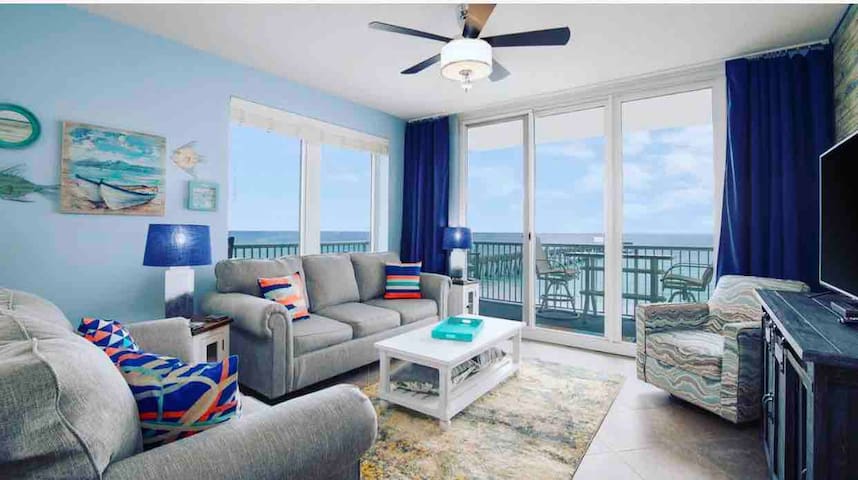 This 3 bedroom condo can sleep a group of up to 8 people. It's on the 6th floor and has an impressive view of the beach. The unit includes beach equipment, a full kitchen, and comfortable furnishings. There's a balcony and plenty of space for everyone. There are also many great amenities like swimming pools, hot tubs, and grills.
Luxury 2 Bedroom Apartment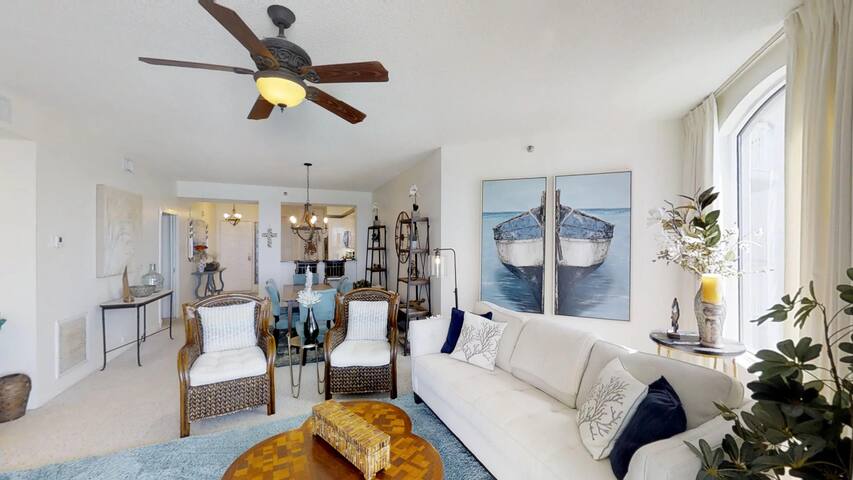 This beautiful beachfront property is just 1/4 mile from Navarre Beach Pier in Beach Colony East. It's a 2 bedroom unit that can sleep up to 6 people. The complex has a large pool, fitness center, and a grilling area. This is a great space for groups who want to enjoy a fun vacation together.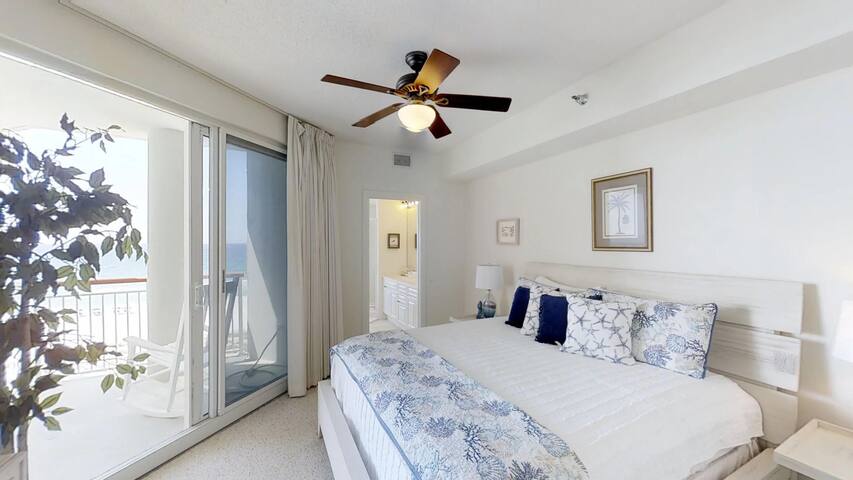 Gulf Breeze
Across the bay from Pensacola is Gulf Breeze. The area is a popular birding destination, but also has great snorkeling and hiking. There are restaurants, pristine beaches, and the Gulf Breeze Zoo. For groups who want a tranquil setting where they can relax in nature, enjoy good seafood, and enjoy a peaceful setting, this is the place. There are also a number of houses that make great rentals for groups. Just a few are mentioned below.
Gulf Breeze Canal Home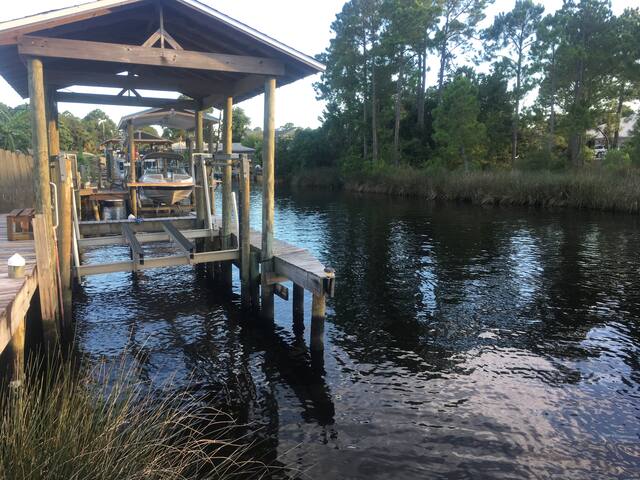 This charming canal home makes a perfect retreat for groups of up to 8 people. It's located in a reestablished neighborhood in Gulf Breeze and offers easy access to the surrounding areas. There are plenty of nearby activities that kids can enjoy. There's also a back deck that looks out on the canal where guests can fish or simply enjoy the setting.
Gulf Breeze Retreat
For groups of up to 8 people, this 3 bedroom home is truly a retreat. You can look for dolphins from the dock, head out on a kayak, or just relax in the lounge chairs. There's a hammock to unwind in as well as a deck with a grill where you can prepare festive meals for your groups. Wrap up the evening by the fire pit or simply watch the sunset with a view.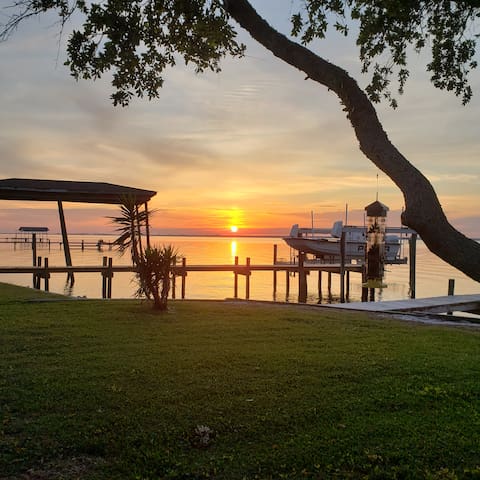 Happy Travels!