The 5 Best Airbnb Vacation Rentals for Couples in Fort Pierce, Florida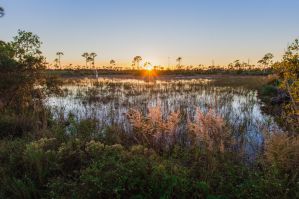 Fort Pierce is a relaxing and quiet beach town on the Atlantic coast of Florida about halfway between the Miami area and Cape Canaveral. This relaxing and peaceful community has some absolutely terrific beaches with blue water, warm sand, and plenty of activities. A number of convenient restaurants and shops are both at the beach and in town, too. Visitors can also hire a charter boat for a fishing trip, visit several natural areas and parks, and snorkel. Don't miss the historic downtown area with its farmers market. Also, visit the Manatee Observation & Education Center to learn about the local wildlife, and the Navy Seal museum for some military history.
If you're a couple looking for a place to stay in Fort Pierce, we have assembled the best Airbnb vacation rentals here so that your next trip can be comfortable, relaxing, and affordable. All of these places have kitchens, great locations near the beach, and more. Some of them have swimming pools, too.
A few of the following condos are also grouped together in the
Ocean Village
condo complex which sports a nice pool, easy beach access, and other nice amenities.
Where are the best places to stay for couples in Fort Pierce?
Contents: Paradise Condo | Ocean Village Condo | Nice Condo | Your Vacation Awaits | Island Townhouse
Appropriately named, this 1-bedroom condo is in the Ocean Village resort area which has a swimming pool, direct beach access (50 yards), gym, library, golf, tennis, a tiki bar, basketball court, shuffleboard, and more. The condo is nicely furnished with a full kitchen so you can cook all of your meals. The kitchen and bathroom are modern and clean. The living room has a nice big TV, and the balcony opens up onto the golf course. This is a fantastic place to stay in a fantastic setting. Laundry, Wi-Fi, and other niceties are included. Check out the photos!
Here's yet another Ocean Village Condo. This one is a little more affordable, probably because it is set a little bit further back from the ocean (but it's still a short walk). This is a great deal, because it has an updated kitchen with plenty of space.
This condo at Ocean Village is also more affordable. The kitchen here is modern and clean, but not as high-end as some of the other units. It's also on the first floor. The furnishings are very nice, though, and of course you have access to all of the resort's amenities such as the pool, tiki bar, tennis, golf, and more. See the photos of this one to decide for yourself.
Up the beach, closer to the main part of town sits this great condo with nice furnishings, a fully-equipped kitchen, and a large bed with a TV in the bedroom. The bathroom is clean and modern, too. The location couldn't be better, as you're right across the street from the beach! Free parking, Wi-Fi, laundry, cable TV, and more are all part of the package, so check it out.
Located on the northern side of the town on North Hutchinson Island and right near Fort Pierce Inlet State Park, this nice townhouse has plenty of space without being too much for a couple. The modern and fully-equipped kitchen will let you cook all of your meals. The bedroom and bathroom are also comfortable, clean, and modern. Outside you'll find a colorful and shady seating area to enjoy the weather while you BBQ on the built in grill (with a mini-fridge). And there's a nice outdoor shower, too. You'll need it because the beach is just a few blocks away. Bikes and boards are included so you can have fun around town or out on the water. Restaurants and shops are not far away, too. Laundry, Wi-Fi, a work desk, and more amenities are all part of the package.
Some photos are courtesy of airbnb.com.
Share This Article