The Best VRBO & Airbnb Cabins and Apartments in Honesdale in the Poconos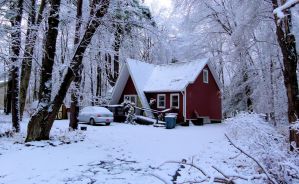 The quaint town of Honesdale, PA in the Poconos is an ideal vacation spot if you want to explore the combination of historic charm and outdoor activities that the region is known for. While in the area, make sure you check out a train ride on the Stourbridge Line, take a hike in the Friends of Promotion State Park, visit the various antique shops such as WeJo, and grab some wine at Antler Ridge.
A number of terrific VRBO cabins and rental properties can be found in Honesdale for every type of traveler. Whether you're planning a summer getaway, a winter ski excursion, or a fall road trip, any of these places would be great for a family or a couple. So, let's get to it: here are the best VRBO cabins and apartments in Honesdale in the Poconos for your next trip.
Where are the best places to stay in Honesdale, Pennsylvania?
Contents: Historic Pocono Mountains Vacation Rental | Wonder Honesdale Loft | Family Suite in Victorian Home Bed and Breakfast | Lake Home Retreat | Willow Pond Resort | Cabin in the Woods - Pleasant Mount
This beautiful, 200 year old 4-bedroom, 4-bathroom house offers a cozy setting that is filled with character. Staying here will make your trip to Bethany fun and convenient. This is a great option for a family as there's room for everyone. It's also close to small town charm, shopping, and more.
For those who enjoy cooking, there's a full kitchen with charming details. The porch, living room, and dining room are all filled with personal style and the 4 bedrooms are nicely laid out so everyone can sleep comfortably. With queen-sized beds in several bedrooms, no one will have to fight over which room to stay in.
This house also has modern amenities such as games, a fire pit, a pool table, a grill, and a garage. You'll also be very close to Lake Wallenpaupack, Montage Mountain Ski Resort, Promised Land State Park, and Honesdale Golf Club.
For anyone that wants a fun-filled vacation in Honesdale, this 6-bedroom, 4-bathroom studio is a great vacation rental as it can accommodate 12 guests. Do note that this is an open layout loft, so it is one large room (2400 sqft) and the bedrooms are separate by curtains. Guests enjoy the full kitchen which is great for preparing home cooked meals. With comfortable furnishings this studio feels larger than it is.  
The loft is located above a restaurant on Main St. in Honesdale. It's perfect for anyone who wants to experience small town charm in a modern and comfortable setting.
Forest City
,
Pennsylvania
For a quiet vacation away from your worries, this historic bed and breakfast makes a great retreat. The rental includes the entire third floor of a Victorian mansion. There are three bedrooms and one bathroom as well as a living room and a beautiful front porch that guests can enjoy.
There is no private cooking, but guests are served an impressive full breakfast in the formal dining room every morning.
Dyberry Township
,
Pennsylvania
This Dyberry Township house has a number of comfortable touches and a relaxing atmosphere. Located along Long Pond Lake, the 4-bedroom, 3-bathroom vacation rental has a nice long list of features and has room for up to 8 people. There's plenty of space here for the whole family or group to hang out. All of the bedrooms offer everything that guests could need. If you just want to eat in, the fully-equipped kitchen will let you cook all of your meals. The living room, which offers even more space to relax, will make you feel right at home. There's also a lovely screened patio where you can enjoy the atmosphere.
You'll love the solitude and peacefulness of this lakefront setting. Wake up and enjoy your morning coffee and breakfast from the balcony. The house also includes parking, a grill, and internet. Check out the photos!
Dyberry Township
,
Pennsylvania
A popular vacation rental in Dyberry Township is this impressive 14-bedroom, 9-bathroom resort that has room for up to 32 people. There's a main house and individual attached units, making it the perfect option for family reunions or group gatherings. If you're looking for comfort and convenience, this is a great resort. There's a beautiful front porch and 5.5 acres of land to explore. Enjoy fishing in the pond while the kids play on the playground.
Guests also appreciate the convenience of this property's full kitchen. Enjoy meals or relaxing in this property's porch, living room, and dining room. Other amenities include a fire pit, beach chairs, parking, and a pool table. You'll appreciate the natural beauty of the area.
Pleasant Mount
,
Pennsylvania
Explore the nearby forest from this rustic cabin. This is a 3-bedroom, 2-bathroom Estemerwalt log cabin that makes the perfect place to escape your worries. It can accommodate up to 5 guests and all of the bedrooms are nicely furnished. A queen-sized bed will offer a comfortable night's sleep. Cook all of your meals in the kitchen and unwind in this peaceful natural setting.
Some photos are courtesy of VRBO.com.
Share This Article