The Best Places to Stay in Black Mountain, NC for Families: Affordable AirBnBs, Cabins, & Mountain Houses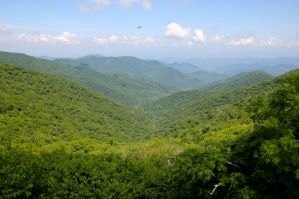 Just 20 minutes away from Asheville lies Black Mountain, a quaint town with a walkable town center full of restaurants and shops. Surrounding the town are neighborhoods with picture-perfect bungalows that look up onto the mountains surrounding the town. Up in those same mountains are even more cabins and homes that look across the valley and down onto the town. And many of these places are available as vacation rentals which are perfect for your next family getaway.
Why not stay in a nice cabin in the mountains just minutes from the town center of Black Mountain, and a short drive from Asheville. With plenty of kid-friendly activities, casual but delicious restaurants, parks, hiking, and river tubing, your whole family would have a blast staying in one of these houses.
So, let's get right to it! Here are a few of the best AirBnBs and vacation rentals in Black Mountain, NC.
What are the best AirBnB's for Families in Black Mountain?
Contents: High Top Cabin | New Rustic Modern Home | Hill Top Haven | Quiet Creek Cottage | In Town Cottage | Boutique Bungalow | Creekside Cottage | Cute Black Mountain Bungalow
Located in the mountains just a few minutes south of Black Mountain, this rustic yet modern cabin offers plenty of great amenities with absolutely amazing views. I've been in this neighborhood and can assure you the views are terrific (you can see Mount Mitchel from here). The cabin has 4 bedrooms which have plenty of room for almost any family (or several). The kitchen and bathrooms are fully equipped and top of the line. With fireplaces, comfortable seating, and a fantastic soaker tub, you'll be very comfortable here.
Wow! This beautifully renovated and upgraded house sits on the north side of downtown Black Mountain and is within walking distance to the shop and restaurants. With 3 bedrooms, you'll find enough room for up to 8 people which is large enough for most families, or even two if you want to do a trip with more people.
The main floor living area is stunning, with plenty of relaxing space along with a fireplace. The top of the line kitchen is beautiful and is nicer than what most people have at home. The entire first floor is just oozing with rustic charm that will make you want to remodel your own house in the same style. The bedrooms and bathrooms continue the decorative style and level of comfort. Check out the photos!
The basement has a pool table, more lounge space, and some twin beds in cute little nooks which kids would love. This is a nice hangout space for the kids, along with the yard, too. It also has a large hot tub and great views from the back deck.
This perfectly located house sits just a few minutes' south of Black Mountain near restaurants and shops. It also has some amazing amenities. Let's start with the things that kids will love (and adults, too). First, there's the bunk bed room with 4 custom-built bunk beds. It will be like a sleepover every night. Then there's the pool table and adjacent TV and video game room with bean bag chairs. You'll find a dart board in there, too. And then there's the hot tub and grill on the back porch, too.
The bedrooms are great as well, the king bedroom is perfect for the parents to have their private retreat after locking the kids away in the game room. The second bedroom also has a large bed. The bathrooms are immaculate, too.
The kitchen and living room areas are very relaxing and fully equipped. The kitchen is clearly brand new and well designed, so you can cook meals or bring back take-out or leftovers from Black Mountain's many great restaurants.
While this house is more expensive than some of the others in the area, you definitely get your money's worth here!
Make sure you also see Black Mountain, NC: Places to Stay for Couples if you're interested in more places to stay in Black Mountain.
This old-style charming cottage that sits in the hills just south of downtown Black Mountain is like something out of a storybook. But don't let the "old" part scare you, because the inside is fully renovated. The kitchen is amazing, the bathrooms are nicely appointed, and the 2 bedrooms are also cute and relaxing. The backyard space is also great, with some outdoor seating and natural areas. You'll feel like you're in a magazine!
This ridiculously cute cottage sits in the middle of downtown Black Mountain and is within walking distance to everything you would want to visit in town: the shops, bars, restaurants, parks, and more.
The 2 bedrooms and living room has enough space for up to 6 people, which is perfect for a family. The kitchen is fully equipped for all of your cooking needs (or take-out from the nearby restaurants). The open floorplan to the living room is very charming and comfortable, and the back doors open onto a great outdoor space with a patio and seating around a fire pit. You'll find a hot tub back there, too!
The bedrooms are nice, comfortable, and relaxing. The master bedroom has a balcony with views of the surrounding mountains. The bathroom is also gorgeous and recently renovated. You really can't go wrong here!
Here's a gorgeous 2-bedroom house that is just the right size for a family and sits in a perfect location. It's on the western side of the town of Black Mountain, and is very close to the center of town (you could even walk).
The house is elegantly appointed and recently renovated. The modern rustic mountain style will make you feel right at home. The beautiful and fully equipped kitchen is a great place to prepare your meals, and the bathrooms not only have everything you need but are also very modern. The porch is a great place to relax, too. While it's not a huge house, it's not small either, and has enough room for a family looking for a very comfortable place that's much better than a hotel room.
With a huge screened porch looking out into the surrounding forest, this 3-bedroom house has enough room for pretty much any family looking to explore the area. It's kid and baby-friendly as the hosts have toys and a crib if you have little ones with you. The living room areas have enough seating for everyone, and the kitchen is fully equipped. The bathrooms are also upgraded and nicely appointed. Plenty of outdoor space, along with a grill and a fireplace makes this one of the best family-friendly houses in town. Oh, and did we mention that it's just a couple of minutes from the center of Black Mountain?
This 2-bedroom house is near Lake Tomahawk park, which is a small lake with a playground, public pool, and tennis courts. This house is very close to the center of Black Mountain and not far from the shops and restaurants that you'll want to explore.
The house has a bunk-bed room that is perfect for the kids, while the master bedroom is great for the parents. The kitchen and living room areas are also comfortable, fully equipped, and nicely decorated. This house has everything in a nice, compact package that is perfect for a vacation. It's also very affordably priced, and the value that you're getting here is fantastic!
Some photos are courtesy of airbnb.com.
Share This Article