Best Places to Stay in Asheville, NC for Families: Affordable AirBnBs, Cabins & Mountain Houses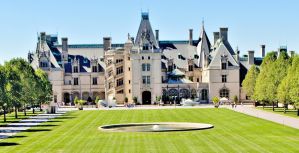 Asheville has so many family-friendly sights and activities that it has become a popular destination year-round. The summer is great for hiking, tubing down the river, and exploring popular attractions such as the Biltmore Estate. The autumn is simply gorgeous with the changing colors of the leaves in the surrounding mountains. Christmas is also terrific because the city is decorated with lights and the city puts on various holiday events. And who doesn't love seeing all of the mountains covered in snow in the winter? Nearby ski and tubing areas make the colder weather plenty of fun, too.
As a family destination, Asheville has plenty of places to stay in the form of vacation rentals that are large enough for everyone in your group. Instead of staying in a hotel, why not rent an entire house, a cabin, or even an apartment for your family? For around the same price as a hotel, you get much more space, a full kitchen, parking, and sometimes even amazing scenic views.
Having been to Asheville numerous times, we've put together this list of the best AirBnB's and vacation rental properties around town. Many of them are very affordable, and many are quite close to the center of town, too.
Where should families stay in Asheville?
Contents: Town Mountain View House | River Arts Eco-Cottage | Cedar Cabin | Sweet Suite | Two Bedroom Dream | Open Apartment | Country Chic House | Wood-Rich Home | Biltmore Hideaway | Cozy Mountain Cottage | Nanny's Place | Brookside Cozy Cottage
This amazing and spacious 3 bedroom house is all about relaxation, luxury, and the views. Located only a few miles from downtown Asheville, you'll feel like you're a world away but still have the convenience of being close to everything you want. The large A-Frame house has huge windows overlooking the mountain ranges that surround the valley. The two-level deck is where you'll want to spend most of your time. And why not since it has a grill and chairs? The decor of this house is also elegant with a rustic style. The kitchen is fully equipped and modern, as are the bathrooms. The main living room is a great place for your family to relax, and another downstairs room has more seating with a TV and a pool table.
The River Arts district is a terrific area full of art galleries, restaurants, bars, and shops. From this house you can walk to all of it, as well as walk into downtown Asheville in about 20 minutes. Why not just roll out of bed and take the river arts walking tour to see painters, sculptors, and glass blowers at work in their studios, and then stay for the award winning restaurants and bars, too? Or take a stroll on the nearby greenway with your dog.
This house is fairly new, and has room for 4 people in 2 bedrooms. The open floorplan living room and kitchen area is a great place to relax. The kitchen is fully equipped and modern, and the bathrooms are also elegant and right out of a showroom. The large back porch opens onto a terraced garden, and it makes for a nice place to have breakfast or coffee.
This fantastic cabin is located in the mountains just a few miles outside of the center of Asheville. With 2 bedrooms, it has enough room for 6 people. It's elegantly decorated with an upgraded kitchen and bathrooms. The large windows let you experience nature from everywhere in the house, while the spacious outdoor deck is great for a family gathering, too. This house is the perfect mix between nature and proximity to town.
Make sure you also see Romantic Bed and Breakfasts in Asheville, North Carolina, Places to Stay in Black Mountain, NC, Romantic AirBnBs for Couples in Asheville, NC, Black Mountain, NC: Places to Stay for Couples, and Cashiers and Lake Glenville: Cabins and Lake Houses if you're interested in more places to stay in Asheville.
Here's a great 2-bedroom guest suite in a house that is perfectly located in the West Asheville area, not far from shops and restaurants. This is a gorgeous craftsman style house and the guest suite is nicely appointed with a kids room with bunk beds, modern bathroom, a microwave and mini-fridge, and more. The backyard has a trampoline and play area, too. This is a great spot to bring your family as the owners have their own family and know what you need to have a great trip.
Here's a great 2-bedroom guest apartment in a house. It's appointed very nicely with a kitchenette with a microwave, mini-fridge, and sink, too. The bedrooms are amazingly decorated with sliding barn doors and an overall rustic yet luxurious style. The bathroom is also modern and renovated.
Located in the northern area of Asheville, it's not far from everything, including downtown. You can quickly drive anywhere from this house in just a few minutes.
This is another 2-bedroom apartment which is a guest suite in a house. But this one has a much more equipped kitchen than many other guest suites, as it has everything but an oven. It's also large with plenty of counter space. The apartment is large, recently renovated with modern fixtures and a fantastic style, and sits in a gorgeous historic home.
The location is also amazing, as you can walk to downtown in less than a mile. You can also walk to several grocery stores, restaurants, shops, and more.
This place is perfect for a smaller sized family, as it has the space you need, and also the terrific location and amenities. Check out the photos!
Here's a fantastic renovated 3-bedroom house near Biltmore Village with a luxurious decorative style, an upgraded kitchen and bathrooms, a hot tube, and an old wood stove which fits in with the decor nicely. You'll feel like you've stepped into a magazine when you stay here. The location is terrific, as you'll be close to everything in Asheville as well as nearby shops and restaurants. With room for up to 6 people, everyone in your family will be comfortable here.
The large windows looking out into the forest, along with the spacious living room area and interesting decor make this house truly unique. It's located not far from Biltmore Village, so you'll be close to plenty of activities, restaurants, and shopping.
As it has two bedrooms and two bathrooms, there's enough space for 6 people, so a family would be very comfortable here. The kitchen and bathrooms are fully equipped, recently renovated, and have a very interesting but comfortable style. Check out the photos. This place could make for a very fun and also relaxing getaway for your family.
This self-described "luxury urban" house is exactly that! It's not far from everything in downtown and Biltmore Village, but it also has great natural views of the surrounding forest. With 2 bedrooms, there's enough room for up to 4 people. The nice decorative style is top-notch here, as the kitchen and bathrooms have clearly been renovated in a very high-end style. The large sun-room porch in the back has great views and plenty of space to unwind with a book or a coffee. The bedrooms are very comfortable, and within minutes your family can be anywhere in town.
Located just a bit outside of town, but still close to downtown, this mountain cottage has everything your family needs to get away on vacation. With room for up to 5 people, the modern interior has a full kitchen, large living room area, nicely appointed bedrooms, and more. A washer/dryer and plenty of parking are also on the list of amenities. The spacious outdoor garden area is a nice place to relax, too. Here you'll be close to town but also close to nature with nearby hiking trails and natural areas.
This 3-bedroom house has enough room for 10 people, which makes it perfect for most families looking for a trip to the mountains. Located close to the Biltmore Village area just south of downtown Asheville, you'll be close to everything you want to see around town as well as plenty of restaurants and shops.
The house is nicely appointed with an elegant style, a fully furnished and renovated kitchen, modern bathrooms, and large seating areas for everyone in your group. It also offers an outdoor massage area, an outdoor fire pit and barbeque spot, and plenty of room in the yard for fun.
This affordable cottage is large enough for 4 people. It sits on the northern side of town, not far from everything Asheville has to offer. You'll be in a quiet neighborhood away from the noise but close enough to reach everything in just a few minutes. Despite being a little smaller than the typical home, you still have everything you need, including a full kitchen, dining area, separate bedroom and bathroom, and a nice outdoor area, too. This spot is perfect for a small family.
Some photos are courtesy of airbnb.com.
Share This Article