The Best Romantic Weekend Getaway AirBnBs in Asheville, NC for Couples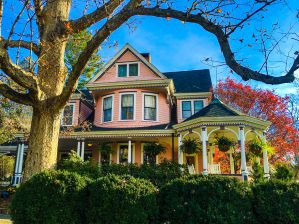 With mountain scenery, fantastic restaurants, quaint downtown area, hiking trails, waterfalls, and secluded retreats, Asheville has become one of the best romantic destinations in the southeastern United States. The secret is out, this mountain town offers plenty of activities and amazing places to stay for couples looking for a great weekend, or a full week, away from the daily hustle. With popular attractions such as the Biltmore Estate, the spa at the Grove Park Inn, and the blue ridge parkway, an entire weekend will not be enough.
And visiting Asheville in the fall or around Christmas is also fantastic. The autumn leaves, the lights and decorations in the city, and the festive atmosphere will create a truly romantic occasion. No wonder Asheville is one of the most popular places for a honeymoon or anniversary weekend in the southeast!
The AirBnBs and other vacation rentals in the area are very nice. If you're looking for a small and relaxing place to enjoy your time, then look no further. We've been to Asheville ourselves many times and have picked out some of the best places to stay for a couple. From quiet and cozy cottages to small apartments right in the middle of town, Asheville offers something for everyone.
Where are the best places to stay in Asheville for couples?
Contents: River Arts Eco-Cottage | Craftsman Charm | Cottage in the Trees | Sanctuary in the Trees | Moroccan Cottage | Fashionable Gem | Montford Retreat | Peaceful Sanctuary
The River Arts district is a terrific area full of art galleries, restaurants, bars, and shops. From this house you can walk to all of it, as well as walk into downtown Asheville in about 20 minutes. Why not spend a day taking the river arts walking tour to see painters, sculptors, and glass blowers at work in their studios, and then stay for the award winning restaurants and bars, too? Or take a stroll on the nearby greenway with your dog, if you have one.
This house is actually somewhat new, and it has a nice open floorplan on the lower level with the sleeping areas upstairs. it's comfortable, cozy, but still spacious. The kitchen is fully equipped and modern, and the bathrooms are also elegant and right out of a showroom. The large back porch opens onto a terraced garden, and it makes for a nice place to have breakfast or coffee, or relax after a long day exploring the area.
This one-bedroom apartment sits in a good location not far from Biltmore Village and downtown. With a nice kitchenette, comfortable living room and bedroom, and a modern bathroom, anyone would be comfortable here. Relax on the sofa and watch in front of the large TV, or on the gorgeous bed, or on the outdoor patio's seating area. Plenty of comforts are included, including Wi-Fi, free parking, and plenty of other conveniences that make this place better than most hotel rooms.
This quaint and comfortable studio apartment is in a perfect location, as it's just a 10 minute walk (or less) to everything in the heart of downtown Asheville! The studio apartment has private parking and a private entrance, along with some breakfast items for your convenience. The bathroom is modern and spacious, and the comfortable deck and patio area make for a nice spot to enjoy the weather if you just want to relax. With a large TV with Netflix, Wi-Fi, and other essentials, this spot is probably more comfortable than most hotels in the area.
For more ideas about places to stay in Asheville, you might also be interested in Romantic Bed and Breakfasts in Asheville, North Carolina, Places to Stay in Asheville for Famlies, Places to Stay in Black Mountain, NC, Black Mountain, NC: Places to Stay for Couples, and Cashiers and Lake Glenville: Cabins and Lake Houses.
This unique architectural gem sits in a fairly urban area even though it's surrounded by the forest. it's a simple but modern studio apartment with a private entrance and a nice kitchenette, comfortable bed, and convenient bathroom. The deck has a table so that you can also have a meal while enjoying the privacy of the forest. The location is also great, as it's in West Asheville and is within walking distance to restaurants, bars, yoga studios, the farmer's market, shops, and more.
Here's a fantastic custom-built cottage that lies withing walking distance of the River Arts District. You can just wander out and find plenty of bars and restaurants, or even take the long walk up into downtown Asheville if you don't want to drive. The cottage has a great outdoor patio area with some cozy seating and even an outdoor bathtub. The large kitchen and dining space has a fully equipped kitchen with everything you'd need to prepare a meal. There's even a reading loft which is very cozy and comfortable. The upstairs bedroom is nicely appointed and has a great bathroom. You'll have the entire place to yourself here, so take advantage of it!
Here's a great one-bedroom place with a large living room area, comfortable bedroom, and a nice kitchenette with a mini-fridge, microwave, coffee maker, and other necessities. The entire place has been recently renovated, so the bathroom is spectacular, and the furnishings are new, cozy, and relaxing. The nice sofa and TV is a good spot to unwind, while the bedroom is where you can just forget about everything at home and enjoy your time away.
The location is also fantastic, as it's just a few blocks away on foot to the shops and restaurants of West Asheville. Or just drive for a few minutes to get to downtown, the Biltmore Village, or the surrounding mountains.
Here's a quaint studio apartment where you can relax and unwind. It has a kitchenette for your breakfast, coffee, and leftovers, as well as a nice seating area with a TV. The bathroom has been recently renovated, so it's very modern and comfortable, too. The location is terrific, as it's not a far walk to the shops and restaurants in downtown Asheville as well as the historic Montford neighborhood. It might be small and cozy, but it's very comfortable, modern, and perfect for a couple looking for a private, secluded spot that is in the heart of the city.
This nice one-bedroom studio apartment has a hot tub on the patio and some nice furnishings. It also has a sauna! The kitchen is fully equipped so you can have your own meals or leftovers from the amazing restaurants around town. And speaking of around town, you're quite close to everything here as this place is just a few minutes by car from everything in Asheville.
Some photos are courtesy of airbnb.com.
Share This Article