Asheville On a Budget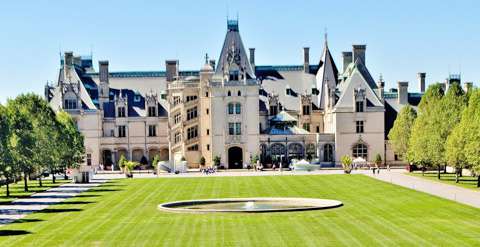 Asheville is a beautiful mountain town between the Blue Ridge Mountains and the Great Smoky Mountains. It's a popular tourist destination in western North Carolina that attracts hikers, shoppers, and adventurers alike. It's the largest city in the area and is famous for it's liberal mindset and large art community. Local crafts are frequently available for sale in the downtown shops.
The area has four distinct seasons: winter, spring, summer, and fall. Perhaps the most popular time to visit is during the fall months when the leaves are changing color and the temperature is cool but not cold. Winter months can see some snow, but usually not enough to limit travel. Spring is when the flowers are in bloom and Easter is a particularly popular time to visit the area. Summer can be much warmer, but the higher elevations make it more pleasant than elsewhere in North Carolina.
Sights
While many people visit Asheville to see the surrounding areas, there are some wonderful sights in town as well. The Biltmore Estate is easily the most popular destination. It's the largest single family home in the United States and has over 250 rooms. It's particularly nice to visit during the holidays when the grounds are fully decorated. You will pay dearly to visit it however, with adult tickets ranging from $45 to $60 dollars depending on the season and time of day.
Other sights in town include the Battery Park Hotel, Buncombe County Courthouse, Grove Arcade, Basilica of St. Lawrence, the Grove Park Inn, and the Thomas Wolfe House.
Asheville is a city for artists, and as such there are many art galleries around town. Some interesting ones include American Folk Art & Framing, Ariel Gallery, the Asheville Gallery of Art, Kress Emporium, Overstrom Studio, among many others.
Neighborhoods
Asheville has many interesting neighborhoods. The northern part of the city has several neighborhoods that have been listed on the National Register of Historic Places including Chestnut Hill, Grove Park, Montford, and Norwood Park. Other neighborhoods in the north include Albemarle Park, Beaverdam, Beaver Lake, Colonial Heights, Five Points, Hillcrest, Kimberly, and Klondyke. To the east are the neighborhoods of Kenilworth, Beverly Hills, Chunn's Cove, Haw Creek, Oakley, Oteen, Reynolds, Riceville, and Town Mountain. To the west are Camelot, Wilshire Park, Bear Creak, Deaverview Park, Emma, Hi-Alta Park, Lucerne Park, Malvern Hills, Sulphur Springs, Haywood Road, and Pisgah View. The south is where you'll find Biltmore Village, Biltmore Park, Ballantree, Oak Forest, Royal Pines, Shiloh, and Skyland.
Activities
There are many tours that you can enjoy while you're in Asheville. Eating tours, drinking tours, ghost tours, trolley tours, comedy tours, and home tours are all available. Asheville also has many festivals throughout the year. Some interesting ones include Downtown After Five, the Montford Music and Arts Festival, the Mountain Dance and Folk Festival, and the Asheville Film Festival, among many others.
Asheville has also grown as a center for live music. Popular venues include Grey Eagle Tavern & Music Hall, The Orange Peel, The Emerald Lounge, Stella Blue, Thomas Wolfe Auditorium, Tressa's Jazz & Blues, and the Asheville Civic Center. Theaters in town include the Asheville Community Theater, the Asheville Contemporary Dance Theater, and Diane Wortham Theater, among others.
Food and Dining
Asheville has grown into a city for foodies. Restaurants in the area are delicious and many of them use locally grown produce. The quality is usually quite high and the meals are often unique and fresh. There are many local restaurants in the downtown area and if you're looking for fine dining, many of the high end hotels usually have upscale restaurants with rotating menus. If you're looking for budget options there are also some great cafes and small bistros around town. Vegetarian options are abundant as well.
Transportation
While there is a regional airport in the area, almost all visitors arrive by car. You really need your own vehicle to explore the area and without one your trip will be very limited. There is metered street parking in town, most of which is free on Sundays, evenings, and major holidays. There are also several garages where you can park.
Bike rental is available at BioWheels and there are maps and guidebooks that recommend the best routes. All city buses are also equipped with bike racks.
There is a bus service in town. The routes are infrequent though, and relying on the system is generally not recommended. Most routes pass through the Transit Center that is found at 49 Coxe Avenue beside the post office.
Related:
Looking for a
party hostel in Hawaii
or
Miami
? Traveling alone to
LA
or
New Orleans
? Want a budget hostel in
NYC
?