Charleston is a world-class city tucked into a small area in a convenient location in the southeast. It has always been a popular destination for all types of travelers, especially families. With quaint and narrow streets, nearby beaches, ghost tours, horse-drawn carriages, fantastic seafood, public fountains, and harbour cruises, everyone in the family can have a fun time here.
With a variety of neighborhoods, it can sometimes be a challenge to figure out which part of Charleston is the best place to stay if you're traveling with kids or your entire family. A number of fantastic AirBnB's can be found in this city at a variety of different prices, levels of luxury, sizes, and locations. By staying downtown you're within walking distance to everything, but the prices are also higher. Of course, you can also stay near the beach. Or, somewhere in between might be the best option if you're on a budget.
We've outlined the various neighborhoods, along with their typical prices and some great AirBnB options. And at the end of this article, we have some suggestions for activities and restaurants, too.
Family-Friendly AirBnB's in Downtown Charleston
Downtown, at the south end of the peninsula that makes up the city is where most of the sights and activities can be found. Here you can explore the old market with its fun vendors and surrounding shops (some with candy and desserts), a large number of seafood restaurants, plenty of boutiques (many are on King Street), horse-drawn carriages, and rows and rows of historic homes on quaint tree-lined streets. Don't miss the old cemeteries and historic prison which kids always love.
Of course, you can
find plenty of AirBnB's here
for larger families, too.
South of Broad
The area at the southern end of the peninsula is the more historic residential area. It is known as "South of Broad" (everything to the south of Broad Street), and has
some of the best AirBnB's to be found in the city
. This is the neighborhood where everyone likes to wander around to look at the houses, as you will find plenty of historic colonial homes on beautiful tree-lined streets. It's not just a tourist attraction, though, as people live here. But many of these homes are available for vacation rentals, and some are B&B's, too.
A few of our favorite places in this neighborhood:
Guest Suite
This fantastic guest suite
in a historical home with a good kitchen and a great location. It's even on the carriage route - that's how gorgeous this neighborhood is.
Charming Guest House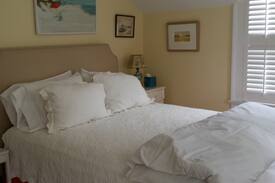 This historic guest house was a "dependency" and has plenty of historic charm. With 2 bedrooms and a full kitchen, as well as laundry and wi-fi, it has all the amenities you'll need.
Charming Kitchen House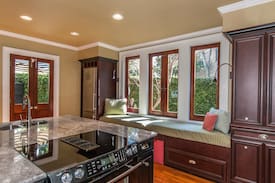 This gorgeous historic home
with a great kitchen is a very nice hidden gem. Can you imagine coming home to this every afternoon? Just wait until you see the inside (check out the photos).
South of Broad
is a great area of Charleston. Kids and adults will like the views along the waterfront on the Battery, which is the raised sidewalk along the edge of the water that extends past the park areas on the eastern side of downtown.
Older kids also like exploring the hidden gems in small alleyways. The famous
Rainbow Row
is just the beginning of the colorful houses, so don't linger too long, but instead, keep going back into the neighborhoods and down those secluded alleyways. If you book a place to stay in this area, you'll be within easy reach on foot of everything in central Charleston. Keep in mind that this is the higher-end neighborhood of Charleston, as it contains the most beautiful homes in the best location. So expect to pay a bit more here for the convenience and atmosphere.
King Street & Meeting Street
Stretching north from Broad Street through central downtown Charleston is King Street. Here, visitors can find rows and rows of boutique shops and restaurants. One block to the east is Meeting Street, another busy area with even more restaurants and shops.
The surrounding blocks contain
many AirBnB's
that are perfectly located in the heart of Charleston, many of which are large enough for families with kids.
The Marquee
We love
this 3BR apartment
right in the middle of everything. It has room for up to 8 guests, along with modern, luxurious finishes. And you can't get a better location, as it's right at the corner of King and Market. This is essentially the center of town - you can walk to everything!
3BR Heart of Charleston
Here's an even more affordable 3 bedroom condo
off King Street that sleeps 5, with a full kitchen, washer/dryer, and a nice patio area. Just as other places in this area, the location is perfect.
From this part of town you
walk anywhere
in the central part of the city in just a few minutes. The various activities and sights around town are within easy reach.
(At the end of this article, we have some suggestions for activities and restaurants, too.)
French Quarter
On the eastern side of Meeting Street and running over to the Cooper River is the area known as the French Quarter. It is bordered by the old market to the north. The market and its surrounding restaurants, along with the fun fountain at the park by the river are often great places to take kids, as they can explore and get wet, too. Just past the fountain is the large pier with swings and nice views over the water.
This centrally located neighborhood not only has charm, but also
plenty of AirBnB's
suitable for families. They are a bit more expensive than in other areas, but you definitely get what you pay for, which is location, luxury, and comfort.
French Quarter Apartment
One of the more affordable options is
this renovated apartment
with a fully-equipped and luxurious kitchen. It has 1 bedroom, plus more space in the living room for the the kids to sleep.
Or check in to
this historic and luxurious condo
with 2 bedrooms over 2 floors that sleeps up to 6 people.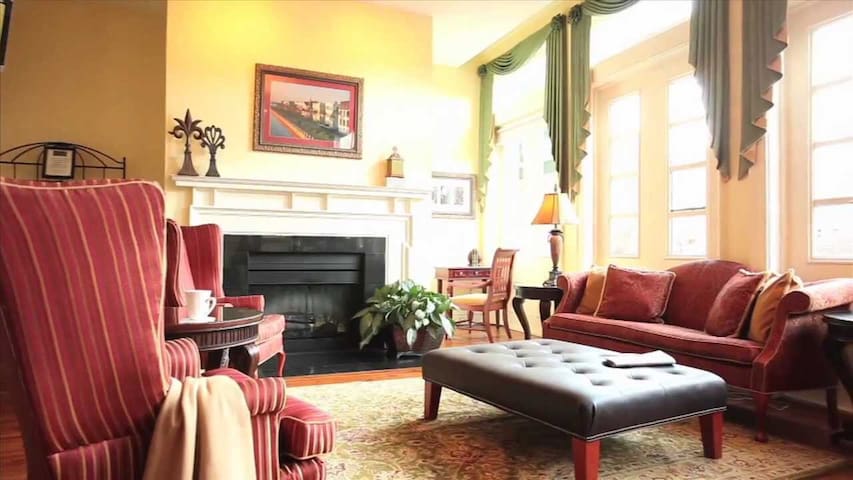 Harleston Village
The central area of town to the west of King Street is known as Harleston Village (that's
Charleston
without the "C"). This neighborhood is quite convenient to downtown, while also being very affordable. Some amazing values for AirBnB's can be found in this part of town (
see them here
), including entire houses.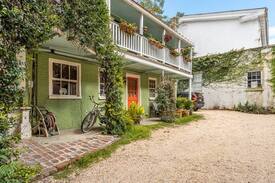 And yes, many are available which are the traditional "side porch" houses that Charleston is famous for.
Check this one out
, for example.
While this neighborhood might not have the "wow" factor that other areas have, it still has plenty of authentic colonial charm. It's safe, easy to walk around in, and has some convenient shops and parks, too. The lower prices are a big draw for many visitors. Also, some of the houses here include parking, which can help you reduce your overall cost, because if you have to park in a paid lot near downtown, it could cost you around $20 per day. (We have some details on parking in Charleston below.)
Hampton Park
If you're looking for more affordable prices, head north from the central area of Charleston and you'll find some residential neighborhoods that are still within walking distance of downtown. However, it's a longer walk, and you might want to consider driving (or an Uber or Lyft) to reach this nice area of town. On the bright side, you can
find some great deals on AirBnB is Hampton Park
. These places usually have more space, and even free parking in a few places. Some very good values can be found in the areas just north of Clark Ave. and around Hampton Park.
Parking in Downtown Charleston
If you want to base yourself in downtown Charleston, keep in mind that most places don't offer parking as there just isn't enough space. Whether you stay at a hotel or AirBnB, you'll have to figure out what to do for parking. Many hotels charge an extra fee for parking ($10 to $20 per day). Local AirBnB's may or may not include a parking spot depending on the type of property and the neighborhood. If you get an entire house, it might be free, but it might not be.
Public parking lots/garages can be found in convenient locations around town, but they will often charge $18 per day (or $1 per hour). Metered spaces are also available. They usually charge more, but many are free after 5 p.m. It can be useful to plan to drive yourself into town after 5 p.m. to find a free spot for the evening (if you can find one, don't try this during peak travel season).
Our suggestion is to attempt to find a place that includes parking, but be prepared to pay the daily fee to park your car somewhere near your AirBnB.
North Charleston AirBnB's for Families
As you move north up the peninsula that is Downtown Charleston, you lose that historic charm, but prices for both hotels and AirBnB's become more affordable. However, your family will also get more space, and often a free place to park. The extra space, combined with the lower cost could be helpful for your family and your budget.
Keep in mind you'll need to drive from these areas if you want to get downtown.
The Park Circle neighborhood
has many great AirBnB options
which are within walking distance to some restaurants and shops. This charming neighborhood has retained its historic appearance and might be a good place to base yourself.
If you're looking for some food and drinks in this area, check out LoLA for their Cajun seafood cuisine and Junction Kitchen with their delicious breakfast served all day. You can also find a few grocery stores on the periphery of the neighborhood, such as the Olde Village Market or East Montague Market.
Mount Pleasant & Sullivan's Island
If you head east over the famous Cooper River Bridge you will enter the Mount Pleasant neighborhood. Here you'll find many houses and condos available for rent. As you head south towards the water, prices for AirBnB's tend to go up. Overall, though, the costs here are significantly less than those found downtown. If you're willing to drive into downtown for a few activities, or want to be near the beach, this is a good spot. It's just 10 to 15 minutes away.
Shem Creek
Shem Creek is a nice spot. With a scenic waterway, boardwalks overlooking the marsh, and a number of delicious seafood restaurants, this is a destination itself as plenty of locals and visitors alike come to this area. Check out the old fishing boats along the docks and then head into one of the many casual restaurants for some low country food.
The neighborhoods surrounding Shem Creek have plenty of affordable condos and houses for rent on AirBnB at a variety of prices depending on the level of luxury and size that you need. Check out the "old village" area of Shem Creek for some of the nicer houses. For less than $100 per night, it's possible to find an apartment or even a small house here. Or, for a few hundred per night, an entire multi-bedroom home near the water. Many of these houses are historic and have plenty of atmosphere. If you want something with views over the marsh, there are several options, but they tend to be a little more expensive.
New 1BR Apartment
This 1 bedroom apartment
is very affordable and recently renovated. It's not far from everything and even has a washer and dryer.
Old Village 4BR House
Need more space?
Here's an entire house
that sleeps up to 7 people in 4 bedrooms with everything you need. And it's affordable!
The Beach at Sullivan's Island
If we're talking about a vacation with kids, then we should mention the beach, right? Sullivan's Island is located to the east of Mount Pleasant and Shem Creek, and is the closest beach to Charleston. The prices here are a bit higher than if you stay a little further inland or up the coast. But it's hard to beat the location when you can not only walk to the beach but also drive into downtown Charleston in about 15 minutes.
We've picked out some of the best houses right near the beach
on AirBnB here
.
Prices for AirBnB's at Sullivant's Island vary greatly. It's best to shop around for something that meets the size of your family and your budget. Luxurious and huge houses are available for hundreds per night, while much more affordable places can be found for under $200 (
such as this 3BR house
). Generally, if you have a larger family and need more space, then you can find it here whether it's right on the beach or a few blocks back. You can also have a higher level of luxury and comfort if you spend more for it.
West Ashley
West Ashley is the area to the west of downtown over the Ashley River. It offers a short drive to everything in central Charleston by car in just a matter of minutes. It's easy to find a more affordable place to stay here, although it doesn't have as much of the historical charm of downtown. However, many of the
homes on AirBnB in this area
do have plenty of charm, and for significantly less money you can have a lot more space for your family to spread out. This is a vacation, after all, right?
James Island & Folly Beach
As you drive southwest from downtown, the residential area of James Island contains a number of charming southern homes. Many of these have plenty of space, nice outdoor patios, and easy access to downtown. This could be the perfect spot for your family, especially if you have a larger group, as it's a good compromise between downtown and the beach.
Keep heading south from James Island and you'll eventually get to Folly Beach. Much like Sullivan's Island (mentioned above), this fun beach area has a great mix of kid-friendly activities and casual restaurants, but still has Charleston within reach.
James Island
Prices for vacation homes in James Island are significantly more affordable than in central Charleston or Folly Beach, and come with more space, more amenities, and usually free parking, too. (See them on AirBnB
here
.) You could easily spend a weekend or an entire week in a nice house with day trips into downtown and days spent at the beach. After all, plenty of kids' activities are within every direction.
Folly Beach
While Folly Beach is a further drive from downtown than Sullivan's Island (mentioned above), it's still a fantastic destination for families, and not too far from downtown. As Charleston is still only an hour's drive away, you can have the best of both worlds here with days on the beach and plenty of time to explore downtown, too.
This beach area is more affordable than Sullivan's Island or downtown, but more expensive than the houses on James Island. An entire house here for a family of 4, 6, or even more people can run anywhere from $150 to $600 per night on AirBnB (
options here
). If you compare prices to Sullivan's Island, you'll see that it's generally a lot cheaper, but the trade off is the time it takes to get into downtown.
We've picked out some of the best houses for larger groups
at Folly Beach here
.
Folly Beach Places
A few of our favorites are
Jake's Place
which is a 2BR right by the beach, as well as
this cute 2BR bungalow
, also very close to the water.
Johns Island
If you're on a tight budget, Johns Island might be the place you want to stay. The more rural and suburban areas to the south of Charleston have plenty of countryside charm with a few nearby golf courses, parks, a
vineyard
, and the famous
Angel Oak
.
Many of the houses listed on AirBnB in this area are actually quite nice with plenty of modern conveniences (
see them here
). They are also relatively affordable compared to the rest of Charleston. They tend to be typical suburban homes instead of the historical or colonial houses found closer to Charleston. Keep in mind that some homes in this area might be a little older, but come at a lower price, too. Also, note the driving distances if you want to stay this far away from both downtown and the beach. But if you're on a tight budget, it might be worth it.
Kiawah & Seabrook
We've written separate guides for families who want to visit Kiawah or Seabrook, as these destinations are a bit outside of Charleston and have their own amenities and atmosphere.
AirBnB's for Families on Kiawah Island
|
Family Vacation Rentals on Seabrook Island
|
Places to Stay for Families on Hilton Head Island
Activities for Kids and Families in Charleston
Your family needs something to do on vacation, right? Here are a few of the best things to do if you're spending some time between the beach and the restaurants around town.
The Harbor Cruise
is nice, as it provides good views of the city from the water, along with a nice historical overview.
The Shem Creek Culture Tour
is fun, as you can learn all about shrimp boats and how shrimp gets sent off to restaurants.
Patriots Point
is always fun for kids. An entire Aircraft Carrier to explore along with various airplanes and ships will keep them occupied for hours.
A
Ghost and Graveyard Tour
is lots of fun for kids and adults. They take place in the evening, and this can be a good way to see Charleston after a filling seafood dinner.
Charleston also has an
aquarium
which kids like. While there are larger and better aquariums in the southeastern U.S., this one still has a few nice exhibits.
Kid-Friendly Restaurants in Charleston
Poogan's Porch
Charleston is full of amazing restaurants, so here are a few of the best in the heart of Downtown Charleston.
One of our favorites is
Fleet Landing
. Located on the water (on a pier) on the east side of downtown in the French Quarter area, this casual restaurant has great views and a fun vibe. Oh, and the food is amazing, too!
Looking for some brunch? Don't miss
Poogan's Porch
on Queen St. near Meeting St. Make a reservation or get there early, or you'll have to wait, as this is one of Charleston's hottest meals in town. You'll want to go back again the next day, it's that good. It's casual and kid-friendly.
For more upscale seafood in Charleston, Magnolia's and High Cotton are two fantastic restaurants, both located on E. Bay Street. Nearby, check out Pearlz Oyster Bar, too. Revival is another great option, as is Hyman's Seafood. All of these restaurants are casual or slightly nicer, but still kid-friendly and not too fancy for families.
If you're looking for a very nice place to go for a special occasion, check out the Peninsula Grill, The Establishment, or Charleston Grill.
If you're interested in more accommodation options in Charleston, you should also see
The Most Luxurious Boutique Hotels in Charleston
,
Charleston AirBnB's & VRBO's for a Girls' Weekend
,
Vacation Rentals, VRBO's, and Airbnb's for Families on Kiawah Island
, and
Affordable Seabrook Island Vacation Rentals for Families
.