Park City, Utah is a popular and fun destination for couples who enjoy skiing, hiking, fine restaurants, and dramatic views. The area is a great place to visit year round, but the ski opportunities are world class and enjoyed by professionals and beginners alike. And if you're on a budget, that's no problem, as we've picked out some of the best and most affordable AirBnB's for your next trip.
Deer Valley
For couples who are looking for a premiere ski experience at an upscale resort, Deer Valley in Park City, Utah is the perfect choice. Couples love that the area tends to be a little less crowded than other nearby resorts, but with all of its great amenities including ski valets, shuttles, and more, Deer Valley can be a bit more expensive. This is a ski only resort with lots of boutique shopping and world class restaurants. For those still building their skill sets, lessons are a great way to gain some confidence on the slopes.
Below are some of our favorite properties for couples in Deer Valley.
Ski-In/Ski-Out 2BR
Here is the perfect property for couples who are looking for luxury, convenience, and comfort. It's location and view can't be beat, and the recent renovations have given it first class furnishings and a high end style. The hot tub, kitchen, and bathrooms all have state of the art amenities that visitors really appreciate.
Ski-In/Ski-Out 1BR
Couples love this ski-in/ski-out out condo for its great location, relaxing hot tub, and clean facilities. It has a comfortable bed, beautiful view, and everything a couple could need to enjoy their time away.
Park City Mountain
Park City Mountain Resort is a famous ski area that brings together world class skiers and casual enthusiasts alike. The resort was once two villages – Mountain Village and Canyons Village – but in 2014 they merged into what is now the largest ski resort in the United States. Today they are connected by a gondola, and guests can enjoy the diversity of activities and amenities that are provided.
This is a great area for couples who want to be near great skiing but also have access to a wide range of restaurants and other activities. Main Street, with its charming character and lively atmosphere is nearby and skiing is right at your doorstep.
The area has 341 trails, 41 lifts, 7 terrain parks, one super pipe, one mini pipe, and ski-in ski-out access to Main Street.
Below are a couple of our favorite condos in the area.
Perfect Old Town 1BR
Couples love this condo for its pool, hot tub, and convenient location. There are grills that are perfect for preparing a home cooked meal. The kitchen is also well furnished and the place is kept very clean.
Marriott Summit Watch Studio
Here is a fantastic studio that is part of the Marriott Vacation Club and offers the perfect space for a couple who wants to enjoy skiing and other activities. It's conveniently located and well maintained with a pool, hot tubs, and many other amenities.
Old Town
For couples that want a charming location near great restaurants and a variety of activities, Old Town and Main Street are the perfect place to stay. This is a great area for socializing, enjoying good food, exploring art galleries, and shopping. The area is filled with historic architecture and there's a lot of charm that couples always enjoy.
The area is also very convenient for skiing and experiencing all of the outdoor activities that Park City is famous for.
Below are some of our favorite properties that make the perfect ski getaway for couples headed to Park City, Utah.
1BR Mountain Modern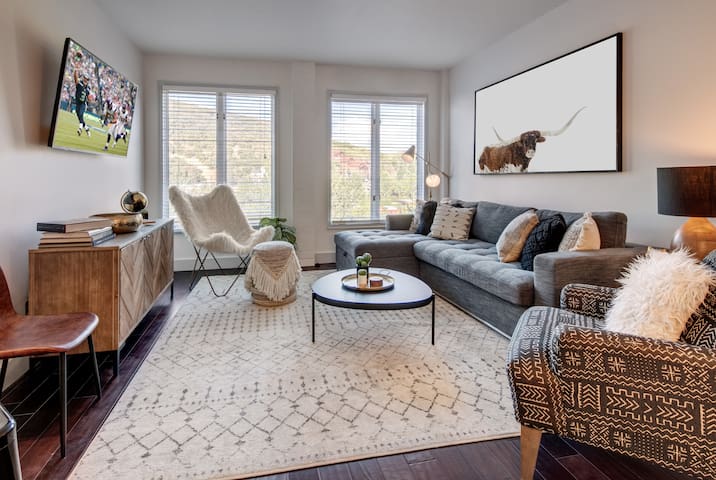 This condo's location is convenient – right on Main St. It's very walkable to many great restaurants, cafes, and shops. The furnishings are nice, the place is clean, and the unit is on the top floor so it stays very quiet.
Gorgeous 1BRon Main Street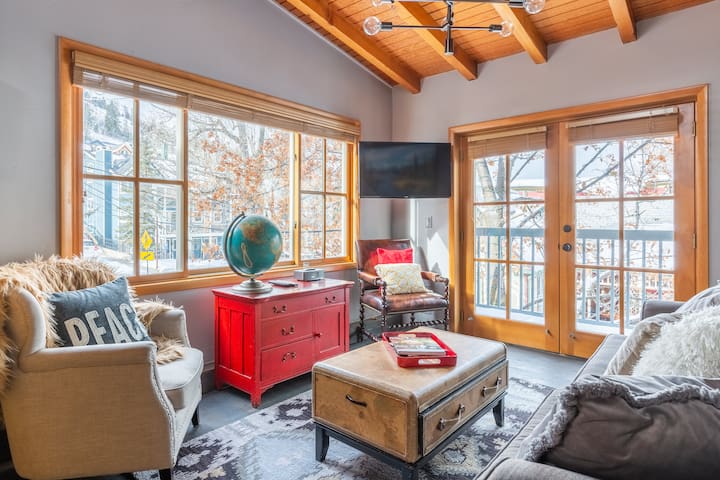 This charming property is filled with character. It's located right on Main St so you can walk to everything from restaurants to shops and cafes. The balcony offers a great view and you can easily watch the comings and goings around town.
Kimball Junction
Kimball Junction is a great place to stay for couples who want comfort and affordability. The area has a number of good restaurants and shops, and there's convenient transportation that can take you throughout the area. The nearby Utah Olympic Park is not to be missed. You can enjoy ziplining, an alpine coaster, bobsledding, and more. Other fun activities in the area include bowling, shopping, or visiting nearby nature areas. Kimball Junction is also well connected to nearby ski resorts through a comprehensive transit system.
Below are a couple great accommodation options for couples in Kimball Junction.
Newpark Resort Studio
This studio is sparkling clean, well located near restaurants and shops, and very comfortable. The resort has an
indoor-outdoor pool
, hot tubs, a sauna, steam room, and a fitness center.
Cozy Studio Suite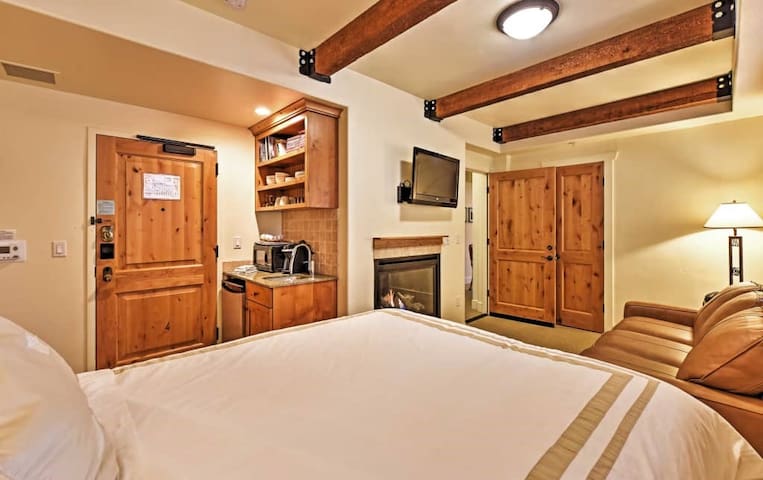 This studio is perfect for couples who want comfort and amenities. There's a community pool, a steam room, and a sauna and the place is well maintained and very clean.
Happy Travels!
For more ideas about places to stay in Park City Utah, you might also be interested in
Park City, Utah, Places to Stay for Families
and
Places to Stay for Groups of Friends in Park City, Utah
.