Park City Utah On a Budget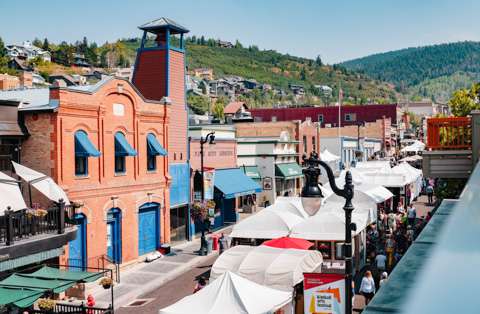 Located in the eastern portion of the Wasatch Mountains, Park City, Utah is a wonderful year around destination. It's position in the Rocky Mountains gives it a beautiful setting at an altitude of roughly 7,000 feet about sea level. It's a popular destination in the winter months for skiing. Some of the country's best ski resorts are found here including Park City Mountain Resort, The Canyons Resort and Deer Valley Resort. The city also hosts the famous Sundance Film Festival every year. During the summer months the city serves as a retreat from the heat for many residents of nearby Salt Lake City. It's high elevation make it a refreshing place to visit during the warmest months.
Sights
Most people come to Park City to enjoy the winter sports in a beautiful setting. There are a handful of sights around town as well. Alf Engen Ski Museum is located in the Joe Quinney Winters Sports Center at Utah Olympic Park. There are many trophies, medals, scrapbooks, and sports memorabilia on display. Kimball Art Center is a nonprofit arts organization that organizes educational exhibits and events for the public. They are also responsible for the Kimball Arts Festival which is held yearly in early August.
Neighborhoods
Park City has a downtown historic district around Main Street. This is a nice area to walk around or grab a bite to eat. There were originally three world class resorts in the area. Park City Mountain Resort was opened in 1963 and attracts skiers from around the world. It also has several training courses that are used by the US Ski Team. Deer Valley Resort is known for its upscale style. It was the location of the freestyle moguls, aerial, and alpine slalom events during the 2002 Olympics. In 2015 Park City Mountain Resort merged with the third resort, Canyons Resort, and today they are referred to as Park City Resort with the base area called Canyons Village at Park City. The two resorts are now connected by a gondola.
It is possible to find cheaper hotels around town, particularly during the off season. There are some very reasonably priced chain hotels around town including well known names such as the Best Western or the Holiday Inn. The prices do fluctuate dramatically based on the season and you can expect to pay two or three times as much for a room during the ski season. This is particularly true if you are staying in or around any of the popular ski resorts.
Activities
There are several world class resorts in Park City: Deer Valley Resort, as well as Park City Mountain Resort and Canyons Resort which recently to become Park City Resort. During the winter season you can enjoy skiing, snowboarding, cross-country skiing, snowshoeing, ice skating and more through any of the resorts. During the summer there are plenty of opportunities for hiking, mountain biking, road biking, horseback riding, and golfing. During the summer months there are also concerts held at Silver Lake.
The city also plays host to the Sundance Film Festival as well as the Kimball Arts Festival. The Sundance Film Festival is the largest independent fim festival in the United States. The Kimball Arts Festival is a three day event that has many visual-art exhibitions, live music, and food related venues.
Food and Dining
There are all restaurant types around Park City, and it's easy to find a cheap meal of pizza or a sandwich. There are also some good pubs, particularly downtown, where you can pick up a cheap beer and relax with some friends. If you're looking for a nice meal with excellent views, head to Deer Valley. For the best food in town, find a restaurant along Main Street. Favorites include River Horse, Prime Streakhouse, and Grappa, although prices are quite expensive.
Transportation
The largest nearby airport is Salt Lake City International Airport. It's located just 36 miles away and you can make the drive in about 45 minutes.
Once you're in town, there's actually a great free transportation system in Park City that covers most of the city. Buses connect the areas that are of greatest interest to visitors including historic Main Street, Kimball Junction, Prospector, Deer Valley, Park City Mountain Resort and the Canyons Resort. You can easily carry your ski equipment on board. If you do drive into town, it's relatively easy to find free parking in the city's historic area.
Related:
Looking for a
party hostel in Las Vegas
or
San Diego
? Traveling alone to
NYC
or
LA
? Want a budget hostel in
San Francisco
?