The Best Airbnb Cabins in Milford, PA (Poconos)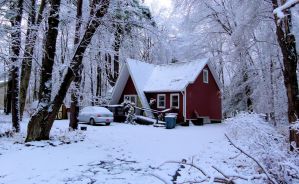 Milford, PA combines many of the Pocono Mountains' quintessential activities and experiences. First, it has a charming small town atmosphere full of shops, restaurants, museums, festivals, and historic buildings. Next, it provides easy access to many nearby outdoor activities such as hiking, boating, swimming, mountain biking, fishing, and cross-country skiing.
Don't miss the Grey Towers, a historic building on the edge of town surrounded by nice gardens. Also, go for an easy hike on Millford Knob which has some nice views. The Columns Museum has great exhibits on the history of the town and the region, too.
If you're looking for a place to stay in Milford, we've researched the best Airbnb houses, cabins, and apartments in the area. These places have plenty of great amenities such as multiple bedrooms, full kitchens, laundry, and more. So if you're a family or a couple looking to explore the Poconos, one of these places in Milford could be your next home away from home.
What are the best places to stay in Milford, Pennsylvania?
Contents: Forest Cottage - Private Lake | Large 4BR Home | Pine Gables | Weekend Getaway Cabin - Brookfront | Cozy Cabin in the Woods | The Station Guesthouse | Still Life Studio
Milford
,
Pennsylvania
USA
A mix of historical charm and modern conveniences can be found in this
3-bedroom
cabin that gives you a sense of serenity and nature. With room for up to 6 people, this is a good spot for a family or group of friends. It sits near a private lake and has farm animals on the 50-acre property, too. Inside is a gorgeous fireplace, modern kitchen, a clean bathroom, and relaxing furniture. If you're looking to get away into nature, this is the place! But it's also just a few minutes away from Milford, so you can get into town quickly if you like.
Milford
,
Pennsylvania
USA
This larger
4-bedroom
house is perfect for a family or group of friends. With modern conveniences along with a full kitchen and multiple bathrooms, anyone would be comfortable here. A spacious living room and bedrooms mean that everyone will be comfortable. Laundry, Wi-Fi, a swingset for the kids, and a large deck with outdoor seating are also included. This is a great spot for anyone looking for modern comforts while still being close to nature and the surrounding activities.
Milford
,
Pennsylvania
USA
This amazing
3-bedroom
cottage has plenty of historical mountain charm. The outside looks rustic and welcoming, and the inside is clean and relaxed with a rustic and historical vibe. However, you'll find modern conveniences with a full kitchen and clean bathrooms. The entire place is nicely appointed, very cozy, and quite inviting. The location is great, too, as you're just a short distance from the heart of historic Milford and close to the hiking trails and other outdoor activities.
Milford
,
Pennsylvania
USA
Here's another cute
1-bedroom
cabin with some nice rustic charm. This little red cottage in the woods offers a hiking trail to the nearby waterfall on the brook. The king-sized bed in the loft is very cozy. The full kitchen will let you cook all of your own meals, too. It's perfect for a couple looking for a getaway. Outside, you'll find a firepit and more outdoor seating on the property.
Milford
,
Pennsylvania
USA
Just outside of town you'll find this cute and affordable
1-bedroom
cottage with plenty of rustic charm and modern amenities. The cozy fireplace is the centerpiece of the relaxing living room. The kitchen has everything you need to cook your meals. The bathroom even has an antique tub. An outdoor shower adds to the fun if you've come back sweaty from a hike. (Don't worry, there's an indoor bathroom, too.) A full bedroom along with an upper loft makes this a good place for either a couple or a small family that needs another bed.
Milford
,
Pennsylvania
USA
Here's a modern
1-bedroom
condo with some nice amenities and an interesting layout. This place is great for a couple, as it has a relaxed, romantic atmosphere. The full kitchen will let you cook your own meals, while the relaxing living room has a nice projector screen for watching movies. And it also has a
sauna
! The location is also great as it's right in the middle of town and within walking distance to restaurants, shops, and more, as well as close to hiking trails.
Milford
,
Pennsylvania
USA
This studio condo is huge, and has a hot tub, pool table, sauna, modern bathroom, and a fully-equipped kitchen. It's also right in the middle of town, and is affordably priced for everything that's included. If you are a couple looking for a fun weekend (or week) away to have a romantic getaway, this place needs to be on your list.
Some photos are courtesy of airbnb.com.
Share This Article