Virginia Beach is a family friendly beach destination that has a variety of kid friendly activities and a relaxing and fun beach setting. There are a number condo buildings as well as beach houses available for rent. For larger groups, there are larger houses, often with pools, and easy access to the beach.
Oceanfront
If you're hoping to be near all of the action, then Oceanfront is where it's at. This area is where you'll find the famous
Virginia Beach Boardwalk
. The area also has live music and street performers during the summer months.
This is where you'll find the highest concentration of hotels, restaurants, and activities. The area really offers the quintessential beach experience where families can enjoy walking along the boardwalk, dining at outdoor cafes, and snacking on hot dogs and snow cones.
The beaches in this area are wide and sandy. They are often filled with sunbathers during the peak summer months, but during the quieter seasons things can be a bit more peaceful. If you're interested in fishing, you can head to Rudee Inlet at the south end of Oceanfront. This is where most of the fishing charters leave from. This is also a popular area for jet skiing and other water activities, or to enjoy seafood with an ocean view.
The properties in Oceanfront are often a bit smaller and predominantly condos and apartments. The prices are good and for many the smaller space is worth it to be in the center of the action.
Beautiful Beachfront Condo
Bedroom, 2 Bathroom, Oceanfront
This condo is all about location. At this property you can wake up in the morning to see dolphins swimming in the ocean from your 6th floor balcony. There are also some great local restaurants nearby.
Sandbridge
Families and groups that are looking for a slightly more peaceful vacation will want to consider Sandbridge. It's south of the Virginia Beach Boardwalk, but still just a short drive away. The area feels a bit more natural and less commercialized, so things move at a slower pace. Most of the area consists of houses instead of high-rise hotels. This is also a great area to stay if you're hoping to enjoy kayaking or explore parks. There are marshes nearby as well as Back Bay National Wildlife Refuge and False Cape State Park.
The area has a number of local restaurants and cafes. Seafood is everywhere so don't miss the local specialties and whatever the fresh catch of the day is.
There are a number of houses for rent in the area. Below are some of our favorites.
Out of the Blue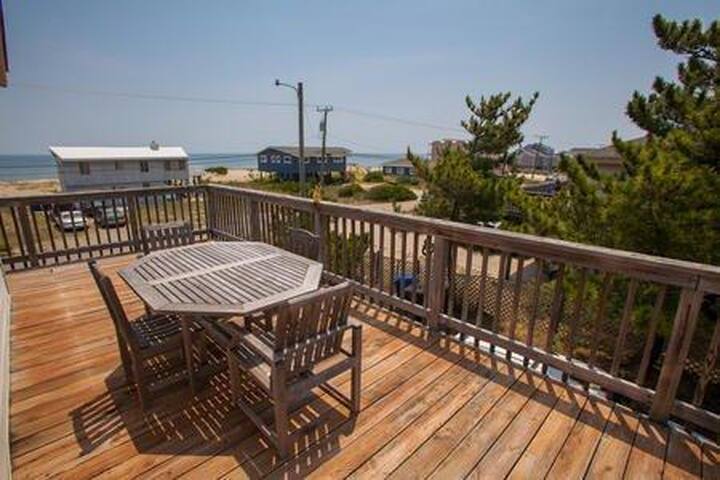 This apartment is conveniently located just steps for the beach. It has an excellent outdoor space with a deck and oceanfront views. It's a good size for a family of six and makes a perfect beach retreat for the whole family.
"Forget About It" Guest Suite
This house is slightly more affordable and is still just a couple minutes from the beach. It's in a slightly quieter area so the traffic isn't bad and the setting is calm. There's a nice outdoor space with a pool, but the outdoor area is shared with other properties. This is a clean and comfortable option for a family of four.
Best Deal House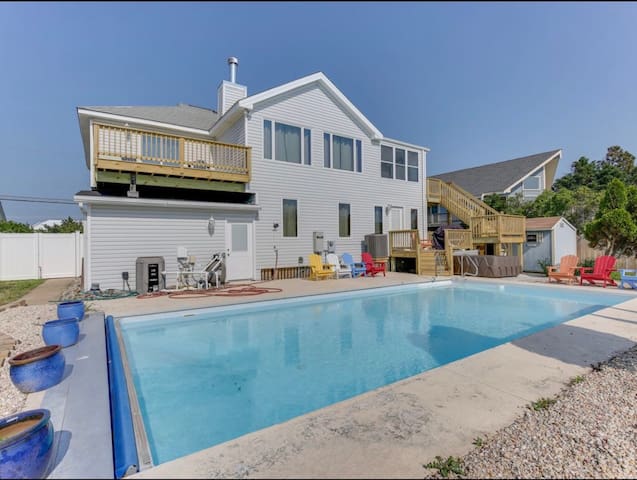 For a large group or family gathering, or for anybody who's willing to splurge, this property is quite impressive. It's a great option for multiple families traveling together because there's a private
pool
, a hot tub, and even a
game room
. It's close to a quiet beach and makes the perfect retreat for your group. It also has a
dock
on the canal behind it.
Sandbridge Rose
6 Bedroom, 4 Bathroom, Pool
About three blocks from the beach, this property is another good option for larger gatherings, multiple families, or group get-togethers. The
pool
is a great touch, and there are bikes, kayaks and paddle boards that you can use, too. The fully-equipped kitchen is terrific and the bathrooms are modern. The bedrooms have plenty of space, and one of them has 2 sets of bunk beds for the kids.
Chesapeake Bay
If you're looking for a calmer experience, but still want to be on the water's edge, the Chesapeake Bay may offer a nice alternative for your family. This area is referred to as
Chic's Beach
by locals, and it's a great place for swimming, playing in the sand, or simply soaking up the local vibe.
This area's main drag is along Shore Drive. There are a number of local restaurants to choose from, and it has a more community centered vibe than the Oceanfront area.
Below are a few of our favorite rental properties.
Water Oaks at Chic's Beach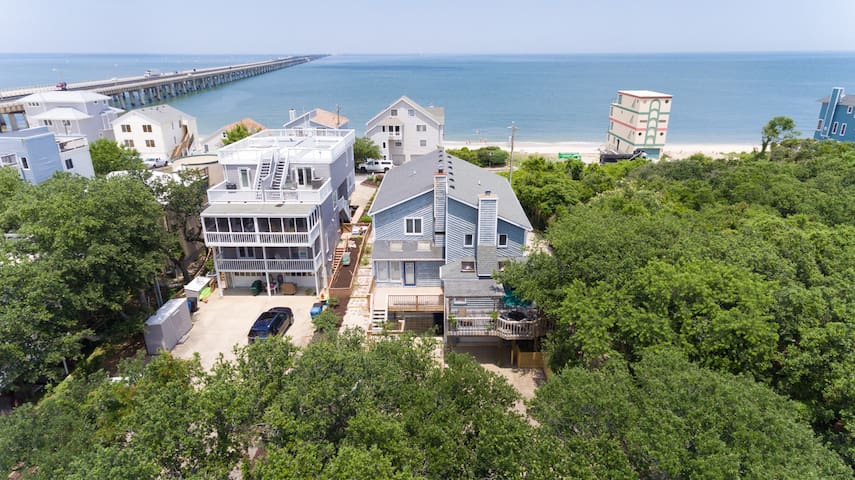 This house is in a great location for groups that are looking for a quieter setting. It's near the beach and restaurants, and has a relaxing atmosphere with plenty of nice outdoor areas including a grilling deck and a dog run. The indoor areas are perfect for families, especially the bunk bed room for the kids.
Beach Getaway
This property has a nice backyard and a great screened porch. It has a good location 500 yards from the beach and is a very clean space.
2BR Beach Apartment
2 Bedroom, 1 Bathroom, Beach
If your group is looking for good value and affordability, then this 2 bedroom apartment (a guest apartment in a house) is a good option. It offers a great value and is located next to a quiet beach. It's a clean and relaxing place to unwind with family.
ViBe Creative District
ViBe Creative District is a unique area that highlights Virginia Beach's growing artist community. Visit on the First Friday of the month to see the greatest concentration of local crafts and artists. There's also a weekly farmers market that's worth checking out.
This neighborhood is all about locally grown or produced products, and the food and restaurant scene is no exception. There are a number of local restaurants to choose from. After a delicious meal, you can pop into many of the artist's studios and browse the work.
New Vibe Home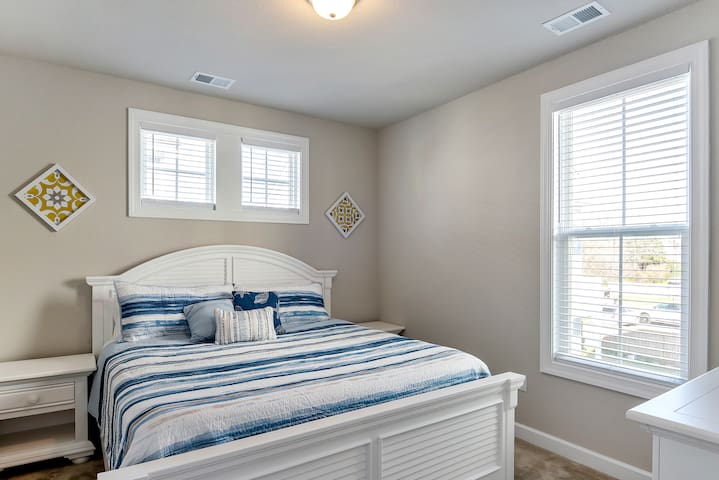 This is one of our favorite properties in the area. It has a large kitchen and dining area that's perfect for a group. And with several living room areas, you'll have room to spread out, too. It's about 2-3 blocks from the beach and is in a great location near shopping, restaurants, and more.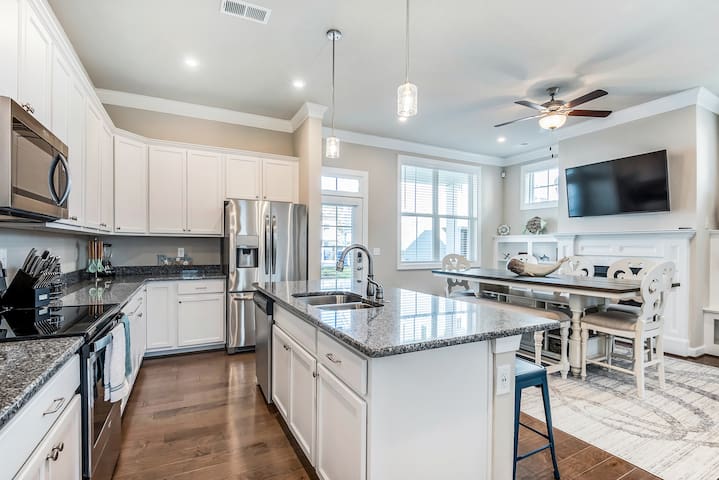 Pungo
Pungo is a rural area not too far from Sandbridge. The area is a local agricultural community with a small town vibe. Roadside stands
selling local produce
dot the community and there are places to pick your own fruit. There are also some great local restaurants that are worth the drive. History buffs will appreciate the
Military Aviation Museum
which is also nearby.
Beach Country Barn
If you want to get away from everything, this modern barn house has the feel of a rustic lodge. It's surrounded by natural area and makes a great retreat. Do note that there's only one bathroom, but the open floor plan makes it a fun place for families and groups. It also includes access to a nearby swimming pool. It's less than 15 minutes to the beach by car.
Town Center
If you're looking for great shopping, Town Center is the place to be. The area has a number of great restaurants, theaters, and entertainment options that the whole family can enjoy. Both the Sandler Center for the Performing Arts and
Zeiders American Dream Theatre
have great shows, with life performers, music, and more. This area has a number of high end luxury hotels that visitors enjoy.
Inland
If you're looking to pamper yourself, then Inland is a unique area to visit. There are spas, fine dining, boutique shops and more in this area. The local farmer's market is a fun place to check out, as are the malls in the area.
Happy Travels!