Virginia Beach On a Budget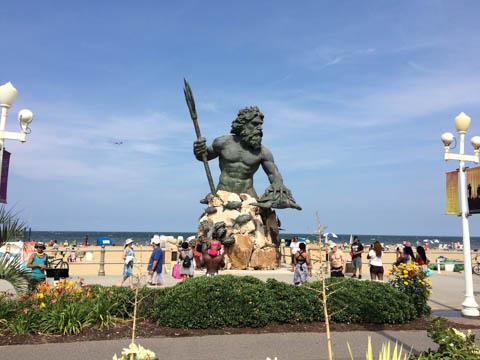 Virginia Beach sits on the edge of the Atlantic Ocean and the Chesapeake Bay. It's a popular beach destination and has many of the characteristics of most southeastern beach towns. There are many activities that you can enjoy and there's a concrete boardwalk that runs parallel to the water for about three miles. The boardwalk is a fun place to walk or bicycle. The beach itself is wide and sandy and is a great place to soak up some sun. During the summer months and school holidays it can get quite crowded and you might struggle to find a place for your towel and beach chairs. There are also many beach side resorts that line the water front. Most have pools and hot tubs where you can relax and some hotels have indoor pools as well, which can be nice during the cool winter months.
The weather in Virginia Beach is comfortable and mild most of the year. Like the rest of the southeastern United States, it can get quite hot during the summer months, but if you stay on the beach you can expect a cool breeze to help you stay comfortable. It does get colder during the winter month, but fall and spring remain pleasant. Don't be surprised if the water is warm enough to swim well into October.
Sights
In addition to spending time on the beach, there are plenty of sights and activities that you can enjoy in the Virginia Beach area. The area has several historical sights of interest. First Landing Cross is the location where English settlers originally hit land in 1607. The Military Aviation Museum has the world's largest private collection of World War I and World War II aircraft. For natural and environmental attractions consider visiting the Atlantic Wildfowl Heritage Museum, which has art and artifacts relating to migratory wildfowl that are native to the area. The Old Coast Guard Station now has a museum with old rescue equipment and a history of shipwrecks in the area. The Virginia Aquarium and Marine Science Center has various aquariums and live animals which you can see. Also consider visiting the State Parks and National Wildlife Refuge which has over 18,000 acres of state owned land. It is also worth checking out the Virginia Beach Farmer's Market, which is a rural outdoor market that has local produce, dairy products, and meat, as well as handmade gifts and souvenirs. There's a restaurant on site as well.
Neighborhoods
Virginia Beach can be divided into seven boroughs. These include Bayside, Blackwater, Kempsville, Lynnhaven, Princess Anne, Pungo, and Virginia Beach. Within Virginia Beach proper there are many unique neighborhoods including Alanton, Bay Colony, Bayside, Cape Henry, Chesapeake Beach, Croatan Beach, Great Neck Point, Green Run, Kempsville, Lago Mar, London Bridge, Lynnhaven, Newtown, Oceana, Ocean Park, Pembroke Manor, Princess Anne, Pungo, Red Mill Commons, Sandbridge, Thalia, and Thoroughgood.
Activities
Virginia Beach is a great vacation destination for families as there are many activities that children can enjoy. There are evening dolphin tours that take you out on the water and give you a chance to glimpse these fun animals. There are also some good state parks and some great places for hiking and kayaking if you're looking to get away from the tourist crowds and experience a little more nature.
Food and Dining
There are plenty of seafood restaurants in Virginia Beach that range from casual to fine dining. Many restaurants offer an all-you-can-eat seafood buffet. The quality of the food can vary somewhat, but it is a good way to sample everything that is available in a large scale. There are also plenty of diners, cafes, and bars in the area. A filling pancake breakfast is a great way to start your morning. Other options around town include Mexican, burgers, sandwiches, and pizza.
Transportation
For most visitors, a car is essential to travel around Virginia beach. There is a light rail line that runs between Virginia Beach and Norfolk and buses travel around parts of the city, but they are not particularly efficient. If you're not leaving the beach area, it's possible to travel by either bus or trolley, but to go anywhere else a car is a must. For a schedule of bus routes, research Hampton Roads Transit.
Norfolk International Airport is the largest airport in the area. Rental car agencies are available at the airport and around town.
Related:
Looking for a
party hostel in Hawaii
or
Miami
? Traveling alone to
LA
or
New Orleans
? Want a budget hostel in
NYC
?