How much does it cost to travel to Morocco?
Average Daily Expenses
(Per Person)
This typical travel budget for Morocco is an aggregation of travel expenses from real travelers. This will give you an idea of how much money you will need during your visit.
Daily Cost

MAD

398.51

Accommodation1

MAD

212.55

Food2

MAD

114.10

Water2

MAD

18.30

Local Transportation1

MAD

39.80

Entertainment1

MAD

51.80

Communication2

MAD

16.39

Tips and Handouts1

MAD

19.93

Intercity Transportation1

MAD

104.39

Souvenirs1

MAD

199.79

Scams, Robberies, and Mishaps1

MAD

1,520.11

Alcohol2

MAD

63.49
Last Updated: Jan 10, 2017
Sample Costs
Below are some expenses from the budgets of actual travelers.
Fish for Lunch

MAD

150.00

Dinner for 2

MAD

115.00

Water

MAD

8.00

Water

MAD

12.00

Granary Fee

MAD

20.00

Berber Museum (2)

MAD

20.00

Dinner

MAD

75.00

Public Restroom

MAD

4.00

CTM bus from Eassaouira to Agadir

MAD

130.00

Dinner at Rick's Cafe (for Two)

MAD

324.50

Juice

MAD

10.00

Golf at Atlas Golf

MAD

565.00
Morocco is a popular travel destination in large part because of its unique culture. It's an Arabic country in North Africa that is easily reachable from mainland Europe. Ferries connect Spain to Morocco, and more recently, discount flights offer cheap airfare from the United Kingdom and elsewhere around Europe. With its easy accessibility, this country sees its fair share of tourists, but it's still not hard to find places that remain untouched by the tourist dollar.
You'll find a wonderful mix of history, culture, nature, and of course food in the area. You can get lost in the medina's of Fez or Marrakesh. They're filled with stalls that sell anything from produce to artwork. You can make a reservation in a room in a historic riad. These traditional buildings have lovely courtyards and gardens so you feel like you've stepped into paradise. Or you could take a camel trek in the Sahara. The stars will fill the sky and the sand dunes go on forever. After days on a trek you'll deserve a few days of relaxation on a beach in Essaouira. The diversity and rich culture throughout the country make it a must see for many travelers.
The area's diversity is a large part of its appeal, but this also makes it hard to see everything in a short visit. It's important to prioritize what you want to see and not try to do too much. If you're short on time, pick only a few sights and take the time to fully experience them. If you find yourself too rushed you're less likely to completely enjoy anything.
Morocco remains a budget travel destination, despite its rise in popularity. There are hotels everywhere and competition keeps prices low. Food is also very reasonably priced and street food offers a great sampling of traditional dishes at a cheap price. If you're on a particularly tight budget, head to the country during the winter months when the crowds are at their thinnest and the prices are the lowest. This is also the best time to visit if you're hoping to avoid the touts.
At A Glance
Public transportation is very good in Morocco. In most major cities there is a bus station with an indoor area where you can purchase your tickets from official windows. Go directly to your window of choice and do not give your money to anybody outside of the bus station. Touts linger around the buses and carry luggage, purchase tickets or assist foreigners for tips. In some cases they can be a little overly aggressive but generally they are harmless.


Fresh produce is excellent throughout the country. If you have access to a kitchen, head to the market and pick up some vegetables, spices, and a little meat. You can try your hand at making your own Moroccan feast. Although it may not be exactly what you find in the restaurants, it's still a fun experience.


This is a very diverse country. It is almost impossible to see everything on one trip. Instead, pick one area or a few highlights and spend the majority of your time at these locations. You'll be able to fully experience a small part of the country and your trip will be more rewarding for the experience.


Visit this country during the shoulder season. Unless you plan to swim at the beaches, there's no need to be in the country when the weather is hot. The crowds will be less and you'll save a lot of money if you're in town during the late fall or winter months.


There is no shortage of touts in most tourist destinations. If you're exploring a medina, go past the main entrance to the deeper and more authentic areas. You'll get better deals and have a more peaceful and interesting experience. You'll also see where the locals shop and get away from the majority of the hotels and tourist restaurants.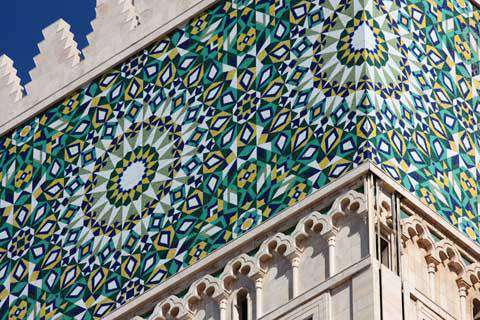 Top Tourist Attractions
Todra Gorge:
Located on the eastern side of the High Atlas Mountains, this is a beautiful canyon that is carved into the mountainside. It's near the town of Tinerhir and has dramatically steep cliffs that are set amongst desert and mountain scenery.
Erg Chebbi:
These are stunning sand dunes in the Sahara desert that catch the light perfectly. They are most beautiful as the sun rises or sets when the light is the most dramatic and the colors and strikingly bold.
Fez Medina:
This is one of the largest and most elaborate medinas in the country. It's also one of the most traditional with its narrow walkways, stalls of spices, and merchants carrying their goods on the backs of donkeys.
Related Articles
Popular Foods
Moroccan cuisine uses rich flavors, fresh ingredients, and slow cooking techniques to make absolutely delicious dishes. Many of the dishes are slow cooked into stew like meals that are served with a side of bread or couscous. Mint tea is a popular drink that accompanies many meals. You'll find delicious restaurants throughout the country and you generally won't have problems finding a dish that you like.
Tagine:
Moroccan tagine is a stew like dish that is slow cooked for hours. It's usually made with either lamb or chicken and is marinated with flavorful herbs and spices. It often includes olives, lemons, prunes, or apricots and is served with a side of Moroccan style bread which you can use to sop up the sauce.
Couscous:
Couscous is a common grain dish topped with a meat such as chicken and rich spices. There's usually a liquid broth sauce that accompanies it. This is probably the second most popular dish in the area after tagine.
Pastilla:
This is a traditional meat pastry dish that is similar to a pie but is instead filled with chicken and spices. It's often seasoned with cinnamon and powdered sugar. It's a very unique combination of sweet and savory flavors and is often served as an appetizer. Despite it's unusual combination, it is quite good and well worth a try.
Travel Tips
The Off Season
By backpackguru on Nov 6, 2011
Morocco is a wonderful country to visit. It can be quite popular with tourists, but if you want to escape the crowds, consider visiting during the winter months. Summer can be quite hot in Morocco, so the winter will give you a break from the heat. Some places might be a little cold, particularly in the desert areas, but generally it can be very comfortable. It's too cold to swim at the beach if that's what you're interested in, but if you're more excited about wandering through the medinas, the winter months can be the perfect time. There are far less tourists, the shopkeepers will give you a better deal, and the touts are far less. If it happens to be particularly cold when you're there, be warned that it can be hard to find a budget hotel with heat. Also test the hot water to make sure you won't be taking a cold shower in the winter.
Quick Facts
5% - 15%
6 to 10 Dirham
The water is considered not safe to drink.
Yes
US Embassy Information
2 Avenue de Mohamed El Fassi
Rabat, Morocco
(212)(537)-76-22-65

http://morocco.usembassy.gov/l

1 Categories averaged on a per-item basis.
2 Categories averaged on a per-day basis.
For example, the Food2 daily average is for all meals for an entire day, while Entertainment1 is for each individual purchase.