Ouarzazate On a Budget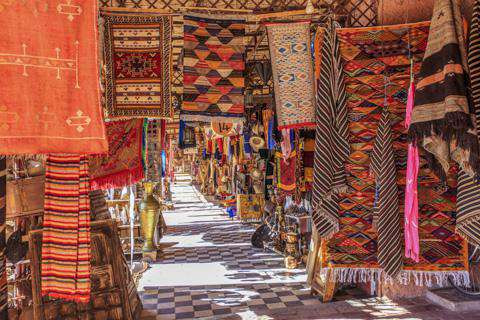 Morocco can be quite an energetic country, but if you're looking for more of a quiet getaway, consider Ouarzazate. Small by Moroccan standards, this town is built up mostly around a main street – the Avenue Mohammad V. Ouarzazate. The name "Ouarzazate" comes from the Berber language meaning "without noise" or "without confusion." It was once a crossroad for a African traders traveling to northern cities in Morocco and Europe. Today, Ouarzazate is the largest town in the Moroccan Sahara, and its central location serves as a good home base touring the rest of Morocco.
Sights
Unlike many other Kasbahs, the Taourirt Kasbah was saved by Hollywood to be used as the set on many movies. With the help of Hollywood and UNESCO, small sections of the inner sanctum have been restored.
For a relaxing evening stroll, walk along the central square behind the Muhammad V street. Children play football on the square, and people socialize. Walk around and immerse yourself in the Ouarzazate culture.
For a closer peek into the history of Hollywood in this area, take a tour of the Atlas Film Corporation Studios. Established by Mohammed Belghimi in 1983, this is known as the first "Ouallywood" studio. This is where display sets and props from movies like Jewel of the Nile and The Mummy Returns. Guided tours of the studio run every 20 to 40 minutes and take you through the stages, sets and workshops.
Another movie tour option is CLA Studios. Also known as the Dino de Laurentis Cinecitta Studios, this studio is along the same road as the Atlas Film Corporation. This is where you'll see the Jerusalem set from Kingdom of Heaven and a collection of other props.
If you can't get to the larger studios outside of Ouarzazate, there's always the Musee de Cinema. Located across from the Taourirt Kasbah, the Musee de Cinema is a small, old museum in a former studio. The exhibits include a collection of old sets, props and cinematic equipment.
If you do have the time to get a bit out of town, make a half-day trip to the Oasis de Fint. This small, lush region is in the midst of the dry hills that surround the city. Just past the river into Tabount is a paradise waiting to be explored.
Activities
Taking the trek into the Sahara is a unique, and once-in-a-lifetime experience. Try walking, driving an ATV, riding a horse, or even a camel to this beautiful landscape. Ask your hotel for tours you can arrange. There are walking tours, camel treks, sand boarding, hiking and even camping excursions available – long and short in duration.
Food and Dining
There are plenty of restaurants along the Mohammad V street and in the central square markets. There are plenty of options depending on what you want. After several weeks of desert food, you may want to taste something a little different. The French Bistro, Accord Majeur, across from Berbere Palace offers comfy corners dimly lit from brass wall lamps. Take samples from the menu of foie gras, smoked salmon, beef carpaccio, duck confit and homemade ice creams.
And while you're in the mood for French, visit Brigitta Babolat's Moorish fantasy palace, La Kasbah des Sables. This collection of lounges and cozy corners surrounds a centerpiece of a shallow pool lit up by jewel-colored lights. Once you've dined on barbot and saffron, you can enjoy the cushion-lined cubbyholes decorated with locally made objets d'art.
Transportation
The area around Mohammad V is easily walk able, and that's probably the easiest and most convenient way to travel around the city center. For longer distances, the red petit taxis travel within Ouarzazate and offer relatively cheap rates. Take advantage of that, especially during the hot summer months. Beware of your driver asking you to "transfer taxis" or has a "friend to pick up on the way." This typically leads to a friendly English-speaking person pitching you outings. Politely tell them you're not interested, unless you think you can negotiate a good price. Then, go for it.
While the city is pretty safe, you may not want to wander into any alleys or corners at night. This region is generally safe, but its better to not take too many chances.
Related:
Looking for a
hostel in Marrakesh
,
Cape Town
,
Nairobi
, or
Zanzibar
?