Meknes On a Budget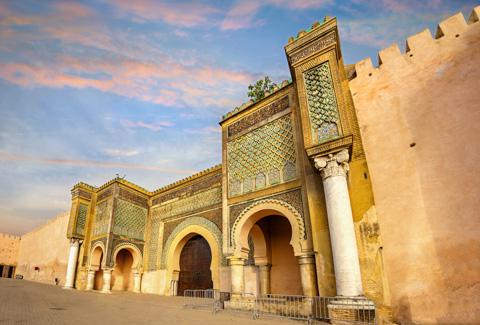 So you love a bustling nightlife with fine restaurants and meaningful historical buildings, but you hate all the tourists. Well, it maybe time to visit Meknes, Morocco. Since most travelers head straight to Fez, that leaves Meknes relatively untouched and remains free of the usual hassles that plague other major destinations.
Sights
For a glimpse into the grandeur of one of Meknes' greatest rulers of all time, Sultan Moulay Ismail, visit the Heri es-Sounai graineries and sit along the enormous, stone-lined Agdal Basin. This manmade lake is powered by a complex system of irrigation channels, and once served as a reservoir for the sultan's gardens and a pleasure lake for the royals.
Or take a trip to his final resting place. Because of his stature in Moroccan history, this sanctuary is open to non-Muslims, as well. Pass through a series of calm and peaceful courtyards to increase humility among visitors as they approach the tomb hall. This lavish showcase of Moroccan artistry is breathtaking, but keep in mind that non-Muslims are not allowed to approach the tomb itself.
Meknes is home to twenty-seven imperial and awe-inspiring gates, but none as stunning as the Bab el-Mansour. This is the largest of all of them, and has been well preserved. The lavish zellij and inscriptions along the top from 1732 when it was built by one of the greatest rulers of Meknes, Sultan Moulay Ismail's son, Moulay Abdallah. While you can't walk through the Bab itself, it still makes for an amazing photo opportunity.
Just south of the Bab el-Mansour is the mechouar, or the parade ground, known as Pl Lalla Aouda. This is where Moulay Ismail brought 16,000 slaves from sub-Sahara Africa thereby guaranteeing the continued existence of the elites by providing them with their own soldiers. The Sultan then provided them with women to produce more soldiers, and by the time he died, his Black Guard army had expanded tenfold.
Neighborhoods
Most Moroccan towns are divided into the ville nouvelle and the medina. Meknes' ville nouvelle, or new town, is known as Hamrya in Arabic, and is connected to the medina by a bridge running over the dried up Oued Boufekrane river. The new town section is complete with all the latest entertainment facilities while the medina is home to the historical monuments and buildings.
Activities
One exciting thing to do while visiting Meknes, is to take a trip to the many qissariat, or covered markets. Some are devoted to selling textiles and carpets. Arrive early and watch the noisy auctions on a Sunday morning. The Okchen Market is where you'll find the fine embroidery, and along the Rue Najjarine you'll see stalls of babouches, or leather slippers. If it's jewelry you're looking for, visit the Qissariat ad-Dahab, and just outside the city wall you'll see stalls selling spices, herbs, nuts and an energetic flea market.
If you're going to shop in the many markets, make sure you haggle. Never accept the shopkeeper's first price, bargaining is part of the Moroccan tradition. The easiest trick, especially if you don't speak French or Arabic, is to offer exactly half of what they're asking. From there, the shopkeeper will lower their price. This goes round and round and until you agree on a price. If you don't agree, try walking out. That will likely get the shopkeeper to come around.
Food and Dining
If you're looking to eat in the ville nouvelle, there are dozens of options to choose from. Walk along the Rue Antsirape to find traditional dishes like harira, tagine, couscous and rotisserie chicken. In the medina, on the other hand, there are plenty of restaurants and markets offering signature meals like pastille. The market near the Bab al-Mansour has amazingly fresh foods like olives, pickles and sweet treats.
Transportation
Meknes is full of petit taxis – little blue Fiat Uno or Peugeot 205 brands. The minimum cost for one of these taxis is approximately five dirhams, but the bus is usually cheaper. These buses, while reliable and efficient, they can be difficult to navigate and are very crowded. They typically transport people between the suburbs, ville nouvelle and medina. Getting around both the ville nouvelle and the medina by foot is a convenient, efficient and probably your best option for getting around Meknes.
Related:
Looking for a
hostel in Marrakesh
,
Cape Town
,
Nairobi
, or
Zanzibar
?