Essaouira On a Budget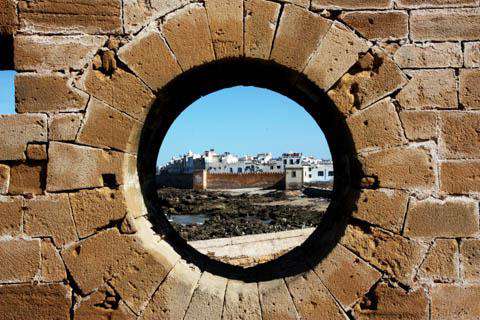 Essaouira is a beautiful beach town on the Atlantic coast of Morocco. The city has a pleasant medina that has been named a UNESCO World Heritage site and is interesting to explore. It's an 18th century fortified town with a lot of character and charm. The city is rich and culture and you'll find a handful of art galleries throughout the town. The city is also a gathering place for artists and musicians, particularly during the Gnaoua Festival of World Music, which takes place the last week of June. This event attracts about 450,000 visitors yearly.
Essaouira's climate is Mediterranean with oceanic influence. The weather is pleasant year around with warm summers and mild winters. The average high temperatures remain in the mid 60s to low 70s Fahrenheit year around. Average lows rarely drop below 50 degrees Fahrenheit, even in the winter months. Rain is much more common during the winter months.
Sights
Much of the appeal of Essaouira is the beach and the walled medina. The medina is a beautiful example of an 18th century fortified town and the original canons are still in place. The town has even been featured in several movies and television shows including the HBO show "Game of Thrones".
Neighborhoods
At the heart of Essaouira is the city's medina. It is a quaint area with many shops and restaurants and is where you'll likely spend most of your time. For the most part, the medina caters specifically to tourists and visitors.
The city has a fishing harbour that is smaller than the harbours of Agadir and Safi, but still remains a major fishing harbour for Morocco. The bright boats and interesting atmosphere make it a must see for any visitor.
Many of the city's modern hotels are built along the ocean front, but city codes limit their height to four stories, so they are not too intrusive. If you want to stay in the medina or close to it, there are a decent number of privately owned riads that you can rent on either a daily or weekly basis.
Activities
Many people travel to Essaouira for its nice sand beaches. There are plenty of water sports and outdoor activities available. If you're adventurous, you can try your hand at windsurfing or kitesurfing, or you can simply enjoy long leisurely walks on the beach. Windsurfing is particularly popular because the trade winds blow almost constantly but the protected bay remains waveless.
The town also plays host to the World Music Festival in June which is a fun, although crowded, time to visit.
If you're in the market for a souvenir you can easily find some great local handicrafts at the many shops that line the streets of the medina. Shop around and ask for prices so you know exactly what you should be paying. It's also fun to try your hand at bartering, which can be either fun or annoying, depending on how you approach it.
Many people choose to take a class while they're in Essaouira. In particular, cooking courses and popular. There are also bike excursions and photography excursions that you can arrange within the town. For the weary traveler, there are also Berber massages that you can enjoy.
Food and Dining
Food in Essaouira is quite good, but can be surprisingly expensive when compared to elsewhere in Morocco. This is particularly true of the seafood. Your cheapest option is to purchase a fresh catch from a local fisherman, but if you order seafood in a restaurant you will find the price to be dramatically higher.
There is a fresh seafood market in the middle of town that is worth visiting. You can select your catch, and they will cook it up for you on the spot or, if you have access to a kitchen, you can purchase seafood and the necessary spices and sides and prepare your own Moroccan meal.
Transportation
It's easy to reach Essaouira from Marrakesh. You can hire a grand taxi or shared taxi to make the trip, but there are plenty of buses that are affordable and reliable as well. If the bus doesn't make many stops, the trip takes about 3 hours and there's usually a stop at the halfway point when you can purchase snacks and stretch your legs.
Essaouira's medina is supposedly closed to motorized vehicles, but this restriction is only loosely enforced. Mopeds are quite common in the area and can be a hazard to pedestrians, but in general, walking is easy and the most enjoyable way to explore the town.
Related:
Looking for a
hostel in Marrakesh
,
Cape Town
,
Nairobi
, or
Zanzibar
?