Really big hostel with great amenities and nice staff. Located right next to Sloterdijk station, so although far from the fun Centraal area, still very accessible - Anonymous
What sets them apart?
Affordable prices, modern and clean facilities, and an abundance of nearby parking make this hostel a unique option in Amsterdam.
Hostel Personality
Who's staying here?
This hostel feels a bit more like a hotel than a hostel, so you'll find all types of travelers here including families, backpackers, groups, and more.
Insider Tip
Check out the breakfast because it's well worth the extra price.
MEININGER Amsterdam City West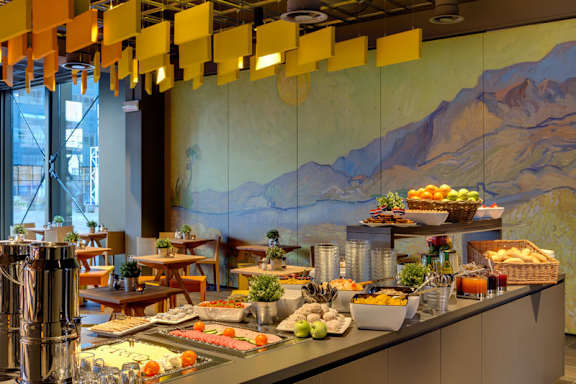 Like the other branches of the Meininger chain, this hostel feels a bit more like a hotel as there are plenty of private rooms that cater to older travelers and families. It's a clean and very comfortable place to stay at a reasonable price. The mattresses and furnishings are nice and the facilities are modern. The bathrooms are excellent.
The hostel is a bit outside of the city center, but all types of public transportation are nearby. If you don't mind a short ride, you'll be near all of the city's main attractions in about 15 minutes.
The Facilities
Dorms
The Meininger Hostel chain feels a bit more like a hotel with dorm room options available as well. The dorms sleep either 5, 6, or 7 people with female only and mixed rooms available. The rooms are secured with keycard access. The bunks are solid and comfortable and most rooms have ensuite bathrooms.
Private Rooms
Most of the rooms available at this hostel are actually private rooms. There's a wide range of room types to choose from including rooms that sleep anywhere from one (singles) to six people, with everything in between.
The rooms are comparable to budget hotel rooms with televisions, comfortable mattresses, and some basic furnishings.
Bathrooms
Most rooms have ensuite bathrooms that are large, clean, and modern. The bathrooms are some of the best you'll find in a hostel.
Restaurant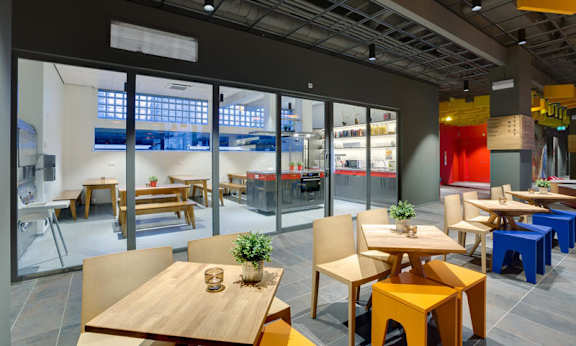 The on-site cafe and bar is the perfect place to enjoy a full breakfast or grab a light meal throughout the day. There's plenty of tables, reasonably priced food and drinks, and a variety of options for all types of eaters.
Common Areas
There are some large common areas at this hostel with pool tables, foosball, and board games. Grab a book and a comfortable spot on a sofa or head to the shared kitchen to cook up a quick meal. It's a smaller kitchen, but has everything you need and most people can make it work.
The Location
Westpoort
What's Nearby?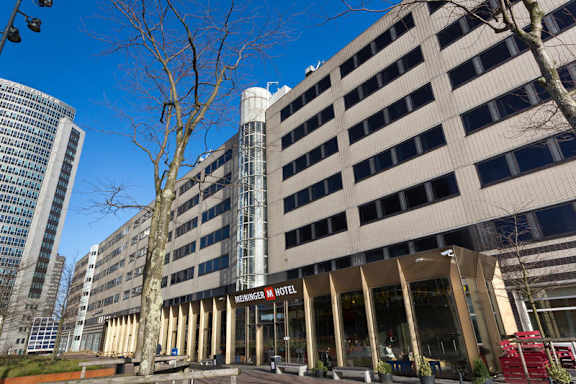 This hostel is right by Amsterdam Sloterdijk Train Station, about 2.5 miles from the city center and many of the most popular tourist attractions. You can reach the city center and Centraal Station in about a 15 minute tram ride. Nearby is one of the city's best party hubs, with plenty of bars, clubs, and restaurants nearby.
Nearby Transportation
This hostel is a bit outside of the city center, but it's very close to many transportation options. It's right by Sloterdijk Station and Airport Schiphol is about a 15 minute train ride away. The tram stops nearby and will take you into the city center in just 15 minutes.
Amenities
This hostel has the standard amenities that you'd find at most hotel chains including Wi-Fil, housekeeping, and travel information. You'll also find laundry facilities, a small shared kitchen, and nice common space with a pool table. A large breakfast is served every morning for an additional price. If you're traveling with kids, you'll appreciate the children's play area they have available.
Staff
This is a large hostel and the personalities of the staff are varied. Some guests have very pleasant and helpful interactions while others leave less than satisfied with the customer service.
Heads Up
This hostel is a bit outside of the city center, but public transportation is abundant and can get you into the city in about 15 minutes. The hostel also feels a bit more like a hotel than a hostel and some guests complained that the customer service could be improved.
MEININGER Amsterdam City West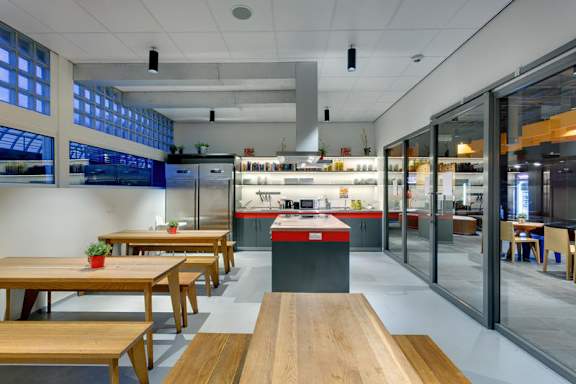 Do you have a favorite hostel that you would like to review? Let us know!