Antwerp On a Budget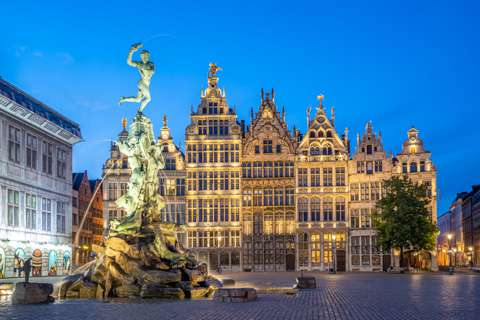 Antwerp is a very popular tourist destination in Belgium. It's a lovely city in the region of Flanders and its people are known for their friendly, open and welcoming personalities. It's a very relaxed and low stress city, making it an excellent place to spend a few days in the midst of a hectic trip. The city itself is known to have a very high standard of living and a great quality of life. Antwerp is also an economic center in Belgium, because of its importance in the diamond trade. It is known as the "world's leading diamond city" with about seventy percent of all diamonds traded through Antwerp.
Antwerp has played a significant role in history, and as such, it has many buildings of different architectural styles that reflect a diversity of periods in history. The city also has many museums dedicated to educating visitors on this rich history. Mixed with the history, Antwerp is also a modern and trendy city. It has a strong influx of artists and musicians that keep the city energized and vibrant. It also has a great nightlife with a large number of fun and eclectic bars and clubs. Antwerp manages to balance both an old and new vibe, making it a great place to experience the diversity of Belgium.
Sights
Some of the top sights in the area include the Antwerp Zoo, Plantin Moretus Museum, the Cathedral of Our Lady, Carolus Borromeus Church and the Old Market Square. If you're looking to do some shopping head to the Meir. This street is near central station and is one of the most well known shopping areas in Belgium. You'll find anything you could be searching for, from high end clothing stores to great souvenir options if you're looking for something special and nice to take home.
Neighborhoods
Most tourists start their trip in the Antwerp Historical Center, which has impressive architecture and lots of history. This is where you'll find the Grote Markt and the Cathedral of Our Lady. The Southern District has many museums and art galleries. There's also a great nightlife and plenty of theaters. The Latin Quarter is a great area for shopping. There are many fashion and antique stores, as well as museums and theaters. Ossenmarkt and Beguinague is near the university, but remains a quiet area with a small town vibe. Also near the university is Stadswaag. Zuenborg is a trendy area near Antwerpen-Berchem. There is some interesting architecture and some great restaurants. The Jewish Quarter is near Central Station in the Diamond District.
Activities
Popular activities in Antwerp include taking the pedestrian tunnel in St. Anna to the left bank of the river Schelde. There's a wonderful view of the city. There are also many interesting places to bike outside of the inner city. You can rent a bike and take a tour, or simply grab a map and explore on your own. Also make sure you check out Stadspark, the city park. It's near the central station and is a great place to visit during the summer months when there are some animals around.
Popular festivals in Antwerp include Zomer van Antwerpen, that takes place during the summer and has dancing, theater and outdoor movies. Laundry is also a large dance festival in the city.
Food and Dining
As is common throughout Flanders, there are fritkoten throughout the city. These are popular places where you can get famous Belgian fries or other fried food for a cheap price. Other affordable places to grab a bite to eat include Pitta or Shoarma, sandwich places, and supermarkets. These are great places to grab a bite to eat almost any time of day. Lunch in Antwerp often includes a "smos", or a bread with several layers of garniture in it. They are quite messy to eat and are a something worth trying while you're in town. You can try them at stores like Panos or Foodmaker, or most famously, at "Jean-Pierre" near the university.
Transportation
You can get around the city on buses and trams which are run by the De Lijn Company. It's possible to walk many places and it's also relatively easy to find a taxi. If you have your own car, driving is relatively pain free as the city is easy too navigate and traffic during off hours is not too bad.
The bus and tram system is relatively efficient, and although they are not always on schedule, the buses and trams usually operate at a high enough frequency that this is not a problem. It's worth buying a 10 ride card if you plan to take it more than five times. Most supermarkets and convenience stores sell them. The central bus station is near the central train station and called Franklin Rooseveltplaats. Almost all of the buses leave from here or the Antwerp-Central or Antwerp-Berchem train stations.
Related:
Looking for a party? Find a
hostel in Amsterdam
,
London
, or
Paris
.
Traveling alone to
Brussels
?
Train and Bus Prices
The best prices for buses and trains in Belgium
can be found on Omio
(formerly
GoEuro
). They let you search across all train, bus, and plane routes throughout the region.