Ghent On a Budget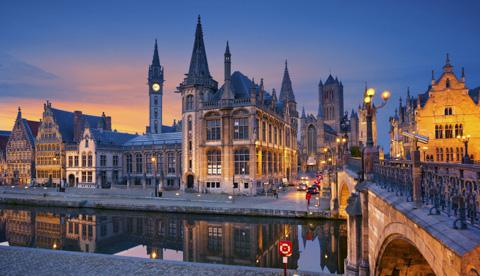 Ghent is a large city in the northern part of Belgium (the Flanders region) with a population of about 250,000. This city was one of the most powerful cities in Europe during the Middle Ages, which is portrayed today, mostly through architecture. There is a large university in Ghent with over 60,000 students, and a large portion of the population are young students. However, among the natives and students, there are also many foreigners and artists that you will find walking the streets of the city. Ghent is also Belgium's second largest port city.
Sights
Visit Sint Niklaaskerk (St. Nicholas's Church) in Korenmarkt. This church was paid for by wealthy medieval merchants and guilds during the 13th century. It was built in a Schelde Gothic style, which is historically Flemish. Another cathedral to see is Sint-Baafskathedraal (St. Bavo's Cathedral). The exterior portrays Gothic, Romanesque, and baroque architecture. Inside you can find the famous altarpiece, "The Adoration of the Mystic Lamb".
The Belfry and Cloth Hall (Belfort en Lakenhalle) in Emile Braunplein are other symbolic sights in Ghent. The Belfry was completed in 1380 and you can take an elevator all the way up (66 meters) to see the bells, as well as beautiful views of the city. The Cloth Hall was a place where wool and cloth merchants gathered and it dates back to the 1400's. For a history of the story of Ghent, visit STAM, the Ghent City Museum. Within the museum are over three hundred historical objects as well as interactive multimedia that help illustrate the story of Ghent. The city also has two art museums, The Museum of Fine Arts (MSK) and the City Museum For Contemporary Art (SMAK). They are situated across from each other in Citadelpark. The former holds collections dating back to the Middle Ages, while the latter is known for its permanent collections of famous works by Francis Bacon, Andy Warhol, and much more.
Neighborhoods
Ghent is part of the Flanders region of Belgium. It is west of both Brussels and Antwerp, two other large cities in this region. Brussels is home to the European Union headquarters and its official language is French. Antwerp is the largest municipality of Belgium and is known for its history in diamonds and fashion. Dutch is the official language of the region as a whole, although many people can speak fluent English as well. Another city in this region is Bruges, which is west of Ghent. Here, the quiet cobblestone roads run along beautiful canals and old medieval buildings.
Activities
The ten day long Gentse Feesten (Ghent Festival) is one of the largest cultural festivals in all of Europe. It happens around mid-July and brings in over a million visitors each year. The festival is free and includes music, comedy, theater, and many more outdoor and indoor activities. Another great activity in Ghent is to take a canal tour around the city. Rederij Dewaele offers cruises for seven euro that last about forty minutes and take you around to many of the cities highlights.
If you are someone who enjoys running, you can take a jogging tour of the city. The company is called Jog-Tours and they aim to keep tourists active. The runs are usually five kilometers or more.
A great activity if you happen to be in the city on a weekend is the Vridagmarkt. It is a lively market that happens every Friday, Saturday, and Sunday. Each day specializes in something different so be sure to check it out!
Transportation
Ghent is a very accessible city. It is a thirty-minute train ride from Brussels, where there is an international airport. It is on the line between Brussels and Bruges making it an easy stop if you are travelling throughout Belgium. You can also get to Ghent by bus. Eurolines have routes to Ghent from other major cities all over Europe like London, Paris, and Amsterdam.
Once in the city, you can get around on foot, bicycle, or via public transportation. Be sure to have some experience on a bicycle if you choose this as your mode of transportation. There are many uneven, cobblestone streets in the city that can be tricky to navigate on a bike. Also, be sure to lock your bike, as there is a high rate of bike theft in the city. The bus and tram system are very easy to figure out and pretty reliable. A single ticket costs three euro on board but you can get a ticket for less if you buy them at the ticket machines prior to riding.
Related:
Looking for a party? Find a
hostel in Amsterdam
,
London
, or
Paris
.
Traveling alone to
Brussels
?