Belgium On a Budget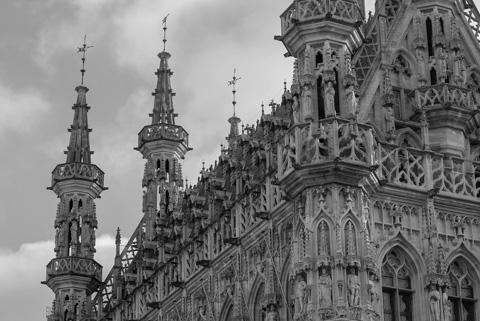 Belgium is a low lying country located on the North Sea in the Benelux. It is split into two areas with a Germanic north and a Latin south. Although very diverse, it is a relatively small country with a densely packed population. It is most known for its role in the European Union, where its capital, Brussels, serves as the union's headquarters.
This country is often overlooked by many travelers, but within this small country there's a rich history that is impressively intertwined with striking modernization. There are actually many cities worth visiting in the area, all of which have a rich history and culture that is still evident today. The country has many popular festivals and events which draw crowds from all over Europe. In particular, the Ducasse de Mons is a fun parade that takes place every year. The town of Binche is a fun place to visit every February during the Carnival de Binche. This festival celebrates the area's history and culture by recreating a 16th century town. The Dour Festival, held every July, celebrates Europe's alternative music scene and Gentse Feesten, in the second half of July lasts for ten days and is the largest street festival in Europe. It's held in the city's historical center and has everything from theater to music, food and arts.
Belgium is comparable in cost to most Western European countries. You can save money on food by grabbing cheap meals at sandwich shops. If you're eating in the more touristy areas, make sure they don't bring you food that is presented as "free." You're likely to be surprised with a bill later in the meal. Also seek out the free attractions in cities. There are plenty of things in the area worth visiting that cost you nothing. Transportation, like elsewhere, is better booked in advance and advanced reservations for hotels are also recommended. In general Belgium is a reasonably priced country but with a little preparation you can make sure your money takes you farther.
Related:
Looking for a party? Find a
hostel in Amsterdam
,
London
, or
Paris
.
Traveling alone to
Brussels
?
Find a
Contiki tour
to Europe.
Top Tourist Attractions
Waterloo:
Visit the location of the battle which ended the Napoleonic Wars in 1815. You can climb to the top of the hill for a view of the surrounding area including the battlefield. You can also visit the Wellington Museum for a more in depth tour.
The Groeninge Museum:
This is an impressive museum that has on display an exhibit of six centuries of Flemish, Dutch and Belgian paintings. It's located in Bruges, Belgium and is one of the country's most impressive museums.
Gravensteen Castle:
While Belgium has over 300 castles, this one is perhaps the most popular and well known. Located in the city of Ghent, it dates back to the Middle Ages. It is partially surrounded by a moat, and inside the castle you will find a museum that displays various torture devices used throughout history.
Popular Foods
Frikandel:
This is a minced meat hotdog that is usually eaten as a snack from a fast food joint. It's usually deep fried and served hot with a side of a salad or fries. It's a cheap but popular food item.
Gehaktbal:
This is a ground beef meatball that is made with bread crumbs and onions and often served with fries. The meatballs are usually hand rolled and either fried, baked, steamed, or braised in a flavorful sauce.
Kroket:
This is a fried roll, usually made from potatoes and stuffed with a meat such as beef, veal, or chicken. It is available in fast food form for cheap on the streets, but a fancier version is often prepared for Christmas meals as well.