Should you visit Australia or Thailand?
Thailand is significantly cheaper to visit than Australia. This is perhaps one of the main reasons why people choose to visit this beautiful country. However, Australia has plenty of great sights and attractions as well.
Australia is a huge and diverse country, both in its geography, sights, activities and cultures. Over on the coasts you'll find sandy beaches with clear waters not too far from big cities. In the north are warmer, tropical areas known for wildlife and scuba diving. The famous Outback is in the central regions, where visitors come to see its deserts and geological wonders unlike any other place on Earth.The Great Barrier Reef, Ayers Rock, the Blue Mountains, Surfer's Paradise, and the Sydney Opera House are just a few more of the world famous destinations to see in Australia.
In Southeast Asia, Thailand is the most popular country to visit. While it's a must-see for backpackers and budget travelers due to its low prices and gorgeous landscapes, it is also popular with mid-range and luxury travelers. Being one of the most visited countries in the world, it's clear that the overall economy of Thailand is dependent on tourism. While the beauty of Thailand is quite evident, the friendly nature of its people also help bring in a huge number of tourists every year. However, the sheer numbers of visitors can drive prices higher than expected. Bartering is frequent in Thailand where prices for tourists are often higher than equivalent local prices.
When is the best time to visit Australia and Thailand?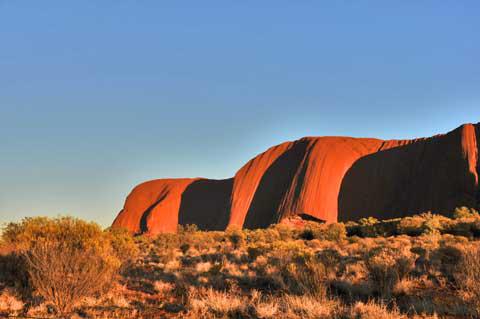 Australia, being in the southern hemisphere, experiences warm summer months from November to April, and colder winter months from May to October. However, northern Australia is fairly close to the equator, and experiences warmer weather year-round. At the same time, southern Australia experiences four full seasons (much like the U.S. and Europe), with cold winters and warm, humid summers.
Much of northern Australia can be visited year-round due to the warm tropical climate and mild winters. However, the best time to visit Australia's beaches and big cities of the southeast is in the Spring, Summer, and Fall (avoiding June, July, and August as they are the coldest months). Traveling to Australia in the shoulder seasons can often lead to cheaper prices.
The high season for travel in Thailand is between November and February, although visitors come all year. The seasons are caused by monsoon winds more than temperature changes, though. In the north, the dry season is between November and May. The southern coasts stay relatively dry during this time as well. Due to a change in weather patterns, the east and west coasts receive rainfall at different times of the year. The wettest time on the western coast is usually between April and October, while the east coast experiences more rain between September and December.
Why is Australia more expensive than Thailand?
Australia is a modern, first world nation with a high cost of living, modern technological and industrial economy, and thriving middle class. All of these factors raise the overall prices for travel in Australia compared to much of the world, especially some of its Pacific and Asian neighbors.
Modern hotels and restaurants can be found everywhere, providing the level of luxury and modern conveniences that western tourists from the U.S. and Europe expect. However, this level of luxury comes at a higher price.
Despite being one of the most visited destinations in Southeast Asia, Thailand's overall economy is based on tourism and agriculture instead of higher-end services or manufacturing. Because of this, travelers benefit from the overall lower cost of living leading to less expensive travel prices.
Budget accommodation in Thailand is everywhere, and the food is cheap, too. Activities are also affordable due to the generally lower wages across the nation.
What are the most expensive and cheapest cities and regions in Australia and Thailand?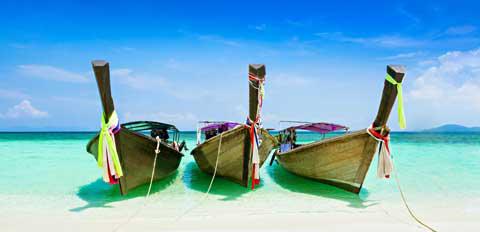 The beach areas of Australia can be fairly expensive, especially in the peak summer months. The east coast beaches in Queensland from Bisbane and the Gold Coast all the way up to Cairns are full of higher-end hotels and restaurants. However, cheaper options can be found as there are also plenty of hostels, budget hotels, and less expensive restaurants. The areas around the Whitsunday Islands and the launching points for the Great Barrier Reef can also be pricey.
Excursions and trips into the central areas of Australia to the Outback and around national parks can sometimes be expensive due to the great distances that must be traveled. In additional to this, the prices for entrance fees and various activities such as hiking and trekking can add to the budgets of travelers.
As a general rule in Thailand, as is the case in most countries, the more touristy a destination, the more expensive it is. Southern Thailand is no exception, as many of the islands have become world-famous destinations on their own. The south is generally more expensive than northern Thailand. Phuket, the beaches of Krabi, Koh Phi Phi, Koh Samui, and Koh Phangan are some of the most expensive, so pay attention and look for alternatives if you're on a strict budget. Also, the Full Moon Party can drive prices up, but expenses are more reasonable during quiet times.
Visitors to the larger cities of both countries can experience a mix of prices. With a more diverse range of options, travelers to Sydney, Melbourne, Bangkok, Pattaya, and Chiang Mai will find both cheap and expensive accommodation and food options. However, expense is a relative term, so pay attention to the overall prices of everything in the country.
In the countryside of northern Thailand, prices tend to be cheap. Smaller towns in the north wish to attract visitors and lower their prices accordingly. However, sometimes transportation can get pricey.
How you can save money when visiting Australia and Thailand?
Negotiate for prices in Thailand for almost everything you buy, especially in markets and for budget hotels. Learn to haggle in a respectable manner and it can save you money in the long term.
In Australia, booking ahead for hotels and hostels can often save you money and provide the ability to shop around. Look online for deals and to make reservations. In Thailand, this can work as well to make reservations at desirable locations. Although prices are not necessarily cheaper online than they are in person unless you're in a big city.
Public transportation in Australian cities is cheap and efficient, and sometimes even free. Use it whenever possible. Look for long distance bus routes between major cities if renting a car is too expensive. Also, the train can be an affordable and relaxing option.
Instead of staying at a hotel or hostel, consider alternatives such as camping, couch surfing, or a home stay.
Travel with the locals. Find local transportation (the government buses) whenever possible and avoid paying a premium for tourist or "VIP" buses. Often, the government bus station will be in the center of town or separated from the tourist areas.
Slow down. If you're rushing through the area you're going to spend more money. Transportation costs can be somewhat expensive, so the more places you visit, the more money you're going to spend. Go off the beaten path. Prices in touristy areas tend to be the highest. Find a more remote area and stay put, and you'll save a ton of money.