Should you visit Thailand or Laos?
Thailand and Laos share a border and have a similar culture. Backpackers making the circuit through Southeast Asia tend to always visit Thailand, but not as many venture into Laos. However, the significantly lower prices in Laos might tempt you not only to visit, but to stay awhile.
Thailand is the most touristy country in the Southeast Asian region, and the local dependence on tourism can be seen in every corner and the most remote towns of the country. The beauty of Thailand is quite world-famous, and the beauty of the landscapes, combined with the very friendly nature of its people have created a situation where a huge number of tourists visit every year. But all of these visitors can drive prices up, especially in touristy areas. Bartering is a must in Thailand where the prices for foreigners are sometimes dramatically higher than local prices.
Laos, a smaller landlocked nation, is one of the cheapest countries in the world to visit, and is known for adventure travel, wildlife and jungles, and its laid back atmosphere that caters to backpackers and budget travelers. For all of these reasons, and the overall low cost, it is very popular with the budget travel community. However, in recent years it has seen more of an influx of higher-end and higher-paying tourists who are interested in visiting Laos for its ecological scenery in the mostly untouched jungles of central Southeast Asia.
When is the best time to visit Thailand and Laos?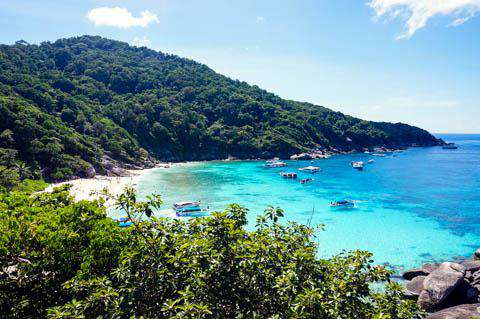 In Thailand, the "high season" for travel is from November to February, although visitors can and do arrive at any point in the year due to the warm weather. The dry and wet seasons are caused by seasonal winds, and in the north, the dry season is between November and May. The southern coasts are also dry at this time of year, too. Due to seasonal changes in weather patterns, the east and west coasts receive rainfall at different times throughout the year. The wetter time on the west coast is mostly between April and October, while the eastern islands and coastal areas receive more rain from September to December. Keep in mind that the southern areas of Thailand are geographically "skinny" which means that rain can sometimes travel across the whole of the land at any time of year.
As is typical in Southeast Asia, Laos is also warm year-round. The dry season is in the winter months from October to April, and the wet season is in the summer months from May to September. However, don't expect the wet season to dump continuous rain, so even in the wetter months, visitors don't really need to worry about the weather too much. However, the "high season" tends to be the dryer times of the year.
Why is Thailand more expensive than Laos?
Thailand's economy is clearly dependent on tourism. Thailand has a numerous bus companies in place that cater specifically to backpackers and mid-range travelers. These services are significantly more expensive than the public government-run transportation system that locals use. These services can vary from long-distance city-to-city bus lines to smaller inner-city or "along the beach" routes. These companies are usually significantly more expensive that the public buses. However, many travelers end up taking them because they market to the tourists directly at hostels and at tourist attractions, whereas the public buses are not always in the most convenient locations for tourists.
Heavily visited areas in Thailand are expensive simply due to supply and demand. On the more popular islands and beaches, usable land is limited and therefore hotels and restaurants are not as numerous as the number of visitors who are arriving (or making reservations). Thus, places fill up quickly and in some areas, it is not possible to build many new hotels. Also, many of the islands need to have western food, gas, and other supplies shipped to them, leading to higher prices of just about everything from food to taxi price to an increase in the price of souvenirs.
Laos, is one of the poorest countries in the world, and it has lower prices for generally everything in the tourism business as compared to its neighbors. Traditionally, Laos has had an economic reliance on backpackers for a long time. This has, for the benefit of budget travelers, left the country with a large number of hostels and cheap hotels, as well as cheaper food choices. This has created yet even more competition to a market with already low prices. As much of the country's economy is based on agriculture, this means that food is also fairly cheap, even for tourists. In some places, transportation can get a little pricey due to fuel costs, but overall, Laos is just plain cheap.
What are the most expensive and cheapest cities and regions in Thailand and Laos?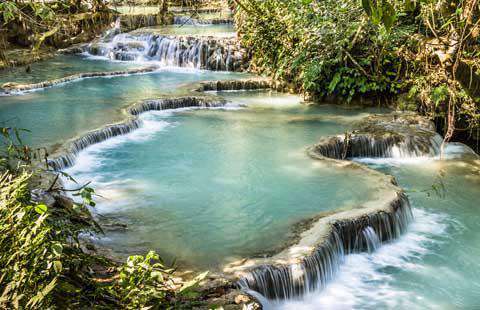 As a general rule around the world, the more touristy a destination, the more expensive it is. This is especially true of Thailand, a nation with such a high frequency of visitors. Southern Thailand is generally more costly than northern Thailand with some of higher priced areas being the beaches near Krabi, Koh Samui, the beaches of Phuket, Koh Phi Phi, and Koh Phangan.
The time of year of your trip can also dramatically effect your costs. During the Full Moon Parties on various islands, prices can get much higher, especially on Koh Phangan which is historically the largest such gathering. During other times of the year and the month, or even during smaller of such parties, the prices are usually lower.
Visitors to the big cities in both countries can experience a mix of prices. With a more diverse range of options, travelers to Bangkok, Pattaya, Chiang Mai, and other larger urban areas can find a diverse range of cheap and expensive accommodation and food options.
In the more rural countryside that is frequent in northern Thailand, prices tend to be a little cheaper. Businesses and hotels in the smaller towns in the north wish to attract visitors and thus lower prices accordingly. However, sometimes transportation can get pricey due to the cost of fuel or scarcity of bus routes.
Laos is fairly consistent in prices all over the country, as everything is cheap. Minor fluctuations can be found, though. But if you plan to do a lot of activities or tours, this can add to your budget significantly, as these activities are often more expensive than hostels or cheap restaurants. Tours into the countryside to visit the jungle areas or nearby wilderness parks, although still very affordable compared to other countries, tend to add more expenses for those on a shoestring budget.
If you're looking for more luxury, such as a nicer hotel or high-end restaurant, then expect to pay significantly more than the budget or mid-range options. The cities and towns of Laos tend to be cheap due to the readily available food and accommodation options, as well as more variety and competition.
How you can save money when visiting Thailand and Laos?
Negotiate for prices in both countries, and all over Southeast Asia. Shop around and know what services and products should really cost before you commit to purchasing something.
Venture off the more commonly followed route that has been blazed by too many other travelers before you. Prices in touristy areas tend to be the highest, so look elsewhere.
Travel with the locals by using public transportation (the government buses) whenever possible, and avoid paying a premium for tourist buses. Often, the government bus station will be in the middle of a town, which is somewhat separated from the tourist or hotel areas.
Festivals are fun, but they can raise your budget significantly. If you're planning on going to the Full Moon Party, expect higher prices. Otherwise, avoid the island areas during these times. Also look at the holiday schedule to see when locals are on vacation.
Eat local, shop local, and stay local to save money. While Laos is not necessarily known for chains and large companies, they do exist in some places but are more expensive. Thailand also has a large number of chains in the more popular areas.
Travel slow and take your time. Transportation is one of the biggest expenses for some people, so picking a destination and maximizing all activities while there will keep prices down.