Sydney On a Budget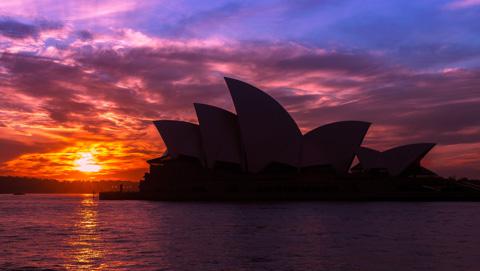 Sydney, known as the harbour city, is the most famous and frequently visited city in Australia. It is at the economical and cultural heart of the country, and is one of the most beautiful and livable cities in the world. It's situated on the water with stunning views of the famous harbour throughout the city. It's most famous landmarks include the Sydney Opera House and the Sydney Harbour Bridge. It is also very close wonderful beaches, parks, and nature.
Sydney's climate is humid subtropical. There summers are warm or hot and the winters are mild. Rainfall is evenly spread throughout the year. The weather is heavily effected by the city's proximity to the ocean and you can expect temperatures to be more extreme the farther inland you go. January and February are the warmest months with temperatures typically in the 70s or 80s Fahrenheit. Winter temperatures rarely go below 40 degrees Fahrenheit and the coldest month is July.
Sights
Perhaps the most recognizable sights in Sydney include the Sydney Harbour Bridge and the Sydney Opera House, but there are countless other attractions to visit while you're in town. The Sydney Olympic Park is where the city hosted the summer Olympics in the year 2000. Luna Park is an amusement park near the Harbour Bridge and Sydney Tower is the tallest building in the city. The Royal Botanical Gardens have 7500 species of plants and is not to be missed. Although there is no lack of sights in Sydney, the most appealing part of the city is simply wandering the neighborhoods, checking out the fine restaurants, and soaking up the sun and views.
Do make sure you allow yourself enough time to take in the city for everything it has to offer. Whether you're a solo traveler, couple, or a family, this large city has something for everyone. For example, here's a great
list of 88 things to do in Sydney with kids
.
Neighborhoods
Sydney is a large metropolitan area with a compact city center surrounded by sprawling suburbs. The central part of the city includes the City Center, The Rocks, Darling Harbour, City South, City East, and City West. The City Center has many attractions that appeal to visitors including excellent shopping and dining. The Rocks is where you'll find the Harbour Bridge as well as the first colonial village of Sydney. Darling Harbour is an area filled with entertainment options. City South has Haymarket, Chinatown and Central Station. City East includes Kings Cross, Darlinghurst, Surry Hill, Woolloomooloo and Moore Park while City West has early morning fish markets.
Areas of interest in the outlying suburbs of Sydney include the world famous Bondi Beach, Sydney Olympic Park,
Taronga Zoo
, Palm Beach, as well as many residential and commercial areas.
Activities
As a large, metropolitan city on the ocean, there is no shortage of activities that you can enjoy while you're in town. Sydney is a great place to start with your
Australia Bucket List
, after all. Swimming at one of the beaches is a must. The most popular beaches include Bondi, Manly, Coogee, Cronulla, and Wattamolla. There are also many great kayaking spots nearby. Surfing, fishing, and water sports are all plentiful as well.
If you're interested in a more cultural activity then check out a show at one of the city's three theaters. The Capitol Theatre in Haymarket, the Theatre Royal in the Central Business District, and the Lyric Theatre in Star City are all recommended, especially if you're on a
4-day itinerary of Sydney
. Opera Australia performs at the Opera House as well.
A number of other trips just outside of the city are also possible. A visit to the Blue Mountains makes an easy day trip. Or, it's possible to go
whale watching from Sydney
, too.
Food and Dining
Food prices in Sydney can range from relatively affordable to extremely expensive. Your cheapest option is to pick up ingredients at a market and prepare your own meals. Ethnic food is often reasonably priced as well. Asian restaurants are abundant and include Korean, Chinese and Thai, among others. Head to Chinatown for a variety of affordable options. There are also affordable cafes near Sydney University along King Street.
Cafes and restaurants providing all-day breakfasts have taken off in popularity. There are many beachside cafes that offer excellent Australian breakfasts including corn fritters with bacon and poached eggs.
This city is also great for children. Here's a
list of places where kids eat free in Sydney
.
Transportation
Sydney has a range of transportation options including buses, trains, and ferries. It has a great public transportation system, particularly in the city center. If you're planning to spend most of your time in the middle of town then a rental car is not necessary. There is an extensive suburban rail system in Sydney with 176 stations. It covers most of the metropolitan area with the exception of the northwest and northern beaches. The city's light rail system has one single, 7 kilometer long line that travels between Sydney City and Darling Harbour, the casino, and Pyrmont and from Central to Dulwich Hill. The bus system in Sydney is comprehensive and usually reliable. It is best to plan your route in advance though, to ensure you make the most efficient travel plans.
You can supplement public transportation with the taxis you will find around town. There are generally two different rates. There is a flag fall rate of $3.30 and a distance rate of $1.99/km. You will also be charged a sitting fee of $0.85/min and a booking fee of $2.50. The night rate between 10PM and 6AM adds twenty percent to the distance fee. These fees do add up so keep an eye on the costs. You will also be charged an additional ten percent if you choose to pay with a credit card.
Related
Looking for a party? Find a
hostel in Sydney
,
Melbourne
,
Cairns
, or along the
Gold Coast
.