Should you visit Australia or Vietnam?
Both Australia and Vietnam are popular with budget travelers and backpackers, but Vietnam is significantly less expensive. As a developing country, Vietnam has much cheaper prices, but still offers modern conveniences for those who want a more luxurious level of travel.
Australia is a large and diverse country both in its landscapes and cultures. On the coasts you'll find great beautiful beaches and big cities. In the north are tropical areas known for wildlife. And in the center is deserts, forests, and geological wonders like no place else on Earth. The Outback, the Great Barrier Reef, the Blue Mountains, Ayers Rock, Surfer's Paradise, and the Sydney Opera House are just a few of the world famous locations to see in Australia.
In the last decade, tourism has surged in Vietnam. The reasons are obvious, as this diverse and beautiful country offers much to do and see to the visitors. While the beaches are nice, the real gems are the authentic local experiences to be had in every region, from floating markets in the Mekong Delta to trekking through the Hmong villages and rice terraces in the north. And don't miss the stunning landscapes of Halong Bay, either.
Vietnam offers a terrific value to tourists as prices are cheap, accommodation options are of good quality, transportation is efficient, the food is amazing, and the locals are friendly.
When is the best time to visit Australia and Vietnam?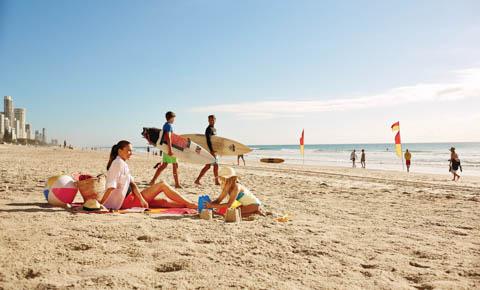 Australia, being in the southern hemisphere, experiences warm summer months from November to April, and colder winter months from May to October. However, northern Australia is fairly close to the equator, and experiences warmer weather year-round. At the same time, southern Australia experiences four full seasons (much like the U.S. and Europe), with cold winters and warm, humid summers.
Much of northern Australia can be visited year-round due to the warm tropical climate and mild winters. However, the best time to visit Australia's beaches and big cities of the southeast is in the Spring, Summer, and Fall (avoiding June, July, and August as they are the coldest months). Traveling to Australia in the shoulder seasons can often lead to cheaper prices.
Vietnam is warm all year, so just accept that you'll be in a tropical country. There is really no best or worst time to visit, as you'll probably be visiting the entire country during your trip which spans multiple climate regions. At higher elevations, the weather is significantly cooler. Fortunately, some of the higher elevation towns are on the must-see list, so that should alleviate some of the heat during your trip.
In the north (Hanoi), summer months are hotter and have more rain, while winter months are dryer and cooler. In the central area (Danang & Hue), it's dry but very hot from January to late summer, and rainy from the summer through December. In the south (Mekong Delta), it's hot and dry in winter months, and hot and wet in summer months.
Other than the weather, local festivals in various cities might make you want to visit, or leave, a particular area for a short period of time, but this varies by location.
Why is Australia more expensive than Vietnam?
Australia is a modern, first world nation with a high cost of living, modern technological and industrial economy, and thriving middle class. All of these factors raise the overall prices for travel in Australia compared to much of the world, especially some of its Pacific and Asian neighbors.
Modern hotels and restaurants can be found everywhere, providing the level of luxury and modern conveniences that western tourists from the U.S. and Europe expect. However, this level of luxury comes at a higher price.
As a country on the rise (some still use the term "developing"), Vietnam as a whole is quite cheap. A large influx of tourists has led to a rise in the tourism business, but a pro-business government has allowed competition to flourish, leaving prices fairly low. This means that every mom and pop has opened a hotel or a restaurant catering to travelers. Quality might be inconsistent, but the options are plentiful.
What are the most expensive and cheapest cities and regions in Australia and Vietnam?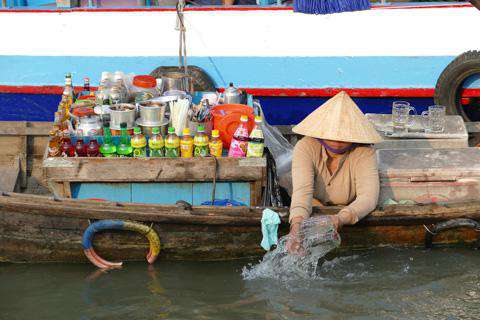 The beach areas of Australia can be fairly expensive, especially in the peak summer months. The east coast beaches in Queensland from Bisbane and the Gold Coast all the way up to Cairns are full of higher-end hotels and restaurants. However, cheaper options can be found as there are also plenty of hostels, budget hotels, and less expensive restaurants. The areas around the Whitsunday Islands and the launching points for the Great Barrier Reef can also be pricey.
The larger cities of Australia, especially those in the southeast, can get expensive as well. While budget options are available, expect prices to be generally higher for most services.
Tours and excursions into the Outback and central areas of Australia can sometimes be expensive due to the great distances that must be traveled as well as the prices for activities such as visiting national parks, hiking and trekking, etc.
As Vietnam is a highly populated country, even visiting the smaller towns or the countryside means that plenty of infrastructure, accommodations, and restaurants are available. This means that prices are fairly consistent even in more rural areas compared to other countries. Rural in Vietnam does not have the empty feeling that it does in other countries.
In the big cities such as Hanoi, Ho Chi Minh, Da Nang, and Hue, a variety of options are available for food and hotels. Prices can be higher if you want more luxury, but cheap options abound everywhere, too. Generally, the more touristy a destination, the higher one can expect prices to be for tourist-related activities. But food and other goods tends to stay consistent.
How you can save money when visiting Australia and Vietnam?
In Australia, booking ahead for hotels and hostels can often save you money and provide the ability to shop around.
Public transportation in Australian cities is cheap and efficient, and sometimes even free. Use it whenever possible. Look for long distance bus routes between major cities if renting a car is too expensive. Also, the train can be an affordable and relaxing option.
Instead of staying at a hotel or hostel, consider alternatives such as camping, couch surfing, or a home stay.
Vietnam is one of the most difficult countries in the world for bartering, so learn to negotiate and be prepared before your trip. Hold your line, stand firm, and be prepared to walk away if you don't like the price. After that, you'll be surprised at how prices will come down just a few seconds later. Read up on negotiating strategies such as "cut their offer by a third when you counter offer, and don't pay more than half."
Shop around. Don't go for the first thing you see, whether it be a small souvenir, a hotel, or an all-inclusive tour. Whatever it is that you're looking at, chances are there's another right next door. This might sound comical, but once you're there, you'll understand.
Overall, if you want to save money in Vietnam, the rule is "go local". Eat local food, as it's not only yummy and healthy, but also very cheap. Locally owned hotels and hostels are also very cheap. Think small and your wallet will thank you - and you'll have a more authentic experience, too..
Take local transportation and avoid the multi-day tours that prey on tourists and backpackers. Buses go everywhere in Vietnam for a very cheap price. Taxis are not too bad, either. With the conveniences of the tours comes the higher prices and less authenticity.
Overnight buses are a good way to get around and avoid paying for a hotel room at the same time. (Just don't expect a great sleeping experience.)