Ho Chi Minh City On a Budget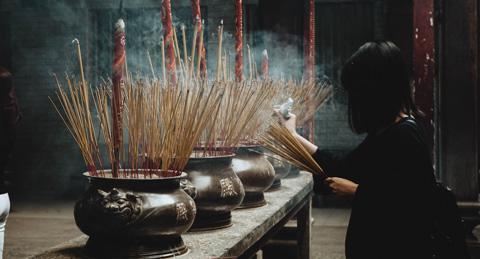 Ho Chi Minh City, formerly
Saigon
, is the largest city in Vietnam. It previously served as the capital of the Republic of Vietnam (South Vietnam). The metropolitan area, including Ho Chi Minh City, Thu Dau Mot, Di An, Bien Hoa, and other surrounding towns, has a population of more than 9 million people and continues to grow.
The city's core is where most tourists spend their time. It has many wide and elegant boulevards and beautiful historic French colonial buildings. It is estimated that about 4.3 million tourists visit Vietnam every year and about 3 million of them visit Ho Chi Minh City.
The city has a tropical climate with a tropical wet and dry climate that is divided into two distinct seasons. The rainy season is between May and October and the dry season is between December and April. The temperature is relatively consistent throughout the year with temperatures hovering around 82 degrees Fahrenheit.
Sights
There are many sights throughout the city, many of which serve to inform or memorialize the events of the war. The War Remnants Museum is one of the most visited sights in the city. It can be graphic at points as there are rather gruesome photos that depict the level of cruelty that occurred during the war. There is also a simulated "tiger cage" prison and jars holding deformed fetuses affected by Agent Orange. Just outside of the museum you'll see a variety of military equipment including tanks, jets, helicopters, and howitzers.
The Reunification Palace was previously the presidential palace during the war when Saigon was the capital of the Republic of Vietnam. Today it feels somewhat dated, but is interesting to see. Thien Hau Pagoda is on Nguyen Trai Street, and is dedicated to the sea goddess, Lady Thien Hau. Every March 23rd there is a festival held in her honor.
Neighborhoods
Ho Chi Minh City is divided into 24 districts. Most of the areas of interest for tourists are in the middle of the city in either District 1 or District 3. These areas have the highest concentration of sights, restaurants and hotels. If you're a budget traveler then the best neighborhood to stay in is Pham Ngu Lao, which has cheap accommodation and affordable places to eat. Dong Khoi is slightly more expensive and has slightly better amenities for visitors. A popular market area in town is Cho Lon, or The Big Market. This area has the highest concentration of Chinese residents and negotiating prices is a must.
Activities
Shopping is a favorite activity in Saigon. You can find markets that sell everything from Vietnamese arts and crafts to electronics and clothing. Remember to negotiate hard for everything, and it is best to barter in the local currency. Some of the best markets include
Ben Thanh Market
, Saigon Square, Cho Binh Tay, the Night Market, and the War Surplus Market.
Other activities around town include seeing a show at the Saigon Opera House or taking a city organized tour. Cooking classes are also available.
Food and Dining
There is no shortage of restaurants in Saigon, both international and Vietnamese. Prices are relatively low in cost, but rising so it can be challenging to find the very cheap deals that once existed. You'll still get some great deals at food stalls around town. You can also pick up a delicious bowl of pho soup for very little money. Other popular local dishes include Banh Mi Thit (pork sandwiches) or Com Tam (rice with grilled pork and vegetables). Western food is usually far more expensive, so if you're on a tight budget, stick to the wonderful local cuisine. Saigon is the perfect place to start an
itinerary of Vietnam focusing on food
, also. As the cuisine is diverse in this modern city, everyone can find something they like.
You'll find the highest concentration of western style restaurants along Pham Ngu Lao, with options ranging from pizza to burgers or even Mexican. The quality can be highly variable, so don't expect the styles you're accustomed to at home.
Transportation
Traveling around Ho Chi Minh City can be chaotic. You have several options including taxis, cyclos, motorbikes, and bus among other things. Like elsewhere in Vietnam, you will have to negotiate hard for a good rate on a taxi, cyclo, or motorbike ride. There are 150 public bus routes throughout the city. The buses are surprisingly comfortable and modern so this offers a cheap and reliable way to get around town. The system itself, however, is very complicated so figuring out your route can be a challenge. Motorbike taxis are everywhere and cheap. They are usually safe and helmets are now required. The driver should provide you with a helmet and you will be fined if you don't wear one. If none is provided, find another bike.
Cyclos are a popular way to get around the center of town. The passenger sits in the front seat and the cyclist is in the back. Walking can be very stressful and hazardous. There are many motorbikes and vehicles congesting the streets and the city itself is not particularly pedestrian friendly. Still, if you familiarize yourself with the driving etiquette, you can navigate your way around town on foot.
Related
Looking for a
hostel in Vietnam
or
Cambodia
? Find
party hostels in Vietnam
or
Siem Reap
or find the best place to stay if you're
traveling alone to Ho Chi Minh City
.