Should you visit Chile or Colombia?
Chile is much more expensive than Colombia as a travel destination, mainly because Chile is the most expensive country in South America for travelers. Both countries offer a great deal of experiences and activities for visitors.
The top three destinations in Chile include the Torres del Paine National Park in Patagonia for some raw and picturesque scenery and wildlife, The Lake District region, especially for water-sports lovers and Atacama for the desert, salt flat and stargazing.
Chile is a long and narrow strip of land that's almost entirely mountainous with some coastal plains. While there are a few airports within the Chile's Patagonian region, travel is mainly handled over land and by water. Therefore the most important question that you need to answer before you head this far south on the globe is how much time you have.
Long synonymous with drug cartels, kidnappings and corruption, the last two decades have seen Colombia evolve from failed narco state into one of Latin America's greatest destination. New restaurants, boutique hotels and craft breweries are appearing across Bogota, as local entrepreneurs capitalize on the country's newfound peace. In 2013, Medellin was voted the world's most innovative city: art, tourism and an impressive new cable car network have all contributed to the rebirth of this incredible city. You will see sculptures scattered around Medellin from Fernando Botero, the figurative painter and sculptor famed for his satirical works, which feature oversized subjects in exaggerated form. In addition, Bogota's decision to decriminalize graffiti in 2011 marked a creative new era for the city, whose flyovers, office blocks and municipal walls became canvases for some of the world's most exceptional street art. Cartagena is one of the most fabulous colonial cities in Latin America. You can dance in all-night salsa clubs in the southern city of Cali, which has the honorable distinction of being Colombia's salsa capital.
Colombia has plenty of hidden treasures. Trekking to the ruins of the mysterious Ciudad Perdida is one of Colombia's most rewarding adventures. Constructed some 650 years before Peru's Machu Picchu, Ciudad Perdida was only re-discovered in 1976. This ancient city is hidden in dense jungle atop the Sierra Nevada de Santa Marta, a six-day hike from the nearest town. Mompox is also not very easy to access and has largely been bypassed by tourists, but it is well worth making an effort for. Not only is this sleepy city a place of beauty, with its well-preserved architecture and riverside location, but it was also the inspiration behind Gabriel Garcia Márquez's magical realism novel, One Hundred Years of Solitude.
Colombia also has some wonderful popular attractions such as an underground salt cathedral in the quiet, colonial city of Zipaquira, a short drive or train trip from Bogota, a heritage railway, which offers a unique perspective on Bogota and the surrounding countryside, and the Guatape Lake, which is actually the result of a controversial dam. Colombia is also home to one of South America's prettiest national parks.
Tayrona National Park has all the attributes you want from the Caribbean, swaying palms, sandy beaches, limpid lagoons but being a protected area in Colombia's northern wilderness, this coastal reserve is refreshingly free of development. Colombia also has one of the world's biggest carnivals. The Barranquilla Carnival takes place 40 days before Holy Week, and the streets are filled with parades and parties, a big attraction for tourists, who are warmly received by locals.
When is the best time to visit Chile and Colombia?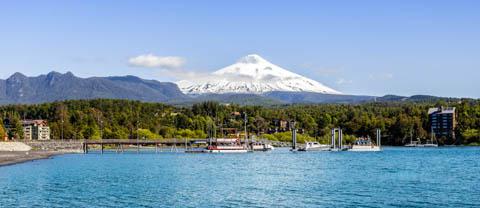 The best time to visit Chile depends on the purpose of your trip. Go there from June to September if you plan to spend your days on the snow, preferably avoiding July and August if you do not want to be overcrowded on the slopes. If you want to catch the sun in chic beach resorts and party until the sun comes out, November to February is your time-slot.
However, if you are planning to hike through Patagonia and visit the natural wonders, then prioritize mid-seasons. Either go around September to November or from March to May. Both are low seasons, but the spring landscape, September to November, is the nicest of the two. If you do not handle the cold very well, avoid going to Patagonia before mid-October and after April. On the other hand if you love the snow, winter landscapes, skiing and travelling during low season with few tourists and lower prices, you should definitely visit Patagonia during end of autumn or beginning of spring. While you will get all the advantages of travelling during low season, you will also be able to enjoy a sunny weather, still quite cold but manageable. While a few activities (hikes, excursions) will begin to close (end of autumn) or still be closed (towards spring), you will definitely be able to do most of the essential activities and to fully enjoy some of them as you might find that you have a hiking path all to yourself! The differences in prices between low and high season are not tremendous but you will probably be able to save some money on deals with accommodation and a few other fees.
Colombia is a year-round destination, particularly along the Caribbean coast and in Medellin where warm, dry weather is prevalent for almost the entire year. Weather variations are determined more by region than clearly defined seasons. The dry season, which makes the high-season for tourists in Colombia is from December to March. With plenty of sunny days; ideal for exploring the country's charming towns and cities, the coffee district, cultural highlights, beautiful countryside, jungles and relaxing on the beach, Colombia is filled with domestic holidaymakers and international visitors. Early planning is crucial for December and January. Also remember that in the highlands, nights become chilly in areas of higher altitude all year-round. The lowlands enjoy a tropical climate during the whole year with little temperature variation, though more frequent rain showers will be noticeable in the wetter months of April to June and again in October and November. The start of the rainy season brings slightly wetter weather in some places, but persistent rainfall is very unusual. Long spells of dry weather can still be enjoyed, and many take advantage of off-peak travel to get a wider choice of hotels and lower rates than in the months to follow.
Why is Chile more expensive than Colombia?
Foreigners often have a misconception about all of South America being cheap. This is not the case of Chile. Especially when coming from other nearby countries, Chilean prices will come quite as a shock due to the high cost of living in the country. Its political and economic stability means that it is one of the most expensive South American countries and Chile continues to boast one of the highest ratios of executive salary rates to cost of living.
Traveling between December and March means traveling in high season in Chile. Like in most developed countries, the locals also travel during high season, which means hotels and hostels are heavily booked in advance and prices rise, especially in popular destinations like the Lake District or Patagonia.
Compared to other South American countries, Colombia is not the cheapest destination but certainly not the most expensive either. The falling value of the peso also makes it cheaper for foreign tourists than it was just a few years ago. The cost of living remains fairly low and there is not much difference in budget when travelling in Colombia or Ecuador.Activities are quite affordable by Western standards. For example, a paragliding session in San Gil costs USD$21 for a short flight and USD$60 or ?49 for a longer one. An hour-long private salsa dancing lesson in Medellin costs around USD$17. Museum entry is often free or only a couple of thousand pesos. Your biggest expense might be the 5 or 6 day Ciudad Perdida trek near Santa Marta, if this will be part of your itinerary. The price is standardized at $250 regardless of which trekking company you choose. While it is a bigger one-off expense, you also won't have to pay for food or accommodation for almost a week. Colombia is twice the size of France and bus travel is moderately expensive, so if you will be moving around the country a lot then this will add to your expenses.
What are the most expensive and cheapest cities and regions in Chile and Colombia?

Southern Patagonia tends to be cheaper than the North. However, travelling through this large piece of land requires a certain budget and certain cities are surprisingly expensive. In the small towns of Patagonia, costs tend to be cheap due to competition. However, sometimes transportation can get pricey and the more frequently visited a destination by tourists, the higher the prices can get. The time of year and festivals can also dramatically affect cost.
The most touristy and also priciest location in Colombia is the beautiful and historic colonial city of Cartagena. Cartagena's Old Town is a Unesco World Heritage site, a maze of cobbled alleys, balconies covered in bougainvillea, and massive churches that cast their shadows across leafy plazas. Beyond this, there are some expected price differences between the cities like Bogota or Medellin and the countryside.
How you can save money when visiting Chile and Colombia?
Cooking in your hostel's kitchen is one of the best ways to keep your travel costs down, to meet fellow travellers and supermarkets are also great places to go to see what the local people eat. Another good self-cook method is to make your own picnic for lunch, especially if you plan to spend the day outdoors, perhaps trekking in one of the many national parks.
Don't fly domestically, as a two-hour flight can be quite expensive. Unless you are in a rush, consider taking the bus to your next destination. While not very common in the north of the country, if you're in Patagonia, you'll see many locals and tourists alike hitchhiking, as long-distance buses in that part of the country can be on the expensive side and infrequent. An inexpensive way to get around and also out of the cities is to rent bicycles from your hostel or rental shops, usually for no more than USD$10 a day. Hiking is free, and throughout the country you'll find plenty of opportunities to enjoy this and other free outdoor activities since Argentina and Chile are blessed with many city parks and nature reserves where you can spend the day wandering around and relaxing. As you start to travel south to Patagonia, accommodation costs get higher. Hostels are often USD$17 USD or more a night as opposed to as cheap as USD$6 a night in Buenos Aires for example. Look for camping opportunities as often as possible. When you aren't in the national parks, many hostels will let you pitch your tent for a small fee.
The first tip to save money in Colombia is to negotiate. Prices for bus tickets and taxis are sometimes negotiable, so try to haggle to bring the costs down. In the off-season, you can also negotiate the price of your guesthouses if you speak Spanish.
If you're a student, make sure to bring your student card to get discounts at many of the museums and tourist sites in the country. Also many museums around the country are free on Sundays. However be sure to arrive early to beat the crowds, as they will be much busier.
Many hostels and hotels will include free breakfast so be sure to stay at a place that does so you can save on your food budget.
Take a free walking tour. Free Walking Tour Bogota offers an informative and insightful tour around the city, serving as a great introduction to the local way of life as well as the city's history. Real City Tours offer a free tour in Medellin, as well.
Uber is way cheaper than taxis and are the best way to get around a city if you don't want to wait for a bus or pay for a taxi. The Uber Pool option is where can you share a ride to get even better savings.).