Chile On a Budget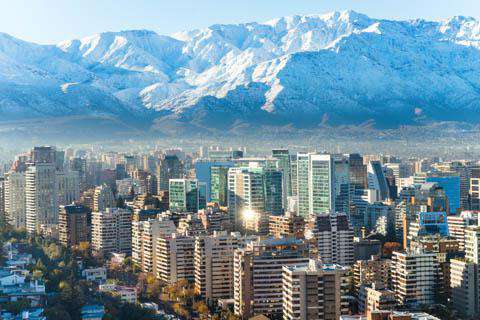 Chile is a narrow country in South America that is situated between the Andes Mountains and the Pacific Ocean. The unusual long and narrow shape of the country means that it has over 3000 miles of coastline. It also covers a great variety of landscapes and offers a diversity of geography types. During a trip to Chile you can see everything from the isolated moonscapes and pink flamingo-filled lagoons in the northern deserts to the green vineyards of the Central Valley. Explore the rainforests in the Lake District or be mesmerized by the glaciers and dramatic peaks in Patagonia. Set far out in the Pacific Ocean, Chile also claims Easter Island, which has a mysterious history and civilization.
Because of its long and narrow nature, navigation can be a little challenging. If you're short on time, but not money, consider taking a few flights to ensure that you see everything you intended during your trip. Buses are a good alternative for those people who are traveling on a slightly tighter budget. Do make sure you buy tickets for a direct bus as local buses can make frequent stops.
Chile also includes the territory that is Easter Island, although this extremely isolated island is actually halfway across the Pacific Ocean between South America and Tahiti. It is possible to catch a flight from Santiago to Easter Island, although you can expect to pay dearly for it.
Restaurant options are diverse and plentiful in Chile. The cheapest options are often the sandwich shops you'll find in most towns, but if you're looking for something different, there are sit down restaurants that offer everything from Chilean specialties to western food. Most nicer restaurants also have wine available and the locally produced variety is highly recommended. Desserts are also popular in Chile and most restaurants will have several options available to you. These include anything from sopaipillas to fruit or strudel.
Most hotels and public buildings have wifi available. If you're looking for free internet, the library may be your best option. Most medium sized cities have libraries and it's easy to walk in and use a computer with no extra charge. Simply ask a local to point you the way to the library.
Your hotel options in Chile are quite diverse. You'll find everything from popular western chains such as the Sheraton to hostels and lodges that accommodate budget travelers. Whatever your travel style, the quality of hotels in this country is quite high and you can expect yourself to be very comfortable at a reasonable price.
At A Glance
If you're traveling from another country in South America, you'll find plenty of good bus connections to Chile. Coming from Argentina, you can take a bus from Mendoza, Bariloche and San Martin de los Andes, as well as the once weekly buses from Buenos Aires. Coming from Peru, you can take a bus from Arequipa, and from Bolivia there are a handful of options. From Brazil you can take a twice weekly bus from Sao Paulo.


The best way to get Chilean pesos is through an ATM. The exchange rates in hotels and the airport are incredibly high, but you will typically get a decent rate at some of the exchange centers around town. Never exchange money on the street, particularly if there is someone trying to "help" you. Always go into a bank if you have a concern.


Seafood on the coast is quite delicious and not to be missed. Although there are some excellent options, it is best to avoid the raw shellfish. This is a favorite among locals, but the frequent red tides often leave the shellfish contaminated and questionable. It's a risk that is not worth taking.


Chile is known for its wine. It's a great area to go wine tasting, and there are wonderful vineyards in many parts of the country. If you're interested in wine at all, then this is an activity you would enjoy.


Sandwiches are a cheap meal in most cities. If you're looking for a fast and affordable lunch, head to any of the sandwich shops you'll find in almost any town. They're usually pretty good and low in cost. They usually have a good number of options. There is often at least one vegetarian choice, particularly in the central part of the country where vegetables are grown in abundance. If there is no vegetarian selection, you can typically request one anyway.
Related:
Looking for a
party hostel in Rio
,
Sao Paulo
,
Lima
, or
Buenos Aires
?
Traveling alone through
Argentina
?
Top Tourist Attractions
Easter Island:
This is a remote island in the Pacific Ocean that is most known for its enigmatic giant stone busts which were built centuries ago. It's a challenging, but rewarding place to visit, it large part because of its remote location and the mystery that surrounds it.
Parque Nacional Torres del Paine:
This is an impressive area in Chile that has granite peaks, glaciers, emerald-green lakes, rushing rivers and stunning scenery. It is one of the country's most popular destinations and has some of the area's most stunning landscapes.
Cerro Concepcion:
This lovely neighborhood in Valparaiso is famous for its bright colors and lovely atmosphere. It's an enjoyable to walk around or grab a bite to eat.
Popular Foods
Chilean food is quite diverse. The main staples are potatoes, rice, meat and bread. You'll also find plenty of vegetable options in the middle part of the country. Seafood is abundant on the coastline and you can enjoy many local specialties such as salmon, scallops, or sea bass.
Pastel de choclo:
This is a traditional corn casserole that is made from ground beef, onions, chicken, raisins, a hardboiled egg, and olives. It is usually finished of with sugar and butter.
Lomo a lo pobre:
This traditional dish is made from beef steak that is topped with egg and served with fried potatoes and fried onions. It's typically found at the nicer restaurants in Chile.
Porotos granados:
Porotos granados is a hearty stew dish that is made from fresh beans, squash, corn, onion and basil. It sometimes includes pumpkin or cranberries and the origins of the dish can be dated back to historic times.