Should you visit Ecuador or Colombia?
Bordered by Colombia, Peru, and the beautiful Pacific Ocean, Ecuador is one of the smallest countries in South America but do not be fooled; there is plenty to see, do, and experience! Ecuador is one of the most biodiverse regions in the world. It boasts 50 ecosystems, from the Galapagos to tropical rainforests to forested valleys to the Andean mountains and with several hotspots that have been named UNESCO World Heritage Sites. Ecuador is a great destination because it offers so much in a territory that is about the same size as the state of Colorado. Ecuador is easy to explore, and a small setting will allow travelers to see numerous destinations without riding in a vehicle all day. Traveling from the Pacific Ocean to one of the highest mountains on earth, and then visiting the jungle can even be done in one day! Ecuador is all about adventure. Hiking, biking, kayaking, horseback riding, diving, swimming, rafting, trekking through the jungle, mountains or volcanoes and rewarding your hard work with a good dip in a hot spring or an hour or two on a tropical beach. And the great news is that there is no need to spend your time figuring out exchange rates because Ecuador has been using the U.S. Dollar as currency since 2000, when it retired the Sucre. With 530 miles of coastline, it's no surprise that Ecuador has some of the most beautiful beaches in South America. Coastal towns to visit include the popular Salinas and Puerto Lopez, Salango for snorkeling and scuba diving, and Atacames for the fantastic nightlife. Not to mention the Galapagos Islands. If you are seeking for some true adventure, travel to the Andes and the Cotopaxi National Park, where one of the highest active volcanoes in the world has erupted more than 50 times since 1738. Ecuador blends Spanish culture with African and European influences, and this vibrancy is reflected in the people and its cities. As Ecuador's capital, Quito is where you are heading for culture, stunning views, great nightlife especially karaoke bars, and local meals. And speaking of food, the country's cuisine is as diverse as its landscape. Hearty mountain fare and seafood make up Ecuador's national dishes, which include a citrusy ceviche, toasted corn snacks, a cheesy potato soup, pan-fried pork and chicken, goat stew and guinea pig. In city centers, visitors will find museums, theaters, thriving markets, festivals, and very welcoming people.
Long synonymous with drug cartels, kidnappings and corruption, the last two decades have seen Colombia evolve from failed narco state into one of Latin America's greatest destination. New restaurants, boutique hotels and craft breweries are appearing across Bogota, as local entrepreneurs capitalize on the country's newfound peace. In 2013, Medellin was voted the world's most innovative city: art, tourism and an impressive new cable car network have all contributed to the rebirth of this incredible city. You will see sculptures scattered around Medellin from Fernando Botero, the figurative painter and sculptor famed for his satirical works, which feature oversized subjects in exaggerated form. In addition, Bogota's decision to decriminalize graffiti in 2011 marked a creative new era for the city, whose flyovers, office blocks and municipal walls became canvases for some of the world's most exceptional street art. Cartagena is one of the most fabulous colonial cities in Latin America. You can dance in all-night salsa clubs in the southern city of Cali, which has the honorable distinction of being Colombia's salsa capital.
Colombia has plenty of hidden treasures. Trekking to the ruins of the mysterious Ciudad Perdida is one of Colombia's most rewarding adventures. Constructed some 650 years before Peru's Machu Picchu, Ciudad Perdida was only re-discovered in 1976. This ancient city is hidden in dense jungle atop the Sierra Nevada de Santa Marta, a six-day hike from the nearest town. Mompox is also not very easy to access and has largely been bypassed by tourists, but it is well worth making an effort for. Not only is this sleepy city a place of beauty, with its well-preserved architecture and riverside location, but it was also the inspiration behind Gabriel Garcia Márquez's magical realism novel, One Hundred Years of Solitude.
Colombia also has some wonderful popular attractions such as an underground salt cathedral in the quiet, colonial city of Zipaquira, a short drive or train trip from Bogota, a heritage railway, which offers a unique perspective on Bogota and the surrounding countryside, and the Guatape Lake, which is actually the result of a controversial dam. Colombia is also home to one of South America's prettiest national parks.
Tayrona National Park has all the attributes you want from the Caribbean, swaying palms, sandy beaches, limpid lagoons but being a protected area in Colombia's northern wilderness, this coastal reserve is refreshingly free of development. Colombia also has one of the world's biggest carnivals. The Barranquilla Carnival takes place 40 days before Holy Week, and the streets are filled with parades and parties, a big attraction for tourists, who are warmly received by locals.
When is the best time to visit Ecuador and Colombia?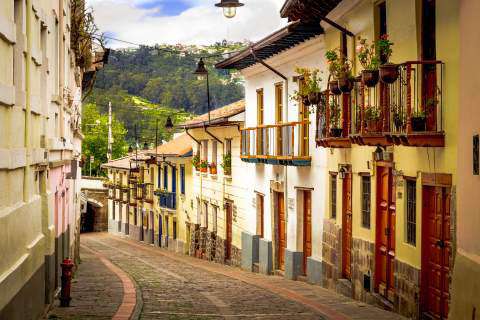 Many visitors describe Ecuador as the "Hidden Jewel of South America". This is because of the unmatched diversity in landscape, ecosystem and culture present in the country, but also because Ecuador enjoys mild spring-like weather conditions year-round with a gorgeous temperature of 65 degrees (F). Locals and travelers often describe Ecuador as the "Eternal Spring", which makes it an ideal place to visit any time of the year. Weather variations are usually the result of regional differences and micro-climates rather than clearly defined seasons. In between January and May is the coolest and wettest time period in Ecuador. Many people still choose to travel to Ecuador at this time because rainfall mostly presents itself in afternoon showers and the waters around the Galapagos Islands are at their warmest. The driest and warmest months in Ecuadorian mainland occur from June to September. Visitors can often enjoy clear blue Andean skies and warm sunshine. Fewer showers also make for more prolonged periods to enjoy bird-watching in the cloud-forests. This is also the peak time to visit neighboring Peru, so early planning is advisable. In the highlands, the 'four seasons in a day' phenomenon can happen at any time, so you should not limit your travel planning to this drier season. The months of October, November and December are a popular time to visit Ecuador, as the South American national holidays approach and the waters around the Galapagos become calmer again, so early booking is again advisable.
Colombia is a year-round destination, particularly along the Caribbean coast and in Medellin where warm, dry weather is prevalent for almost the entire year. Weather variations are determined more by region than clearly defined seasons. The dry season, which makes the high-season for tourists in Colombia is from December to March. With plenty of sunny days; ideal for exploring the country's charming towns and cities, the coffee district, cultural highlights, beautiful countryside, jungles and relaxing on the beach, Colombia is filled with domestic holidaymakers and international visitors. Early planning is crucial for December and January. Also remember that in the highlands, nights become chilly in areas of higher altitude all year-round. The lowlands enjoy a tropical climate during the whole year with little temperature variation, though more frequent rain showers will be noticeable in the wetter months of April to June and again in October and November. The start of the rainy season brings slightly wetter weather in some places, but persistent rainfall is very unusual. Long spells of dry weather can still be enjoyed, and many take advantage of off-peak travel to get a wider choice of hotels and lower rates than in the months to follow.
Why is Ecuador more expensive than Colombia?
Ecuador has a fairly low cost of living. It is astonishingly diverse and interesting but it's also a relatively small and compact country, which reduces the need to spend on long-distance transportation the way you will in neighboring countries. Activities are pretty cheap. For example, a round trip on the stunning Devil's Nose train will cost USD$30, hiking trips to volcanoes and mountains usually start at around USD$40 and in terms of accommodation there are ample cheap private rooms to be found in Ecuador, and often the price difference between a dorm bed and a basic private is minimal. The one thing that can really tip the scale is visiting the Galapagos Islands. However few tourists travel to Ecuador without visiting the Galapagos Islands, which on its own requires a budget of at least USD$1000 per person though probably a bit more.
Compared to other South American countries, Colombia is not the cheapest destination but certainly not the most expensive either. The falling value of the peso also makes it cheaper for foreign tourists than it was just a few years ago. The cost of living remains fairly low and there is not much difference in budget when travelling in Colombia or Ecuador.Activities are quite affordable by Western standards. For example, a paragliding session in San Gil costs USD$21 for a short flight and USD$60 or €49 for a longer one. An hour-long private salsa dancing lesson in Medellin costs around USD$17. Museum entry is often free or only a couple of thousand pesos. Your biggest expense might be the 5 or 6 day Ciudad Perdida trek near Santa Marta, if this will be part of your itinerary. The price is standardized at $250 regardless of which trekking company you choose. While it is a bigger one-off expense, you also won't have to pay for food or accommodation for almost a week. Colombia is twice the size of France and bus travel is moderately expensive, so if you will be moving around the country a lot then this will add to your expenses.
What are the most expensive and cheapest cities and regions in Ecuador and Colombia?

Quito is a cosmopolitan city, where colonial architecture blends with modern life. It provides visitors with incomparable scenery surrounded by the breath taking Andes Mountains. On its colonial center, Quito offers narrow cobblestones streets, a maze maze of churches, and history and tradition in every corner. Cuenca is Ecuador's third-largest city. It hustles and bustles, but with a certain provincial charm. This prosperous and beautiful highland city has retained much of its colonial splendor, and, like Quito's, its city center has been declared a UNESCO World Heritage Site. Oddly enough, Quito and Cuenca costs more than the capital these days because the average income is higher and a lot of wealthy Ecuadorians have moved back from abroad and settled there for a more mellow life. Get beyond these two cities and Guayaquil, and you will be sure that living expenses are even less. Riobamba, Vilcabamba, Cotacachi, or other towns in the Andes are definitely cheaper.
The most touristy and also priciest location in Colombia is the beautiful and historic colonial city of Cartagena. Cartagena's Old Town is a Unesco World Heritage site, a maze of cobbled alleys, balconies covered in bougainvillea, and massive churches that cast their shadows across leafy plazas. Beyond this, there are some expected price differences between the cities like Bogota or Medellin and the countryside.
How you can save money when visiting Ecuador and Colombia?
To save money in Ecuador, look into staying in Hospedajes, a very affordable accommodation option. These family-run guesthouses are all over the country and have rooms for just a few dollars per night. Eat and food shops at the markets. You can find meals and kilos of fruits for just a few dollars, making this the best way to eat cheaply in the country. Many restaurants have almuerzos, cheap lunches from a set menu, which are usually just a couple of dollars and even include a drink! Try to carry as much small change as you can as you will have trouble changing bigger notes than USD$20, especially in small towns. A good money saving tip is to book last minute tours. By booking your Galapagos Island cruise in Quito last minute, you can save up to 40% off the expensive cost of the trip. If you're flexible in when you go and can wait around for a spot to open, the cheapest option is also to just fly there and see what is around. If you want to make your trip even cheaper, find free accommodation and a chance to make a local friend on Couchsurfing. Another good accommodation network is the Hola Hostels. These hostels are predominantly in South and Central America including Colombia, as well as Europe and offer 10% off to their members, as well as other discounts for food and activities. Joining is free, and their hostels are also committed to environmentally sustainable practices.
The first tip to save money in Colombia is to negotiate. Prices for bus tickets and taxis are sometimes negotiable, so try to haggle to bring the costs down. In the off-season, you can also negotiate the price of your guesthouses if you speak Spanish. If you're a student, make sure to bring your student card to get discounts at many of the museums and tourist sites in the country. Also many museums around the country are free on Sundays. However be sure to arrive early to beat the crowds, as they will be much busier. Many hostels and hotels will include free breakfast so be sure to stay at a place that does so you can save on your food budget. Take a free walking tour. Free Walking Tour Bogota offers an informative and insightful tour around the city, serving as a great introduction to the local way of life as well as the city's history. Real City Tours offer a free tour in Medellin, as well. Uber is way cheaper than taxis and are the best way to get around a city if you don't want to wait for a bus or pay for a taxi. The Uber Pool option is where can you share a ride to get even better savings.).