Should you visit Lithuania or Poland?
Both Lithuania and Poland are affordable countries to visit by European standards, but Lithuania is slightly more expensive than Poland. It is a Baltic country that has a lot to offer visitors despite its small size. Most visitors to Lithuania head to the capital city of Vilnius. This is a fascinating city with a unique history and impressive architecture. You'll have no trouble finding good food and beer for reasonable prices. Outside of the capital city, Lithuania also has a lot of natural beauty. There are many lakes and villages around and it is worth taking some time to explore the country in depth. Several famous sights in Lithuania includes the Hill of Crosses and the Curonian Spit.
Poland is a significantly larger country than Lithuania. It's a deeply religious country and many religious holidays are recognized. Poland is a bit more affordable than Lithuania and you can easily find affordable food and accommodation throughout the country. Poland has a lot to offer visitors. There are interesting cities, beautiful countryside, and lots of natural beauty with forests, mountains, valleys, and lakes that you can explore. Most visitors to Poland head to Krakow, as it is the cultural capital of the country. It has a fascinating old town and a beautiful market square. Warsaw is the capital of the country, and it also has many interesting things to offer visitors.
When is the best time to visit Lithuania and Poland?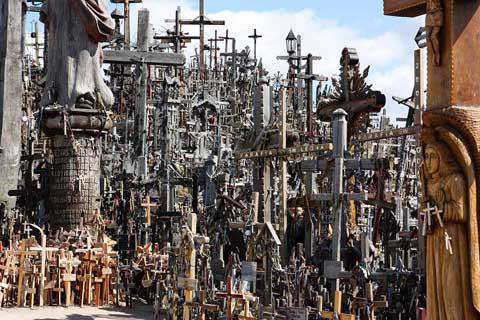 Like much of Northern Europe, it is best to visit Lithuania during the warmer months, from late spring through summer. The weather is quite nice during this time and it's ideal if you plan to spend a lot of time outside. In general, the summers are quite short and temperatures start to drop as early as the start of September. Fall is a beautiful season in Lithuania, but if you plan to be outside a lot, plan for colder temperatures. Snow may fall as early as mid November and the winter months are usually very cold. Many of the tourist facilities are only open between the months of April and September so plan accordingly.
Poland is also most popular during the summer months. This is a sunny and comfortable season to be outside, but you should also expect the most tourist crowds and the highest prices during these months. If you want to enjoy the flowers in bloom, then summer is a less crowded time to visit. Fall is also a beautiful season as the forests turn into beautiful golden colors. Crowds also drop off during the fall months and this is also when there are many cultural events throughout the country. Winter can get quite cold and snowy, but if you're interested in winter sports, then the southern part of the country is a popular winter destination.
Why is Lithuania more expensive than Poland?
Lithuania is slightly more expensive than Poland, but in general the prices are very reasonable in both countries. Affordable accommodation is readily available, whether you're looking for hostels, hotels, or bed and breakfasts. There are also many budget friendly restaurants to choose from, particularly in the larger towns and cities. Whatever your travel style you'll likely find, both Poland and Lithuania affordable and comfortable.
What are the most expensive and cheapest cities and regions in Lithuania and Poland?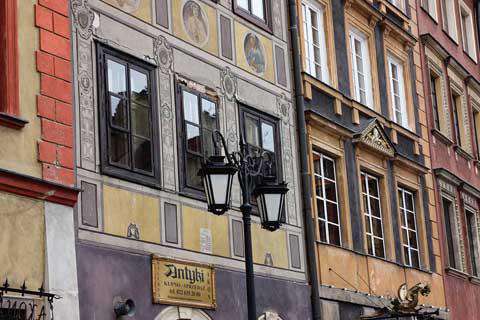 Like many capital cities, Vilnius is one of the most expensive parts of Lithuania to visit. It is the most popular tourist destination in the country, and prices generally reflect that. Still, there are plenty of budget accommodation options and restaurants around, so competition can keep prices down. You might also be surprised in some of the smaller towns and villages throughout Lithuania. They often have a limited number of accommodation options, so the one or two places that are available can be a bit expensive. During the low season the availability is even less, so you may find yourself paying more than you would in the larger cities.
Similarly in Poland, the most popular tourist destinations and largest cities are often the most expensive places to visit. But like Lithuania, smaller towns and rural areas have less variety when it comes to accommodation and restaurants so prices can be a bit higher than you might expect.
How you can save money when visiting Lithuania and Poland?
Both Lithuania and Poland are relatively affordable countries to visit, particularly by European standards. If you want to keep your prices down, find hostels or budget accommodation where you can stay. Regardless of the type of accommodation you choose, most places are a fraction of the price you would pay in other parts of Europe.
Eat at local eateries, particularly near universities. Restaurants that cater to students are usually quite cheap and fast. They offer a local flavor for a fraction of the price you would pay in more touristy areas.
Buy locally. Whether you're renting a car or looking for accommodation, find a locally owned place. The prices are usually better and then your money stays in the local economy.
When possible, take a bus. Buses are often cheaper than trains, and public transportation is almost always cheaper than renting a car.
Find accommodation with a kitchen. If you want to save some money on food, find a place to stay where you can cook your own meals. This helps keep your food budget down and lets you explore the local markets.