Lodz On a Budget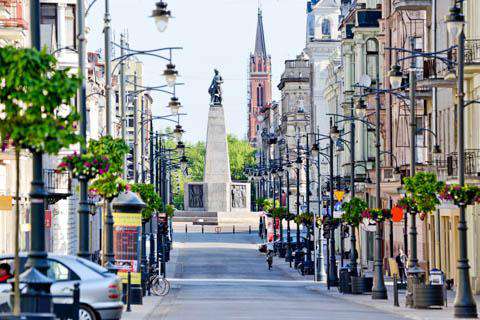 Located in central Poland, Lodz is a city perhaps best-known as a former textile-manufacturing hub. There are plenty of attractions and museums dedicated to showcasing that history, as well as a drive to promote it as a center for creative industries like art, design, fashion, and film.
Sights
A first glance at Lodz offers a unique combination of architecture from stark soviet-style buildings to beautiful post-industrial villas. This conglomerate of architecture is a reflection of its history, preserved over the course of two World Wars. Much of this history is on display in Lodz's museums. The Central Museum of Textiles, for example, shows 19th-century machinery, fabrics, and handicrafts linked to the trade that marked the city's heyday. Additionally, the restored Manufaktura complex (once a factory building) is now a lively culture and arts center. The Lodz City Museum, located nearby inside the 19th-century grand Poznanski Palace, also exhibits artwork and objects depicting the history of Lodz.
Beyond museums, Lodz is additionally home to a botanical garden that features an array of natural architecture and plant exhibitions, as well as a zoo that houses over 350 species from around the world.  Both are located within or near Jozef Pi?sudski Park-the largest park in the city, mostly made up of forest with a few lakes and large alleys. Other iconic sights include Karol Scheibler's Palace, a Neo-Renaissance palace today hosts the File Museum, as well as the ornate Karol Scheibler's Chapel located within the most important active cemetery in Lodz.
Neighborhoods
Piotrkowska Street is the main commercial street in the city, and is supposedly the longest commercial street in Europe with a length of four kilometers. Running from the Liberty Square (Plac Wolno?ci) to the Independence Square (Plac Niepodleg?o?ci), it is one of the major attractions of Lodz. It is the center for shopping with stores for clothing, jewelry, books, and other souvenirs, as well as a dining district with many pubs, bars, and restaurants. Ko?ciuszki Street is not as popular as Piotrkowska Street, but visitors can usually buy the same things here for a much lower price as far as shopping goes.
Activities
Marketed as a center for creative industries, many come to admire the historic architecture and experience local events including festivals, cinemas, musical theatres, and live music. Festivals, some of which are international, are held throughout the year and cover themes of culture, extreme sports and tourism, photography, comics and games, design, film, music producing, and theatre.
Apart from these events, many visitors explore the city on their own, sightseeing and shopping. The old factory building, Manufaktura, also houses a modern shopping mall in addition to a cinema, hotel, museum, and art gallery. Galeria Lodzka is another popular mall, and the largest single collection of shops in the city from clothing and perfume to electronics and groceries.
Food and Dining
In Lodz, most authentic Polish food is served in the more expensive restaurants and are situated along Piotrkowska Street. Polish cuisine shares many similarities with other West Slavic countries like neighboring Czech and Slovak, and has also been widely influenced by other Central European cuisines. It is rich in meat, winter vegetables (like cabbage), herbs, and spices. Dishes are typically hearty, using a lot of cream and eggs and usually served with noodles or cereals like kasha. A few national dishes include a stew of meat, sauerkraut, and fresh cabbage called bigos, a potato-filled dumpling known as pierogi (can also be filled with sauerkraut, ground meat, cheese, and fruits), a kind of sausage called kielbasa, sour cucumber soup, mushroom soup, and a soup made from beetroots known as borscht. Being a major city, Lodz also has plenty of options for international fare, from Italian pizza to Irish pub food, as well as Balkan, Cuban, French options, and more.  Alternatively, for the cheapest food, there are many kebab or Yem joints that offer sandwiches for around 6-8 PLN ($1.77-2.36 USD).
Transportation
Lodz Wladys?aw Reymont Airport is one of the smallest airports in Poland, but the closest to Lodz-about 6 kilometers from the city center. It is served by some charter and two low-cost airlines: Ryanair (Dublin, London, Nottingham, Liverpool, Oslo) and Scandinavian Airlines (Copenhagen).
Many travelers use the larger Katowice Airport, about 180 kilometers south of the city, taking about 2.5 hours by car along the motorway. It is served internationally by Lufthansa, Ryanair, and Wizzair, and domestically by LOT Polish Airlines.
Lodz is also well-connected to all other major Polish cities by train at Lodz Kaliska station.