Jaco On a Budget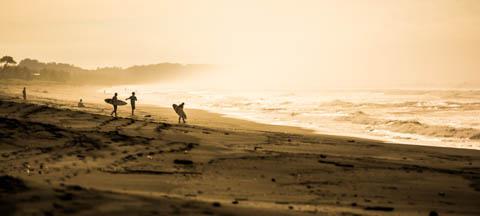 Jaco is a beach destination on the Central Pacific Coast of Costa Rica. This resort city is located in the county of Garabito in the Puntarenas province. It has a population of about 10,000 residents and a 2.5 mile long beach that is an excellent surfing destination.
Because Jaco is located on the coast, it's weather is influenced by the water. The climate is humid with a relative humidity of about 80%, but climbing to 90% in the month of June. The temperature is usually between 85 and 90 degrees Fahrenheit during the day and between 75 and 80 degrees Fahrenheit at night. There are distinct wet and dry seasons with August through early December being the rainy season and late December through early April being the dry season. Rain is irregular during the rest of the year.
Sights
You can easily see everything that Jaco has to offer in one day, but most people choose to spend at least several days here exploring, relaxing, swimming or partying. There are no shortage of fellow travelers in the area and you will have no trouble keeping yourself entertained. It's also possible to book tours to the surrounding areas where you can find more private beaches. Even better, if you have your own car, driving along the coastline is a wonderful way to enjoy the area. The beaches outside of Jaco are quite beautiful, and in the more remote areas you'll have much more privacy. You can reach Manuel Antonio National Park in about an hour's drive.
Neighborhoods
Jaco is a small town with about two and a half miles of beach. The town's main strip runs parallel to the water and is lined with many small shops and stands. There is also a small mall, El Galeone, that is on the main street.
Jaco is located between several mountains and has beaches to the north and south. Herradura Bay is to the north and Playa Hermosa is to the south. Carara National Park is about 35 kilometers to the south. This is where you'll find one of the largest populations of wild scarlet macaws in the country.
Activities
There is no shortage of activities that you can enjoy in Jaco. Surfing is probably the most popular activity. It's not expensive to rent a board for the day and this is an excellent place to learn to surf. The waves are good during high tides. There are also many different surfing camps and schools that you can choose from in the area, but make sure you choose one that is reputable and certified. If you want to rent a surf board, there are plenty of shops along Jaco's main street.
Zip line tours are also available in the area. You can see waterfalls, birds, and wildlife as you fly through the canopy. Jaco Beach Zip Line Canopy Tour is the main company in the area.
Food and Dining
There are many great restaurants in Jaco. You'll find anything from international food to traditional Costa Rican options or seafood. Sandwiches can make a cheap and filling lunch. You'll even find sushi here, which is a favorite among tourists. Bars are abundant as well. You can expect beers to cost about $2, and you'll find no shortage of places to grab a refreshing drink and chat with fellow travelers. Partying is a major part of the Jaco experience so bars are often lively and fun.
Transportation
You can reach Jaco from San Jose in a couple of hours. There are buses that leave from the Coca Cola bus station, or you can catch the Easy Ride Shuttle Service from the airport.
Once you arrive in Jaco you can reach most destinations by walking. You'll typically want to catch a ride with a taxi if it's dark out or too hot. The official taxis are red in color and it is best to stick with the official companies, but there are a handful of unofficial drivers that will pick you up as well. There is a taxi stand near the main grocery store and there are always taxis waiting outside of Beatle Bar.
Buses are also an option if you plan to stay in central Jaco. If you're heading to the outskirts of town, however, buses are not your best option. Local buses travel every hour between Herradura and Jaco, and while it goes through parts of Jaco, it does not go to the northern side. You can catch the bus to Herradura at the bus stop near the grocery store.
The city's official bus station is at the northern end of Jaco across from the Best Western Hotel. This is where you catch a bus to San Jose.
Related:
Looking for a
party hostel in Costa Rica
or
Cancun
? Looking for a
budget hostel in Mexico
or
Costa Rica
?