Santa Elena On a Budget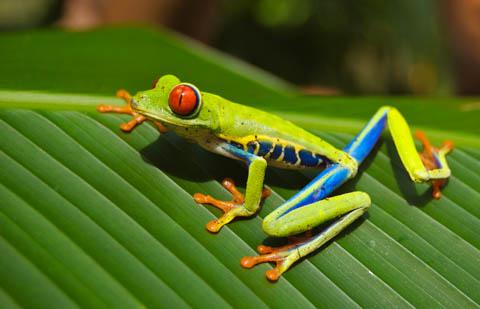 Santa Elena is a cute town, and the closest to the
Monteverde Cloud Forest
. It's one of the most popular destinations in Costa Rica, and is a great place to experience the cloud forest and see some of country's unique wildlife.
In the Monteverde Cloud Forest you have a good chance of seeing rare quetzals which are the national bird of Costa Rica. Other common animals include white-faced capuchin monkeys, howler monkeys, orange-kneed tarantulas, any of 8-9 species of hummingbirds, and sloth.
Santa Elena is about 1,400 meters above sea level and has a humid and damp environment. The average yearly temperature is 64 degrees Fahrenheit and the average rainfall is 3,000 millimetres. Humidity can be anywhere between 74% and 97%.
Sights
Allow yourself at least a couple of days in the Monteverde area. You'll want time to explore and hike around the cloud forest, and if you're interested in doing a canopy or zip line tour, you'll need time to book that as well. These are generally regarded as some of the best
things to do in the Guanacaste area
. There are a few sights in the area including the Orchid Garden, the Butterfly and Insect Garden, and Ranario (which is a frog pond).
There are many natural areas, including the Monteverde Cloud Forest, that you can explore near Santa Elena. Monteverde Cloud Forest Reserve is where you'll find the majority of the cloud forest. There is also
Bosque Eterno de los Ninos
conservation area, which is to the west. To the north is the Reserva Santa Elena, which is less popular than the Monteverde Reserve but has a rustic station and good views of Arenal Volcano.
Neighborhoods
Santa Elena is a very small town. The main area is at the intersection of three roads that form a triangular block. The block is the town center and where you'll find some of the restaurants and entertainment in the town.
Both Monteverde Cloud Forest and Santa Elena Cloud forest are located outside of town and require transportation or an organized tour to reach.
Activities
Santa Elena and the surrounding area has no shortage of activities. The area is well known for its zip line tours, with the most famous being the Cloud Forest Canopy. Other activities in the area include horseback riding and special exhibits about the area's flora and fauna. Activities in Santa Elena are all centered around the area's natural beauty. The area has a strong focus on sustainability and eco-tourism.
Tours to Monteverde cloud forest are easy to organize. Most people recommend a guided tour, as the guides are usually quite good and do know their information. As always, it is best to ask for recommendations. Santa Elena cloud forest is cheaper and smaller, but still worth a visit.
Food and Dining
Although Santa Elena is small, there are a few decent restaurants in town. There are also a handful of entertainment options in Santa Elena including a discotheque in the middle of town.
For pizza, Kako's pizza is a good option. They have pizza, Italian food, and casados. The restaurant is found behind the bank and up a driveway. Service can be very slow, but friendly. M&F burgers has the usual Costa Rican food, and a special burger that's served on a tortilla with a few unique toppings such as ham. Chimera has latin based dishes for a good price. They are located across from the El Establo Hotel.
Transportation
Many people make Monteverde their first stop after arriving in Costa Rica. You can catch a bus that runs from San Jose to Santa Elena in about five or six hours for a few dollars. Alternatively, you can find faster options that will cost you closer to $30. If you choose to drive yourself, then a 4x4 is recommended.
Once you've visited Monteverde and Santa Elena, you can then head on to Arenal with the "jeep boat jeep" option. This is one of the the cheapest and easiest options to connect the two areas.
The town of Santa Elena is quite small, but it is a pleasant place to walk around. It's easy to reach any destination in town on foot, but you will need to catch a bus or taxi to head into Monteverde. There is usually a line of buses and taxis along the main street that will take you to the Monteverde Cloud Forest Preserve.
Related
Looking for a
party hostel in Costa Rica
or
Cancun
? Looking for a
budget hostel in Mexico
or
Costa Rica
?