Tamarindo On a Budget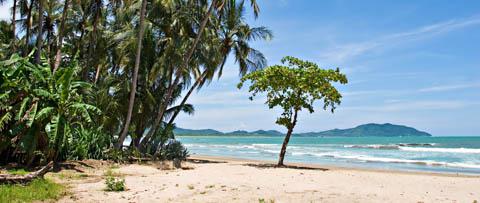 Tamarindo is a small beach town in the Guanacaste province of Costa Rica on the Pacific Coast. This town is usually sought out by surfers, fishers, couples, and families. There are delicious restaurants, beautiful beaches, and friendly Tico's and Tica's (local Costa Rican nicknames) everywhere.
Sights
The first thing you'll want to see in Tamarindo is the beach. It's about three kilometers long and is backed by some of Costa Rica's National Parks. The water is unbelievably warm and clear, with white sand on the beach. You will most likely see (or at least hear) the famous Howler Monkeys in the trees that line the beach. These monkeys are all over the country, and can be aggressive so don't get to close to them! You could possibly even see some sea turtles; they have been known to lay their eggs in the northern part of the shore.
There is a saltwater estuary in Tamarindo within the wildlife refuge. You can take a tour along the canals and hopefully spot some ospreys and herons, or maybe even the crocodiles that live in the area.
Neighborhoods
Tamarindo is part of the province of Guanacaste in northwestern Costa Rica. Tamarindo is the largest town in the region, but there are a couple other large towns in the province. Liberia is one of them, and it is the regional administrative and economic capital. There is a large international airport there bringing many foreigners into Costa Rica. Another area in the Guanacaste region is Rincon de la Vieja National Park. There you can hike atop a volcano and swim amongst beautiful waterfalls in the national park. A famous beach in the region is called Playa Conchal, where there is a luxurious resort on the shore of the crystal clear water and white sand beaches. You can also camp on this beach if the large resorts aren't your preference.
Activities
Tamarindo is known for fishing, surfing, snorkeling, diving, zip lining, and much more. You can also just sit back and relax on the beach with a good book if that is what an ideal vacation sounds like to you. For amazing tours of Tamarindo and the Guanacaste region as a whole, Native's Way Guanacaste is a great company to check out. They can take you on tours of the National Parks, zip lining, surfing, paddle boarding, and transportation to get you to all of these places.
Surfing is a very popular activity in Tamarindo. You can get lessons and rent gear at multiple different places on the beach, however, for beginners, remember that this beach is known for surfing so the water can get over crowded at times. Scuba diving and snorkeling are great activities while in Tamarindo. There is actually a beach about 20 minutes outside the town that offers a great place for both of these activities called Hacienda Pinilla. Go Fish Costa Rica is a great company that can take you out fishing; they are located on Tamarindo Beach. For those looking to really relax while in Tamarindo, Yoga Massage Therapy is a must do. This company pairs massage therapy with yoga to heal and relax you in a whole new way. They are located in Plaza Conchal.
Food and Dining
You can find traditional Costa Rican food (rice, beans, plantains, etc.), great places for seafood, and even a German bakery in the town of Tamarindo. There are many places that serve extremely fresh seafood and produce as well. A couple restaurants to visit are Longboards BBQ, which has American music and sports playing at the restaurant. Le Petit Cafe serves everything from home baked goods to Jamaican jerk chicken. Pipos Dogs are arguably the best hot dogs in town, and they are open very late. Tamarindo has incredible fresh fruit as well, including papaya, pineapple, mango, and bananas, so make sure that you try it.
Transportation
The closest international airport is in Liberia, which is about 45 minutes outside of Tamarindo. From Liberia, you can take a taxi, shuttle, or bus into town. If you are coming from San Jose, you can take a bus for $12 but just know that it takes about 7 hours. Renting a car is also an option; there are several agencies for rental cars in the larger cities. Costa Rica is fairly easy to drive around for international travelers, however, at night, it can be a bit dangerous as the roads are very dark and have lots of potholes. Once in the town, you can basically get everywhere on foot. It isn't too big of a place, and you'll want to walk around so that you can stop at surf shops or at nice areas of the beach. You can also rent scooters if you aren't up for walking. As always, you can hail a taxi if you'd like. There are beach info kiosks all around that can offer information on getting a taxi or renting a scooter.
Related:
Looking for a
party hostel in Costa Rica
or
Cancun
? Looking for a
budget hostel in Mexico
or
Costa Rica
?
Related:
Looking for a
party hostel in Costa Rica
or
Cancun
? Looking for a
budget hostel in Mexico
or
Costa Rica
?