Puerto Viejo On a Budget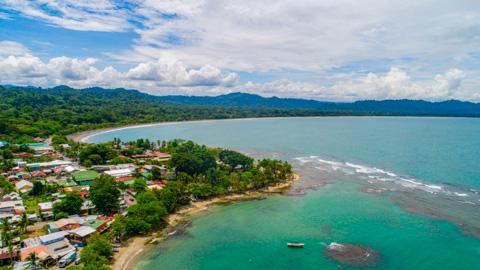 Puerto Viejo de Talamanca is a small coastal town in Caribbean Costa Rica in the province of Limon. There are two gorgeous National Parks nearby - Cahuita and Manzanillo, and it rains more than on the Pacific side, which is why it is so lush and green with the rainforest coming down to the sea. Clear water, coconut palms, great surf and a laid-back Caribbean atmosphere make Puerto Viejo a favorite among travelers. Located on about an hour south of Limon, Puerto Viejo is the center of activity between the smaller villages of Cahuita and Manzanillo. The relaxed, seaside town is framed by jungle, turquoise seas, banana plantations and scenic rivers. It's known for the Salsa Brava surf break and beaches like black-sand Playa Negra, but this burgeoning party town is no longer a destination only for intrepid surfers; it's bustling with tourist activity. Stylish eateries serve global fusion, and intentionally rustic bamboo bars pump dancehall and reggaeton. With its blend of Afro-Caribbean descendants, expat Europeans and indigenous Costa Ricans, Puerto Viejo charms visitors with a unique mix of people and cultures. Rastafari culture has a firm foothold in the town, and many Rastas sell handmade jewelry and other wares along the town's vibrant roadside. Nearby you'll find rainforest fruit and cacao farms and wide-open beaches. If you're looking to chill a little, party a little and eat a little, you've come to the right place.
Sights
Tropical forest surrounds the village and palm trees line the beach, adding to Puerto Viejo's natural beauty. Travelers can glimpse spectacular wildlife in Cahuita National Park or the Gandoca-Manzanillo National Wildlife Refuge, which border the town to its north and south, respectively. Just south of Puerto Viejo, visitors will discover the sublime beaches of Playa Cocles, Playa Chiquita, and Punta Uva.
Black and white sand beaches extend for miles; they are wide and often deserted, offering stretches ideal for walking and sunbathing. Snorkeling is excellent when the water is calm, and nearby Cahuita and Manzanillo are home to beautiful, living coral reefs that provide some of the best snorkeling in Costa Rica.
There are beautiful birds, butterflies and animals to be seen. Look out for monkeys and sloths in the trees alongside the road as you cycle or walk. There is also the Iguana Conservation Tour at Iguana Verde Foundation.
Refugio de Gandoca de Manzanillo: the beauty of this refuge is incredible - it contains forest, lagoons, coral reefs and white sand beaches and is the one of the most exotic places on the entire South Caribbean coast.
Neighborhoods
Puerto Viejo
The neighborhood of Puerto Viejo Costa Rica is famous for its authenticity. Colorful fishing boats rock against a coral covered harbor, reggae sounds from nearby bars and restaurants, and sarong, jewelry, and souvenir vendors set up shop on the beach. In town you will find the only banks and ATMs in the entire area. Bicycle rentals are on every corner and taxis are readily available if you do not have a car to explore other neighborhoods.
Playa Cocles
Expats and vacationers looking for tranquility and proximity to town stay in Cocles. The beaches are sprawling and the waves can get enormous. These beaches are best for sunning and surfing rather than swimming. Beach Break is the most populated beach in the area and the only beach with lifeguards. There are many restaurants to choose from. The one luxury hotel in Puerto Viejo, El Cameleon, is next door and throws Reggae and Calypso parties on Friday and Saturday nights. Laid-back travelers will enjoy the beach bonfire party every Tuesday night at Tasty Waves in front of Beach Break.
Playa Chiquita
The moment you step foot in Playa Chiquita the community vibe becomes apparent. Expats from all over the world carry their children and groceries down the street, sit and sip coffee in open air organic cafes, and swim in the natural pools created by the coral reef.
Punta Uva
Beautiful beaches, elegant cabins, and incredible cuisine all grace the quiet jungle neighborhood of Punta Uva. This neighborhood is popular with long-term vacationers and families. Three of the best restaurants in the entire area are in Punta Uva. The beaches are calm for swimming and snorkeling and are famed as some of the most beautiful in all of Costa Rica. Playa Chiquita nearby is a necessary stop for markets and cafes.
Manzanillo
The quiet Caribbean fishing village of Manzanillo rests along a rugged wildlife refuge with stunning wilderness beaches. Accommodations and restaurants are somewhat sparse in this area so having a car is essential. If you are looking for proximity to animals, peace and quiet, and do not mind the 10 mile trek to town, Manzanillo is right up your alley.
Activities
Many of the activities in Puerto Viejo revolve around the beach, water, and other natural environments, after all, that is what makes the area so popular. For a fun day of adventure, rent a bike. Ride it the full 24km round trip to Manzanillo and back. Make it a day trip. Each time you see a side road leading to the ocean, follow it for a hundred meters or so and you will usually find a beautiful secluded beach. It's a long but easy, flat ride on a mostly paved road. You will be rewarded with many spectacular views and experiences along the way.
Go surfing! The Caribbean coast is known for having a rasta-mentality, but it also has a strong native culture. Come in Puerto Viejo and learn to surf! There are surf schools in the area to help you learn the exciting sport. There are plenty of popular surf spots in the area to take advantage of. The swell comes during the dry season, roughly from December to April. Other time of the year the sea is extremely flat.
Take some time to sun bathe or go for a snorkel in calmer waters. With beautiful coral reefs, it is the perfect place to do so. Or go for a tour of a rain forest and get the chance to see some of the local wildlife in its natural habitat.
Food and Dining
The easygoing, friendly area of Puerto Viejo on Costa Rica's Southern Caribbean Coast not only has some of the prettiest beaches in Costa Rica, Puerto Viejo also is the gastronomic capital of the Costa Rica Caribbean region. Considering the size of Puerto Viejo – a small beach town – you might not expect to find such good specialty restaurants, like Italian and Spanish, but they have both of these and many more! They have excellent Caribbean cuisine restaurants, and many other trendy places. There is a lot to offer in such a small place in terms of culinary options. Puerto Viejo's dining scene reflects its widely-varied international population – Caribbean, Italian, Argentinean, Mexican, Asian, Spanish, Middle Eastern, North American, and of course, Costa Rican. From fresh seafood to paella, pasta, sushi and steak, you can find just about anything you might have a craving for.
Transportation
The closest airport is the Limon International Airport, but flying into San Jose is often a less expensive option. It is possible to make it to Puerto Viejo from either airport by bus, though the trip from San Jose will be much longer. The trip from San Jose is about 4.5 hours, with perfect driving conditions, so depending upon the time of day and time of year, it could easily be a longer commute. The trip from Limon takes a little over an hour. You can also rent a car and drive here, but again, traffic will depend on time of day and year, and pot holes can sometimes be an issue, so be careful. The bus system is very limited within Puerto Viejo. Busing between the beaches can be very hard with one every 4 hours sometimes. A 15 minute taxi ride can be as expensive as most western nations. Most lodges have bicycles for rent. Taxis hang out in the center of town and will take you anywhere you want to go up and down the coast. When taking a taxi, make sure to negotiate your price ahead of time. Most of the taxi drivers know the area extremely well and can find their way with just the name of your hotel. Downtown is a short drive or a brief walk to most of the lodging options in Puerto Viejo. Bicycles, rental cars, and on foot are the best ways to get around here.