The islands of Greece are many and varied with sheltered bays and coves, sandy and pebble beaches, coastal caves with steep rocks, dark volcanic soil, and coastal wetlands. With about 6,000 islands total, it is no wonder that the features are so diverse. Each has its own unique coastal towns, wildlife, shopping, dining, and beaches-and the best way to visit is by ferry.
Not sure where to begin? This guide has all the tips and tricks to starting your Greek island-hopping adventures via ferry.
Ports of Greece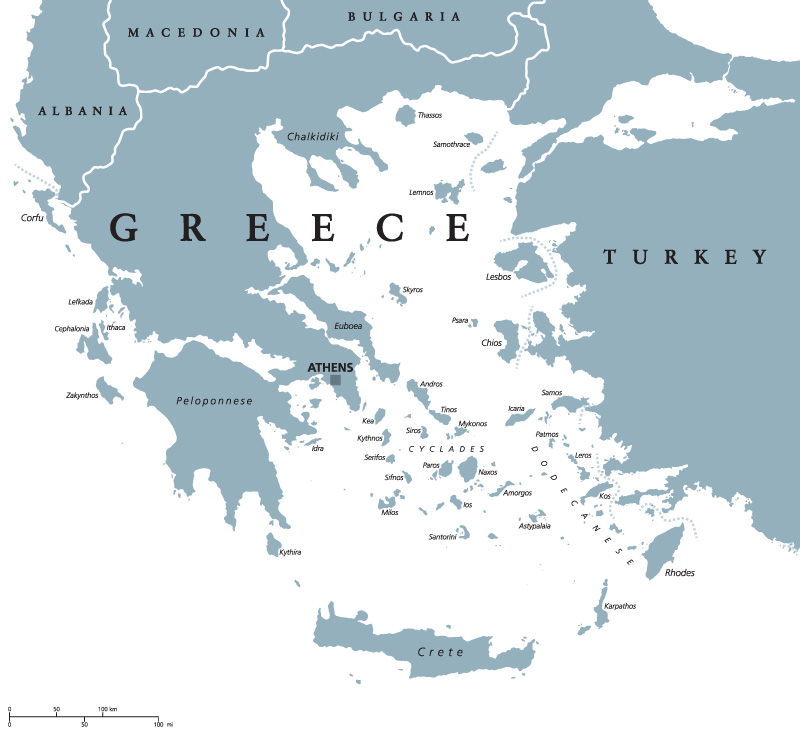 The islands of Greece are categorized into distinct clusters in the Aegean and Ionian Seas. The Aegean, east of the mainland, is home to the Northeastern Aegean Islands, The Sporades, Evia, Islands of Argo Saronic, The Cyclades, The Dodecanese, and Crete. The Ionian Sea to the west, however, is home to only one complex, the Ionian Islands, whose best known island is Corfu.
For those islands in the Aegean Sea, the major port for ferry transport is
Piraeus
. Located just southwest of Athens, the port of Piraeus offers passenger boats and ferries to nearly any of these islands, as well as other locations on the mainland.
More specifically, crossings from
Piraeus
are available to:
-
Crete
: Heraklion, Chania, Sitia
-
Cyclades Islands
: Milos, Schinoussa, Syros, Tinos, Anafi, Katapola, Aegiali, Donoussa, Ios, Iraklia, Koufonissi, Mykonos, Naxos, Paros, Thira, Sifnos, Serifos, Kimolos, Kythnos, Sikinos, and Folegandros
-
Dodecanese Islands
: Astypalea, Rhodes, Tilos, Karpathos, Kalymnos, Kastelorizo, Kos, Leros, Nisyros, Patmos, Lipsi, Symi, Chalki, Diafani, and Kasos
-
Saronic Islands
: Poros, Aegina, Agistri, Hydra, and Spetses
-
Aegean Islands
: Chios, Fournoi, Limnos, and Psara
-
Samos
: Karlovassi and Vathi
-
Lesbos
: Mytilene
-
Mainland & Peloponnese
: Ermioni, Porto Heli, Kavala, Oinousses, Methana, Souvala, and Agistri Myli
-
Ikaria
: Evdilos and Agios Kirikos
Mainland Greece Ferry Ports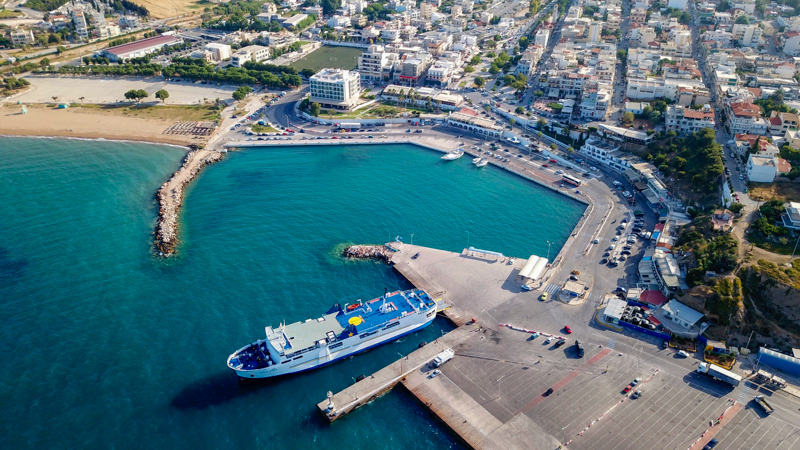 Aside from
Piraeus by Athens
, some of the busiest ports for passenger ferries include these destinations listed below.
Antirrio
: An important ferry port for traffic between the Peloponnese and northwestern Greece. The Rio-Antirrio Bridge also serves to make this connection, so a ferry-travel is not always necessary.
Igoumenitsa
: Located on the northwestern mainland of Greece, this coastal city is key to connections with the island of
Corfu
, other Greek islands in the Ionian Sea, the Peloponnese, and destinations in
Italy
(Brindisi, Ancona, Venice, and Bari).
Keramoti
: Perhaps the easternmost port on the northern mainland, Keramoti provides connections to the nearby island of Thasos.
Rafina
: Aside from Piraeus, Rafina is another busy port of the Athens area, connecting the mainland with Cyclades Islands & Crete with crossings available to Tinos, Andros, Mykonos, Naxos, Ios, Thira, Paros, Syros, Sifnos, Katapola & Koufonissi (on the Cyclades Islands), as well as Heraklion and Rethymno (on Crete). It is closer to Athens International Airport than Piraeus, for those flying into Greece.
Kylinni
: A port on the western side of Greece providing access to
Zakynthos
island, known for its stunning beaches, steep cliffs, and clear blue waters.
Greek Island Ferry Ports
Aegina
: One of the Saronic Islands, Aegina is known for its pistachio tree orchards, sweeping views of the sea, beaches, archaeological ruins, and plenty of hotels and restaurants. A regular ferry from Piraeus will take between 60-90 minutes, while the speedier Flying Dolphins by Hellenic Seaways will take only 40 minutes.
Corfu
: Located in the Ionian Sea, the port is located on the east coast of the island and offers sailings to Italy (Bari, Brindisi, Ancona and Venice) and to Greece (Igoumenitsa).
Heraklion
: As the administrative capital of the island of Crete, Heraklion is a very busy port with regular connections to Piraeus and Santorini, as well as other Greek Islands in the Aegean Sea. The journey from Piraeus ranges between 7.5 to 9 hours.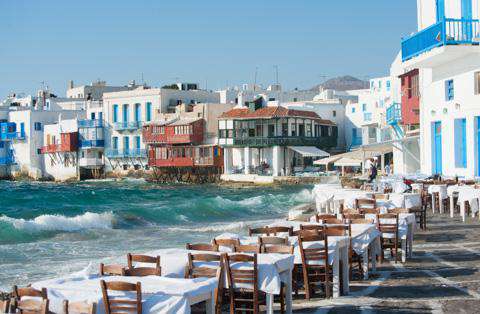 Mykonos
: Best known as a summer beach, tourist, and party destination of the Cyclades group,
Mykonos
is well-connected to Piraeus and Rafina on the Greek mainland, the surrounding Cyclades islands, the Dodecanese Islands, and to Crete. Travel time from Piraeus ranges from 3 to 5 hours depending on the speed of the ferry.
Paros
: As a Clycladic Island, Paros is best reached from Piraeus and is also connected to the nearby islands of Naxos, Mykanos, Siros, Serifos, and Ios. It is best known for its beaches and traditional villages. Travel time from Piraeus is about 3.5 hours.
Souda Bay (Crete)
: Located in the Chania part of Crete, this port can be reached via Piraeus.
Thasos
: The island of Thasos, in the northern Aegian Sea, is accessible by ferry from Keramoti (40 minutes) or Kavala (1 hour and 15 minutes)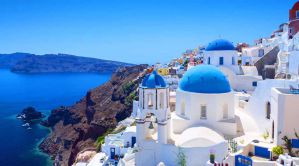 Thira (Santorini)
: Situated on the inner crescent of
Santorini
, this port is the sole point of entry to the popular island destination. Ferries from Thira connect the Cyclades Islands with Crete, Athens, and the Dodecanese Islands. Available crossings include Heraklion, Sitia, and Rethymno (in Crete), Ios, Paros, Mykonos, Anafi, Naxos, Milos, Sifnos, Folegandros, Kimolos, Sikinos, Kythnos, Serifos, Syros, Thirasia, Katapola, Tinos, Koufonissi, Kea & Andros (in Cyclades Islands), Piraeus, Rafina and Lavrio (in Athens), and Kos, Rhodes, Karpathos, Chalki, Diafani, Kasos, and Symi (in Dodecanese Islands). The journey from Piraeus to Thira by ferry is between 8 and 10 hours, though it can be reached in 5 hours on a high-speed catamaran.
Tinos
: One of the largest Cyclades Islands, Tinos is best known for its windmills, villages, and Venetian fortifications. Ferries from this port connect the Cyclades Islands with Athens and Crete with crossings available to Mykonos, Syros, Andros, Naxos, Ios, Thira, Paros, Sifnos, Kea, and Kythnos (in Cyclades Islands), Piraeus, Rafina, and Lavrio (in Athens), and Heraklion and Rethymno (in Crete). The ferry between Piraeus and Tinos is about 5 hours, whereas the ferry between Rafina and Tinos is 3 hours.
Zakynthos
: The Greek island of Zakynthos, or Zante, is one of the most popular, and beautiful, of the Ionian Islands, known for its crystal clear waters and very lively nightlife. Ferries offer regular trips between the ports of Patras and Kyllini, as well as connections to nearby Ionian Islands like Ithaka, Lefkada, Kefalonia, and Corfu.
Peloponnese Ferry Ports
Kyllini
: Situated on the Peloponnese, this port ferries passengers to the nearby Ionian Islands of Kefalonia and Zakynthos (also called Zante).
Patras
: Ferries from the Peloponnesian city of Patras connect Greece with Italy, Kefalonia, and the Ionian Islands with crossings available to Brindisi, Ancona, Venice & Bari (in Italy), Sami (in Kefalonia) and Ithaka (on the Ionian Islands).
Buying Ferry Tickets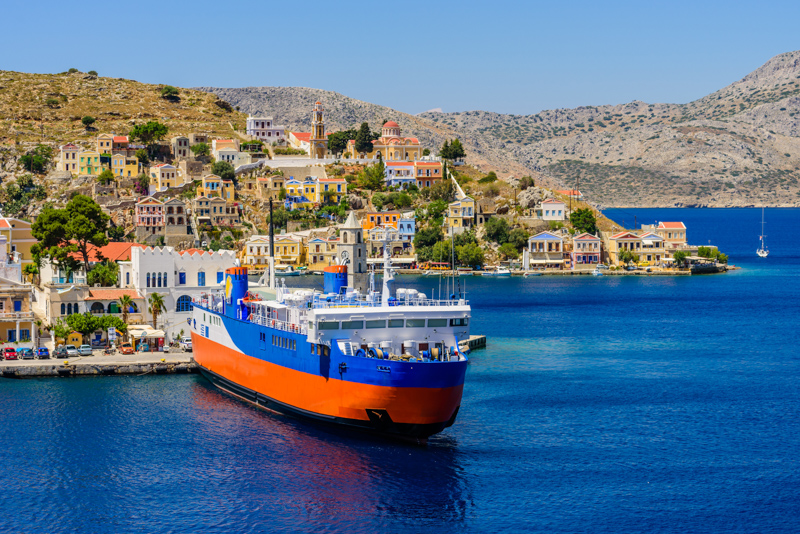 Depending on your preference for amenities and travel time, there are a vast range of ferries available from each port from high-speed catamarans to slow, scenic cruises. It all depends on how fast you would like to get to your destination and the kinds of amenities you look for on your boat journey.
There are several main types of Greek ferries, listed below from slowest to fastest.
1) The largest and most common kind of ferry is the
car or passenger ferry
. Blue Star ferry is a popular line of this kind, though SeaJets, Golden Star, and Anek lines also have similar boats. This is typically the slowest option for ferry travel, but also the cheapest.
2) The
high speed catamarans
are a little smaller and include boats like the High Speed 6 and High Speed 7 by Hellenic Seaways. SeaJet also has similar ferries: Tera Jet (a little bigger) and Champion Jet (a little smaller). These ferries can be tough to ride in rough seas, but are generally pretty stable.
3) The smallest ferries are
small catamarans
like the Superjet, SeaJet2, and Supercat. These will have the bumpiest rides and are not good for those susceptible to seasickness. They are also more likely to get cancelled due to bad weather.
4) Flying Dolphins (also called
hydrofoils
) are even smaller than catamarans and have some of the fastest ferry routes, traveling more like on-water jet airplanes than ferries. You'll most likely be sitting in airplane seats with small windows that will be blasted with water spray during your travel, so you will get to your destination more quickly but you will not see much scenery along the way. These are also slightly more expensive than the slower ferries, so it just depends what you find more valuable during your trip-time or money. If you want the best of both, consider traveling on an overnight ferry. Even though it is slow, it will be much cheaper and you won't waste daylight traveling.
For the best prices on ferry tickets, try
Ferries in Greece
or
Direct Ferries
. Both websites compare prices across multiple ferry companies and provide timetables, as well as some insights into each destination. In general, the cheapest way to travel is to opt for on-deck or economy seating.
When to Book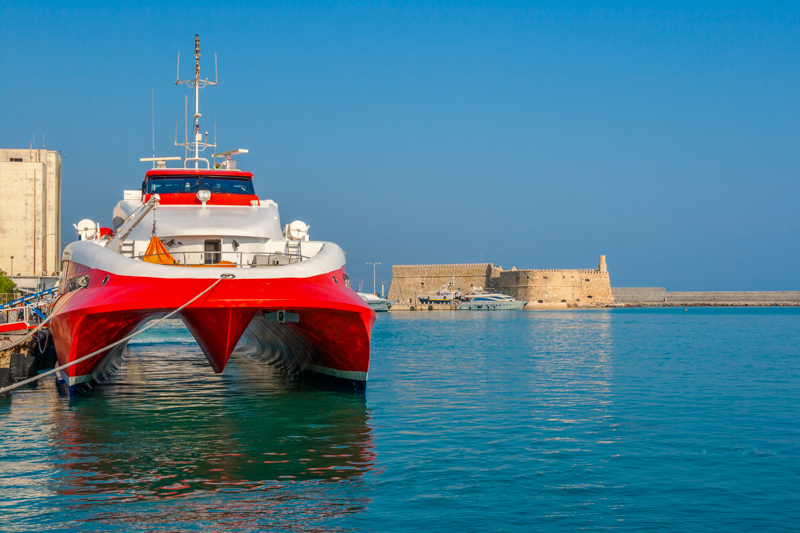 For the most part, you do not need to book ferry tickets in advance, except for certain days. It may even be worth staying away from the ferries altogether during these busy times. According to Greece Travel Expert, Matt Barrett, these days include:
- The Thursday and Friday before Easter
- The Friday of Agios Pnevmatos (Holy Spirit) which is like our Memorial Day weekend, a moveable feast that happens sometime in the beginning of June.
- The last Thursday, Friday and Saturday of July and the beginning of August, which is the month when every Athenian and Thessalonikian who can afford it leaves the cities for the islands. Traffic around the city is jammed, and the boats are usually packed.
- The Thursday and Friday of the weekend of August 15th when anyone who did not leave Athens by August 1st will be going to the islands for the big holiday weekend.
Considering these dates, you will likely find the best prices and availability when tourism is not at its peak-i.e. not in the middle of summer. Spring and fall are the best times to visit if you wish to avoid the heaviest tourist crowds, and want to catch the best deals and travel comfort on ferries. For additional tips on ferry travel, see Matt Barrett's guide.
Luggage Tips
If you've packed for a longer vacation and want to leave the bulk of your luggage on the mainland as you island-hop, there are a number of locations in Piraeus that provide luggage storage. The streets along the port will be lined with travel agencies and ferry companies that work with services like bagbnb, which charges 5 euros per bag per day to store luggage. You can also leave your larger luggage at the airport and use a service like care4bag, but this option will be a bit pricier.
The best solution may be to pack light to begin with, bringing only the essentials for your island adventures. Ferry travel varies depending on the experience you want and the price you'd like to pay, but having less baggage to carry around always makes the journey more pleasant. If you need help narrowing down your list, check out our suggested packing list near the bottom of our
Athens Ultimate Guide
.
Happy island-hopping!