Santorini On a Budget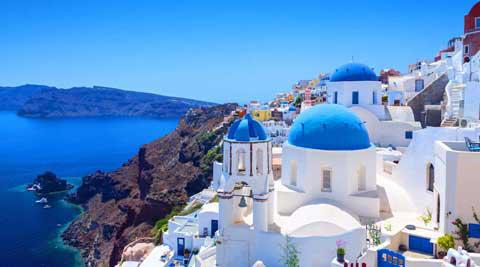 Santorini is a volcanic island that is part of the Cyclades group of the Greek Islands. It has some spectacular views, beautiful sunsets, and excellent beaches.
Santorini's peak tourist season starts in early April when the weather starts to warm up. The summer months are quite hot but remain dry with little rain between May and September. The spring and fall months, between April and June and September and October are the best times to visit as the crowds are less, the temperature is more pleasant and the prices are lower. The winter months are the off season and many of the hotels and restaurants may close. The temperature is rarely that cold but there is often wind and rain.
Sights
Most people visit Santorini because of its breathtaking natural beauty, impressive landscape, and the picturesque setting. The island is also famous for its stunning sunsets. If you want to see the sun set below the sea, instead of the volcano, head to Ia. This is one of the few places on the island with this view.
Although many of the towns are attractions in and of themselves, also make sure you get into the countryside. There are many cave houses, gardens, vineyards, and small churches that dot the landscape.
Another interesting place to visit is Thirassia, which is a small island near Santorini that can be reached as part of a boat excursion and, of course, there are many beaches spread throughout the island.
Neighborhoods
There are several places to visit around the island of Santorini. Perhaps the best beach on the island is Perissa, but there are also black pebble beaches in Kamari. There are also many spectacular towns around the island. Some of them, such as Fira, are brilliantly situated on the cliffs overlooking the water. The buildings are whitewashed, offering a striking contrast to the rich blue water below. Karterados is two kilometers south of Fira and has traditional Santorini architecture. Firostefani is high on the cliff and offers a great view for sunset. Imerovigli is a small resort town and Oia is a charming place to visit. The highest point on the island is Pyrgos. Megalochori is a traditional village with many churches. Akrotiri is an archeological site and Monolithos has a decent beach.
Activities
There are many outdoor activities that you can enjoy around Santorini. You can climb to see the Ancient Thira or the monastery, which offers an incredible view of the ocean. There is horseback riding in Exo Gonia. Scuba diving and snorkeling is also available and there are sunset boat cruises. Santorini is also a very popular place to get married. Weddings during the peak season are very common.
Food and Dining
As for food, Santorini has some wonderful specialties, including white aubergin, fava caper, and tomato keftedes. You can also find some delicious dolmades, which are vine leaves stuffed with rice or meat. Seafood is ubiquitous as well, given your close proximity to the ocean. There are some reasonably priced restaurants down the side streets, but if you choose a place right on the water with a view, expect to pay a markup. The views may be worth it though. If you're on a particularly tight budget, gyros are available all over the island and are quite cheap.
Transportation
Greek Island Ferry Tickets
You have several options to travel around the island if you do not have access to a car. There is a public bus route that circles the island. You can expect a bus every thirty minutes to every hour, but on occasion the bus proves to be unreliable and you must wait much longer. Alternatively, there are some private bus companies that run "hop on hop off" bus systems. You can purchase one day passes that give you unlimited rides on these buses over the course of the day. There are also boats that connect many of the larger towns on the island. For about 45 euros a day you can rent your own car and explore the island. While definitely the most expensive option, this route gives you the most flexibility, and if you are short on time it will easily allow you to see the most.
There are several interesting hikes around the island. You can walk from Fira to Oia in a few hours, but there are some steep hills to climb. The views are worth the effort though. There are also paths connecting Perissa, Kamari and Pyrgos.
Related:
Looking for a party in
Athens
or
Istanbul
?
Traveling alone to
Athens
or
Santorini
?
Find a
Contiki tour
to Europe.
Train and Bus Prices
The best prices for buses and trains in Greece
can be found on Omio
(formerly
GoEuro
). They let you search across all train, bus, and plane routes throughout the region.