Santorini is a world-famous Greek island in the center of the Aegean Sea, famous for its rugged landscapes, white-washed houses and accompanying sunset views. It's increasingly popular with the luxury travel market but still caters to all budgets and interests. It's also a popular place for weddings and honeymoons. Romantic dinners on the terraces and amazing rooftop pools make it a dream vacation, although you can expect your trip to cost more than other places in Greece if you want to experience the island to its fullest!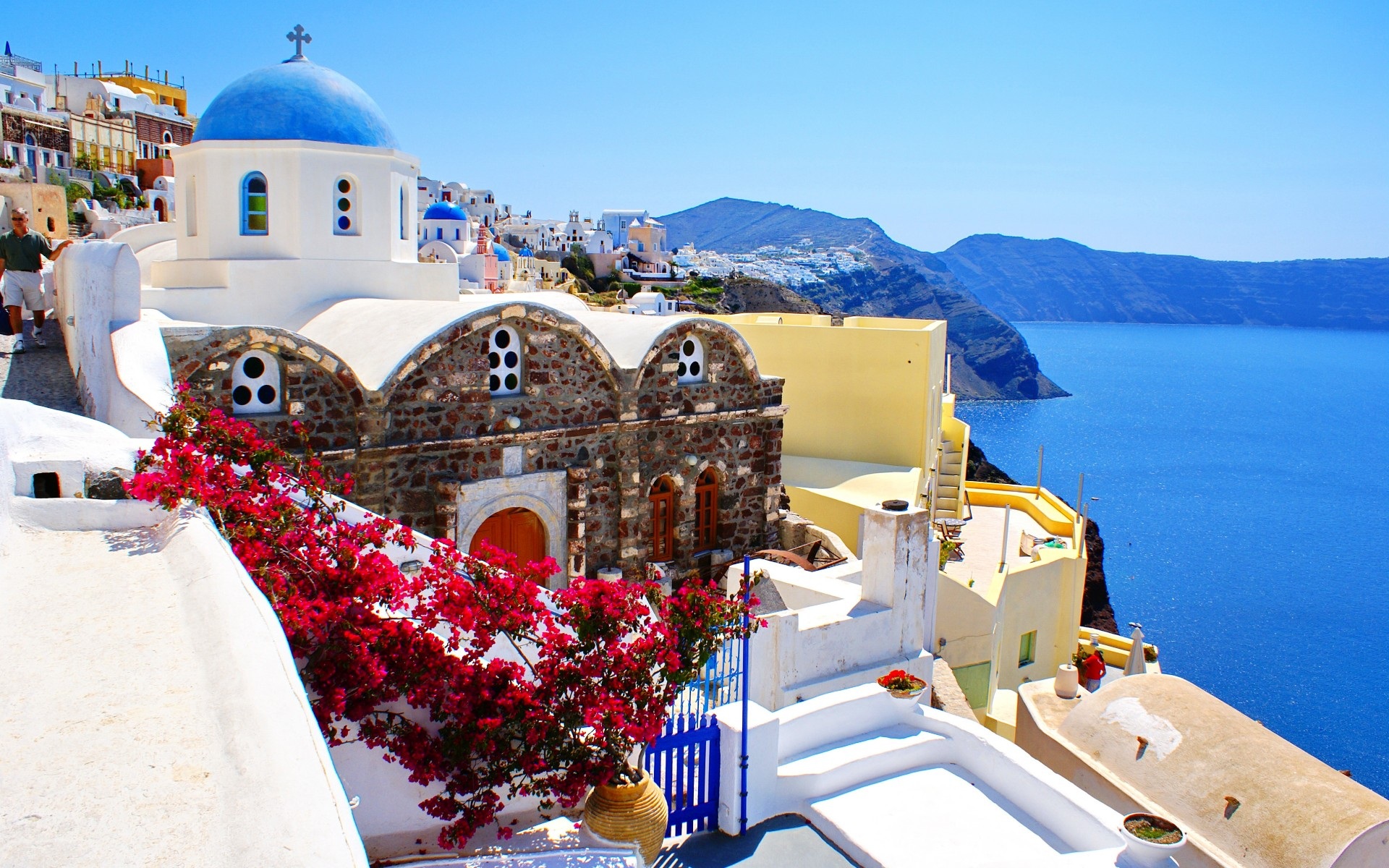 How to get to Santorini
By plane
Santorini (Thira) National Airport is the only airport on the island, located to the far eastern coastline. From here, you can easily catch a cab or bus transfer to the coastal resorts of the south and north-west. You can fly here from most major European airports or catch a low-cost flight from Athens. Being a small airport and visits to the island being high in demand, flights can be quite expensive, particularly in the peak summer months. Flight prices range from €100 ($115) return to €300 ($350) upwards during busy summer months.
By boat
If you're visiting another island or Greece's capital Athens, taking a ferry or high-speed Catamaran to Santorini is easy and inexpensive. (
See ferry ticket prices here
.) Many of Greece's islands, large and small, operate ferry and catamaran services to Santorini, however these are the most popular routes:
From Athens: ~5 hours from Piraeus port to Fira
From Crete: ~2 hours from Heraklion port to Fira
From Mykonos: ~2 hours from Mykonos port to Fira
Boat trips vary in duration and frequency depending on the operator, and slow ferries will take a lot longer than a Catamaran (which we'd recommend paying the extra for). For all ferry transportation options to Santorini, check out
Ferries to Santorini here
, or read our
guide to booking Greek ferry tickets
.
Exploring the different regions of Santorini
Santorini island has resorts and towns on almost every coastline, some more secluded than others. We recommend staying on the west of the island for the best accommodation options and plenty of things to do. You'll also get the best sunset views in the evening. Being a small island, you can easily access other parts of Santorini by car or bus.
Here are our recommendations on the best areas to stay:
Oia
Best for:
Couples and friends of all ages and those looking for a luxury holiday
Price range:
€€€€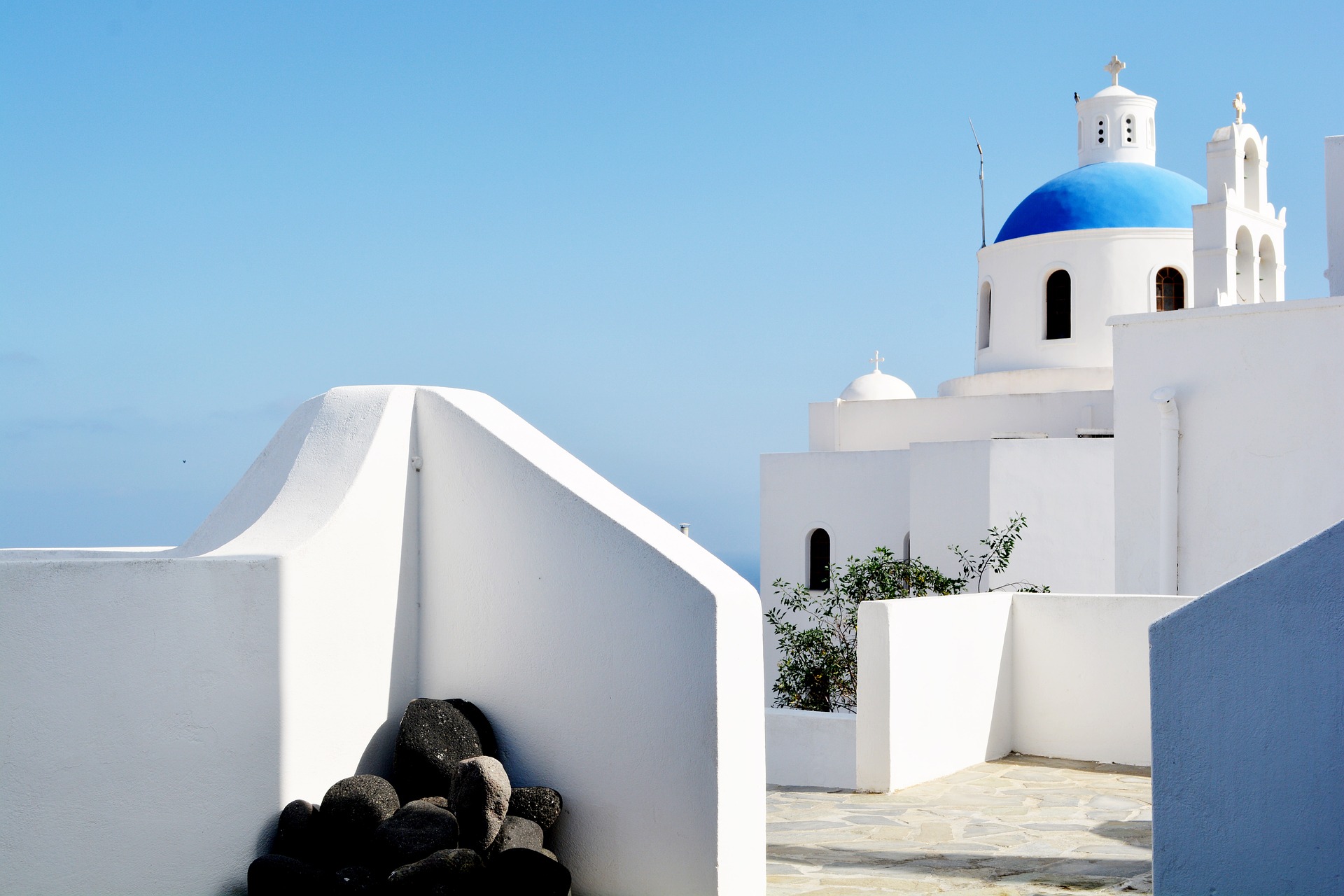 Kamari
Kamari is a beach town located to the east of the island. It's a popular area for package holidays and its dark volcanic sand beaches are some of the best on the island. Stroll along the promenade on an evening, visit the rooftop cinema or spend your time relaxing in one of the beach hotels. Its location is right next to the airport and Ancient Thira monument complex. Kamari offers a cheaper holiday experience than other areas of Santorini, so it has a slightly "package holiday" vibe compared to the likes of Oia and Fira. However, this does mean plenty of facilities, a good location and lots to do.
Best for:
Families looking for a package holiday
Price range:
€€
Perissa
Best for:
Families looking for a package holiday and couples of all ages that want close access to the beach
Price range:
€€
Fira
Fira is the largest town on the island and it has some of the best views. Its mountainside location overlooking the volcano makes it a perfect spot for balcony dining, sunset cocktails and a vibrant nightlife. Being the largest town in Santorini, there's plenty of bars, restaurants, hotels, and things to do. If you like a busy resort area with lots to do, Fira is perfect! It's also one of the cheaper places to stay in Santorini due to the wide variety of accommodation. A good option is to stay just outside Fira center, where you can avoid the town crowds but have all the facilities of Fira and neighboring towns at your doorstep.
Best for:
Young people, couples, friends and families. Fira has something for everyone, although it's a busier holiday experience.
Price range:
€ - €€€
Imerovigli
If a quiet retreat with amazing views is your style, Imerovigli is an excellent choice. This small and quiet town to the northwest of the island is a place where you can relax in a rooftop pool, go for long walks and enjoy a peaceful holiday under the Greek sun. It's also in a good location to explore the island, with Oia a short drive to the north and Fira to the south. You won't find much nightlife here but there are some good restaurants to check out and the town has a very 'local' vibe. Pick Imerobigli for cheaper accommodation options than Oia whilst being only a short drive down the road.
Best for:
Families, couples and those looking for a moderately priced holiday in a good location.
Price range:
€€ - €€€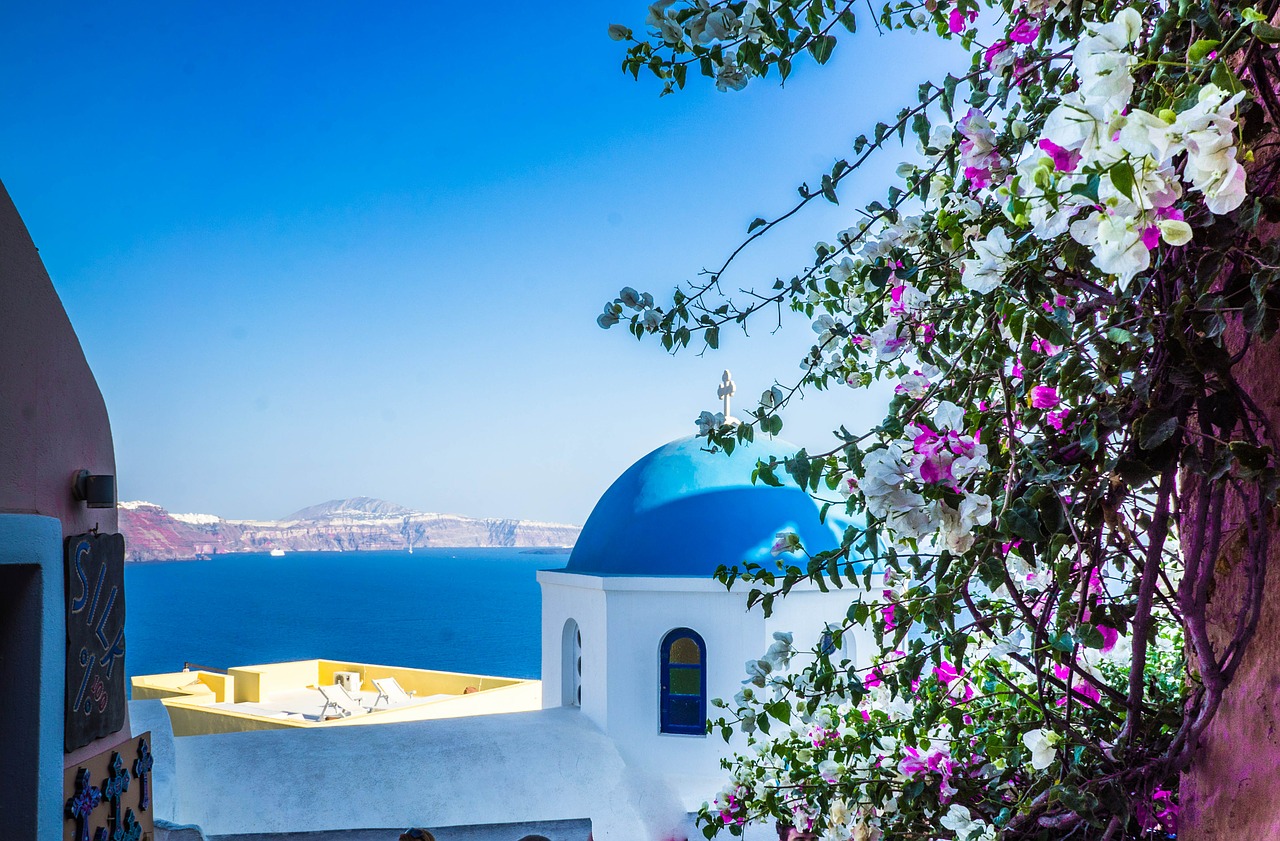 Island transportation - Getting around in Santorini
There are 3 main ways to get around Santorini and visit the different areas. Being a small island, everything is within a relatively short drive so most visitors choose to rent a car and pick it upon arrival at the airport. This is often the most convenient and cost-effective option.
Car rental -
Rent a car from about 10 euros per day for a basic model if you hire one over the course of several days. We recommend using
AutoEurope
to compare car rental companies for your selected dates. This is probably the most convenient way to get around the island and prices are very reasonable. Make sure you purchase the extra insurance!
Bus -
The local buses are a cheap and efficient method of getting around in Santorini. They cover most of the coastline and are easy to navigate once you've used them a couple of times. Prices start at 2 euros per journey and range up to 14 euros depending on where you're going. See the
latest bus timetables
on the official Santorini tourism website.
Taxis and private transfers -
Taxis are a more expensive option but are ideal if you're drinking on an evening or don't want to worry about parking. You can catch taxis at the airport or at a taxi stand in one of the main town's centers. A trip from Fira to Oia costs around 15 euros, whilst a longer journey from Fira to the Ancient Thira site costs ~25 euros one-way.
Top things to see and do in Santorini
Island boat tour -
take a tour around the island on a private yacht group tour or rent your own motorboat and explore at your leisure. The turquoise bays and the volcanic island of Tholos Naftilos are waiting to be explored! Being on a boat also gives you the best views of the mountainous coastline of Santorini so you can capture pictures of the famous white building terraces. We recommend
this
boat tour. It's inexpensive (about 35 euros per person) and covers all of the main sites.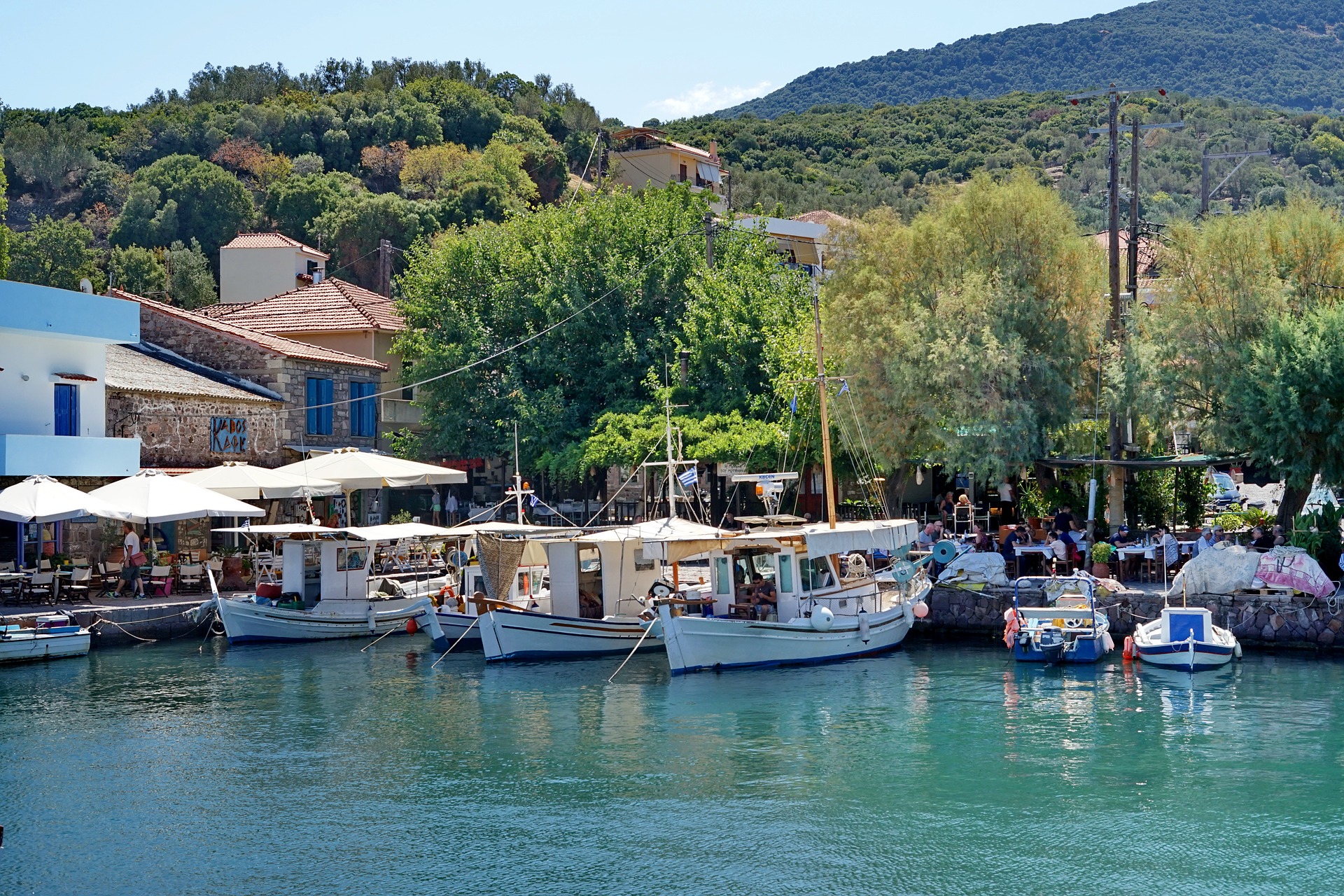 Wine tasting -
One of the most popular activities is wine tasting. The island is home to several active vineyards, where you can spend an afternoon or evening tasting the local reds and whites. The best things about wine tasting in Santorini is the views! There aren't many places where you can enjoy a glass of wine at sunset with the backdrop of white terraces and ocean breeze. Many of the tours are highly rated, and we recommend this
Santorini Wine Tasting
Tour. 4-hour tours here cost around 100 euros per person.
Hiking Trail Fira to Oia -
If you're up for a challenge and want to see some of the best views that Santorini has to offer, the Hiking Trail between Fira and Oia is highly recommended. It'll take you along the Caldera cliff face, crossing many villages on the way. The trail is around 11km so it'll take you between 2 and 5 hours depending on how fast you walk and how many stops you take on the way. Make sure you pack plenty of water as there aren't many shops along the way!
Beaches -
The beaches in Santorini have course, dark volcanic sand, meaning crystal clear waters to bathe in and cool down. Although the beaches of the island aren't a highlight of what's on offer here, they're still worth paying a visit. As the terrain to the west of the island is quite ridged and is lined with large cliff faces, the best beaches in Santorini are located to the east and south of the island.
We personally recommend checking out Kamari beach and the long beach trip of Periss / Perivolos to the south-east.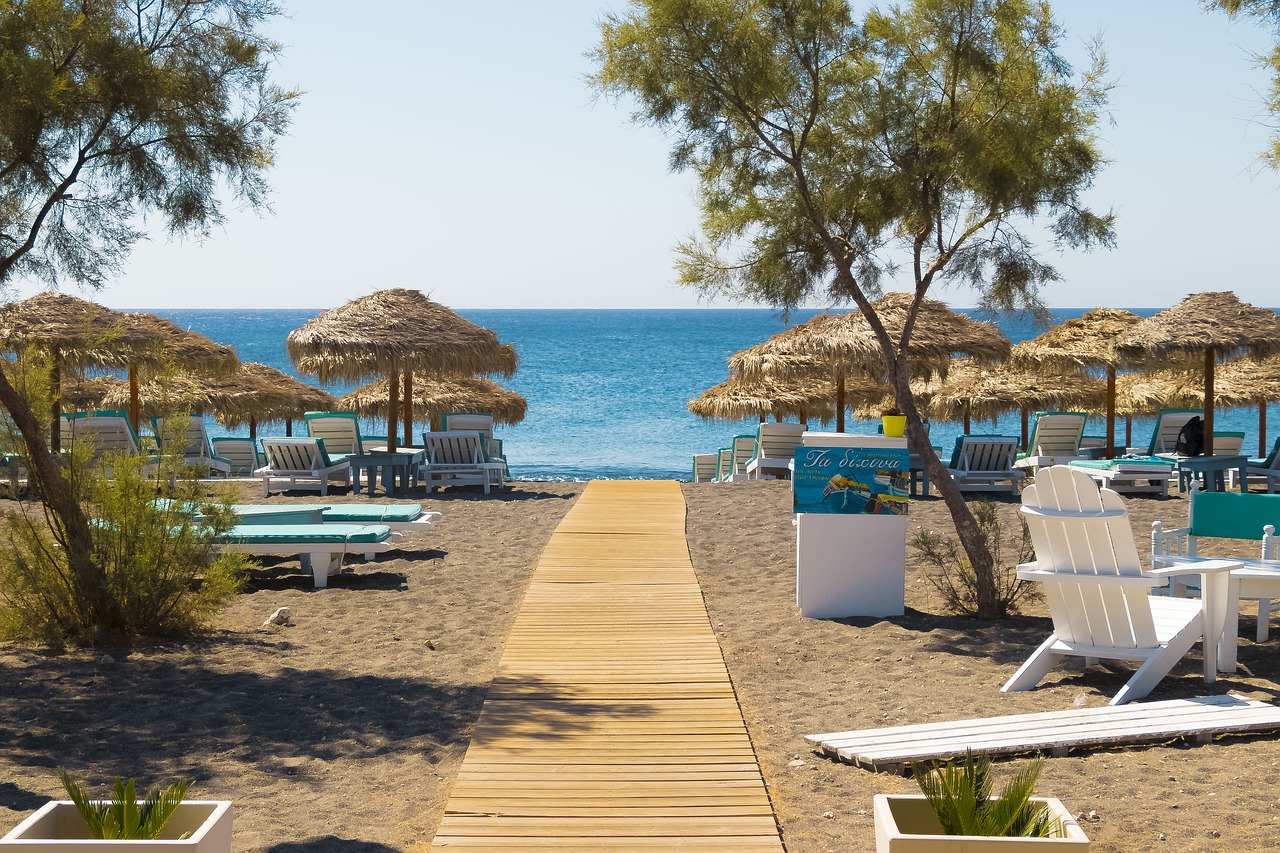 Visit local villages -
Step outside of your resort area and explore different areas of Santorini. You'll find plenty of panoramic views, meet the locals and see life from a quieter perspective away from the tourist centers. We recommend checking out Pyrgos village (highest point on the island), Akrotiri village to the south and the beach town of Perissa.
Visit an art gallery -
If you're looking for an authentic painting or sculpture, there's a selection of galleries on the island that you have to check out. These small and unassuming buildings have an interior that's alive with art, whether you're looking to buy or just browse the talent of local artists. The top galleries to visit are Mati Art Gallery, Mnemossyne Gallery, and Art Space. We loved the stone-walled interior of Art Space in particular.
Ancient Thera monuments -
Ancient Thera is one of the 'must-see' attractions on the island. This ancient complex of monuments is located just south of the airport and visitors can view the remains of what was once a thriving city in the 9
th
Century BC. Wander the ruins and learn about ancient Greek history and the strategic location of the island for Doric colonists from Sparta. Buildings include the main city square, theatre, acropolis and sanctuaries.
The amazing sunset views of Oia -
Talking of sunsets, the pictures you'll capture at dusk are to die for. Climb the steps to the top of the terraces or enjoy a cocktail on a rooftop as you pass into the evening with bright orange and red rays cascading over the horizon. Oia is a must see for anyone visiting Santorini and its white terraced houses, churches, and shops will be the backdrop for your favorite trip photos.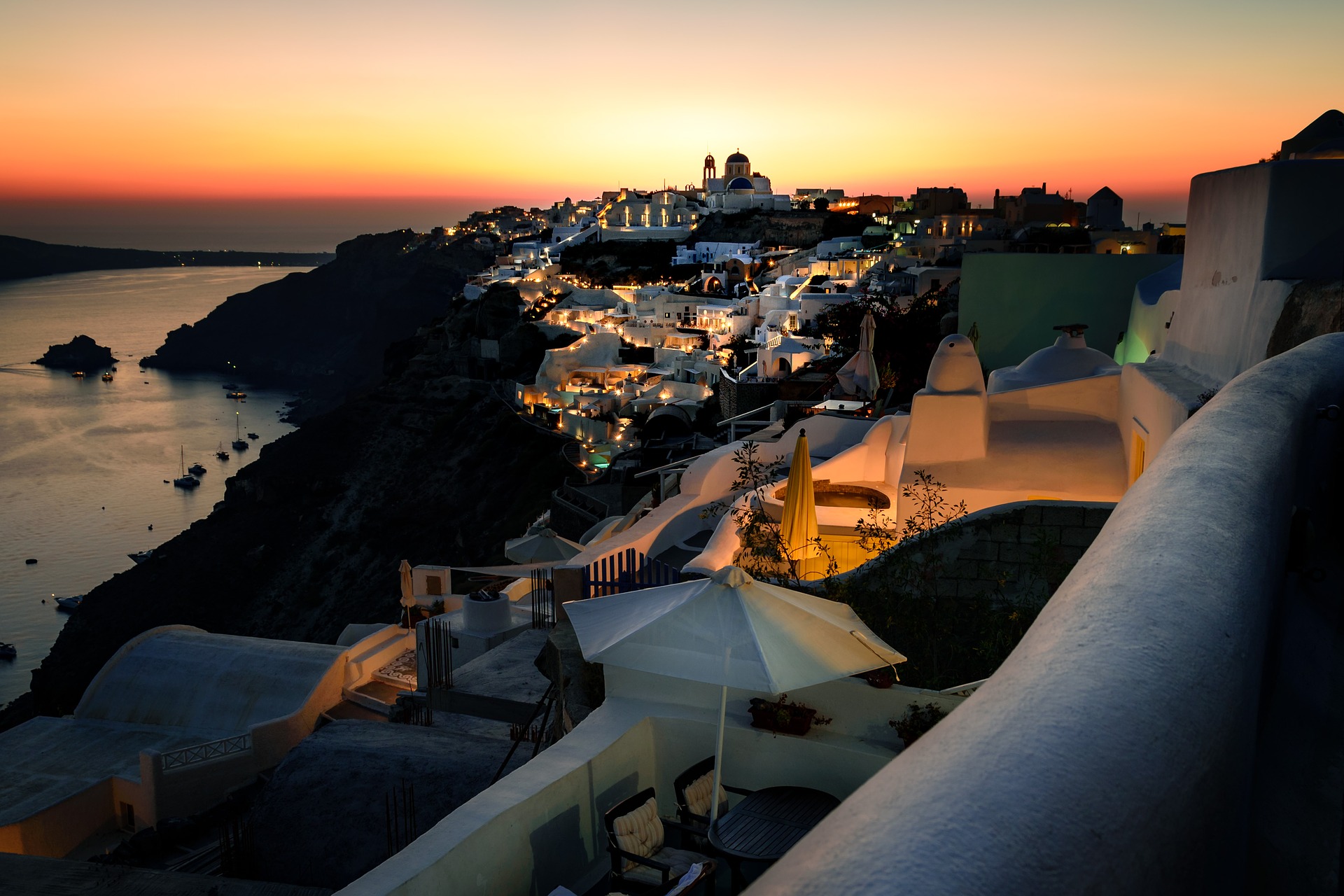 Open-air cinema -
If you're wanting a relaxing night under the stars as opposed to visiting the bars or you're traveling with your family, check out the open-air movie theatre in Kamari for an outdoor movie experience that's one to remember. They play many of the latest Hollywood movies and the theatre environment is excellent! Entry is 8 euros per person.
View the latest showings on their website here.
Horse riding tour -
What better way to explore Santorini's intriguing landscapes than a horse-riding group tour? Explore the volcanic beaches and cliffsides or venture inland to a local village. It's a unique and fun way to get out of the towns and experience the island away from the tourist trail. We recommend taking a tour with
Santorini Horse Riding Tour
. Their horses are well looked after and a tour costs anywhere from 50 to 90 euros per person depending on the duration.
Quad bike exploration -
Santorini has notoriously rugged and mountainous terrain. A great way to explore the hidden coves and trails of the coastline is by quad bike (ATV). Rent a quad for as little as 20 euros per day and jet off-road to explore places you just wouldn't see by car. Be careful though, the terrain can be dangerous in many areas.
Museums -
Santorini's top-rated museum is the Museum of Prehistoric Thera. It makes an interesting visit for those looking to learn about the pre-historic history of Greece and although its small, entry is only 6 euros per person and there are some fascinating paintings and artifacts to see. Other popular museums to visit include Wine Museum Koutsogiannopoulos, where you can learn about the winemaking process in an intriguing underground location and Tomato Industrial Museum; a surprisingly interesting tour that takes you around an old tomato production factory. Entry costs 5 euros per person.
Also, check out this great guide that covers
13 amazing things to do in Santorini
.
Suggested 3-day itinerary of Santorini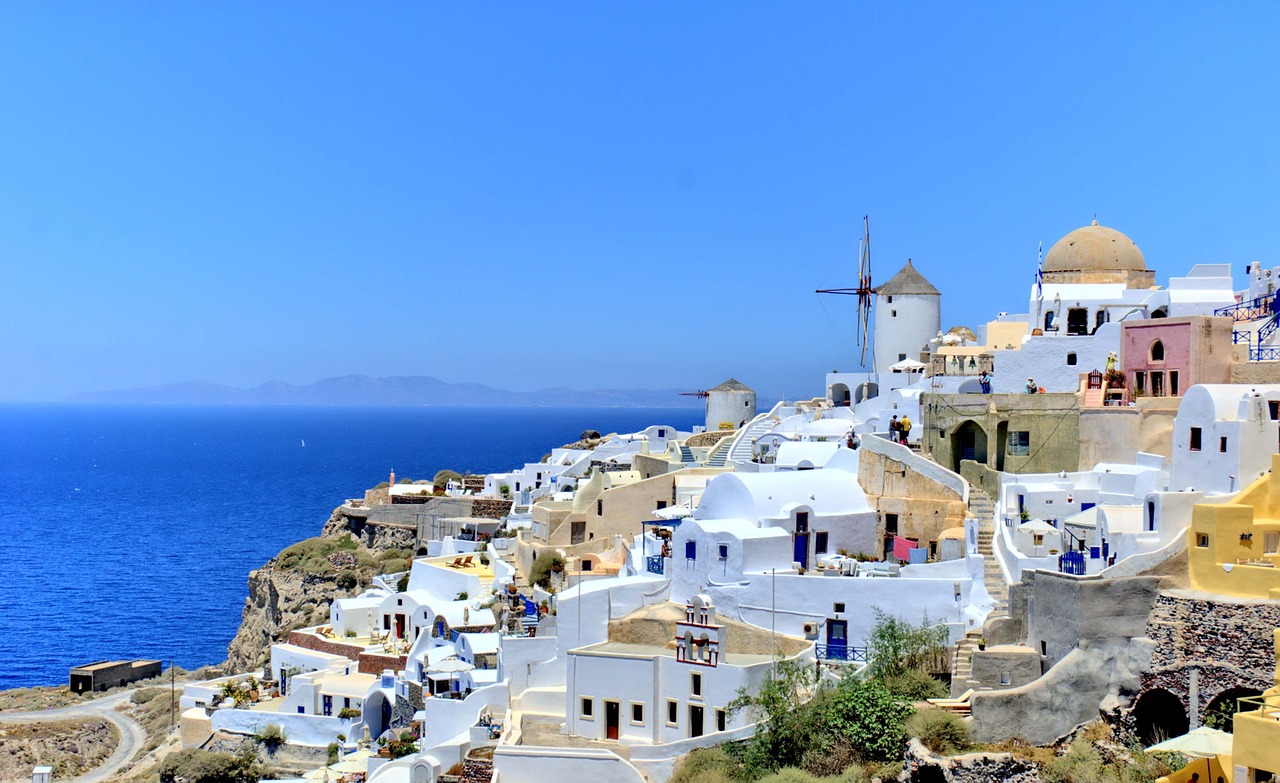 Day 1:
Morning - Head to the east of the island to see the number one attraction in Santorini - Ancient Thera. Learn about the rich history of the town and capture stunning pictures.
Afternoon - The beaches of Kamari and Perissa are only a short drive from Ancient Thera. Spend your afternoon relaxing in the Greek sun on the volcanic sand beaches. If you fancy something more adventurous, why not try some water sports or go on a snorkeling trip?
Evening - Grab some cheap and delicious home-made local food in a Kamari taverna. Then grab some amazing desserts at a nearby bakery. After all, don't you want to try some amazing
Greek desserts
? Spend the rest of your evening watching a movie under the stars at the town's Open Air Theatre.
Day 2:
Morning - Wake up early and take the Fira to Oia hiking trek.
Afternoon - Wander the picturesque terraces of Oia, taking photos and enjoying lunch with a view. Browse the shops and galleries or relax in a spa after your morning hike.
Evening - Enjoy cocktails as the sun goes down and dine on a terrace in one of the many fine restaurants. See below for our recommendations.
Day 3:
Morning - Take a boat trip around the island and see the pretty terraces of the west from a different point of view. Whether it's a luxury yacht or group tour boat, the views are just as good!
Afternoon - Venture into Fira town center for a gift shopping, amazing views of the volcano and plenty of museums, bars, and restaurants. Venture just outside of the town for an afternoon of wine tasting.
Evening - End the night in style in one of Fira's top restaurants, or a just as highly rated backstreet taverna. The nightlife in Fira is excellent, so make sure you keep some room for after-dinner drinks! Head to Erythrou Stavrou for everything from classy cocktail bars to lively dance clubs.
If you're staying in Santorini for longer than 3 days as most people do, spend your time relaxing by the pool or taking a trip to the volcanic beaches. You can also spread out our itinerary and do activates/tours every other day. It is a holiday destination after all, and there's plenty of relaxation opportunities!
Dining in Santorini
Romantic rooftop dinners and having lunch on a narrow side street overlooking the ocean are commonplace in Santorini. Being a popular tourist destination, both international cuisine and traditional Greek favorites are on offer and you'll find everything from gourmet Italian to street food Gyros.
Being quite an upmarket destination with a booming luxury travel market, there's no shortage of designer and special occasion restaurants, many of which will cost just as much, if not more than major European cities. However, you will find restaurants to match all budgets and small, family-run restaurants are plentiful.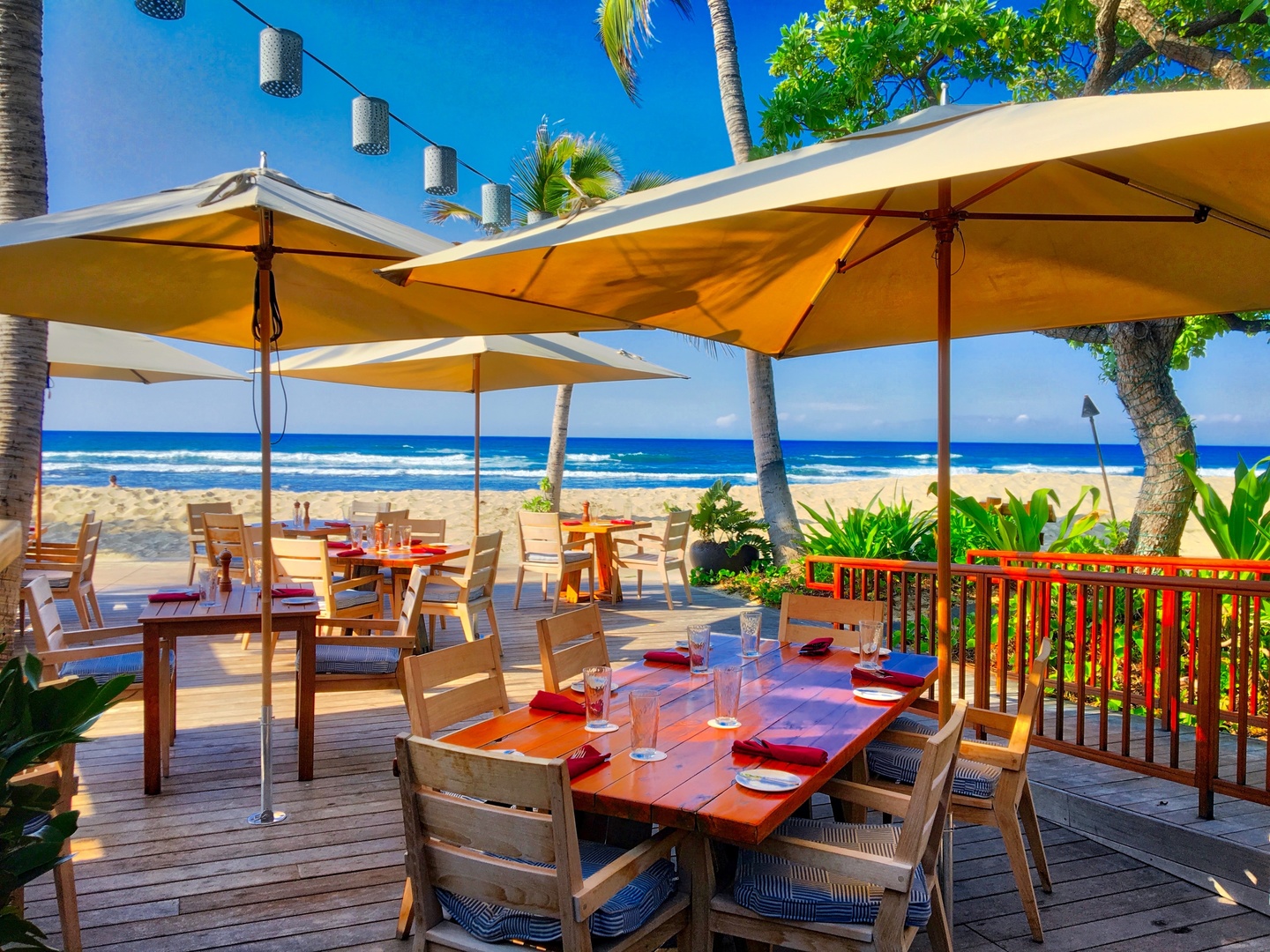 Top foods to try
Fava me Koukia -
Mashed up fava beans with a creamy 'soup-like' texture, served with garnish/vegetables. This is Santorini's iconic dish and a must-try when visiting the island.
Souvlaki / grilled meats -
Souvlaki is a Greek diet staple consisting of grilled skewers of marinated pork or chicken, served with potato/fries and salad. It's a filling, tasty and relatively inexpensive meal that you'll find almost anywhere.
Gyros -
Popular for lunch times and post night-out snacking, Gyros are calorific but satisfying wraps with a jam-packed content of fries, kebab meat, tzatziki sauce, tomato, and salad. They can be found at takeaways and grill shacks across the island.
Moussaka -
Another Greek staple commonly found in Santorini is Moussaka, now famous worldwide and a popular 'home-cooked' dish in which recipes are passed on for generations! It's a potato-based meal with layers of ground meat and eggplant - delicious! Although modern moussakas include ground beef as the filling, look out for ground lamb, which is the traditional variant of the dish.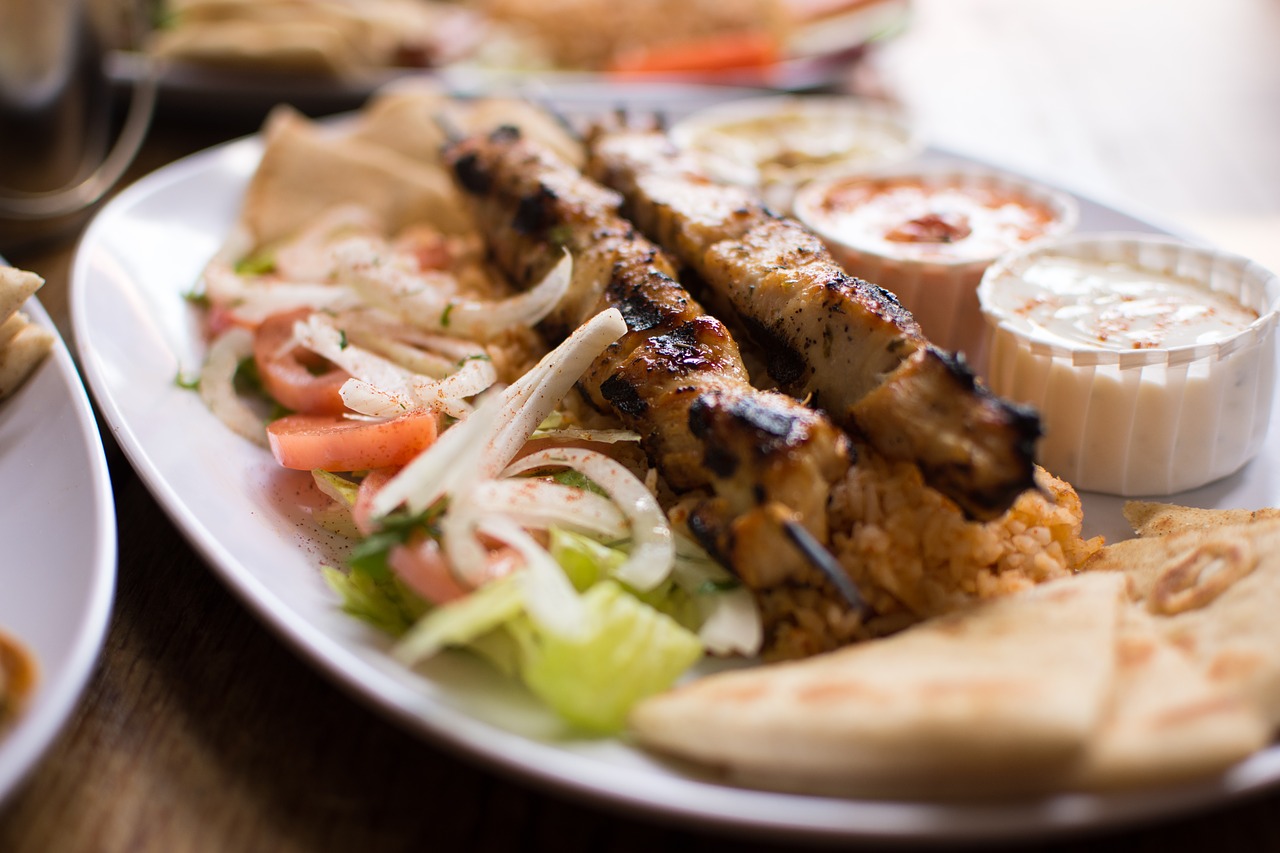 Recommended restaurants
Mid-range
Melitini (Oia) -
Melitini is a small Greek taverna in Oia, serving up Greek seafood, meat, and grilled vegetable tapas. Choose to dine indoors downstairs, or ascend to the rooftop for excellent views of the ocean and terraces below. The restaurant vibe is cozy, friendly and very authentic. You have the traditional Santorini taverna design with a modern rooftop (and umbrellas for shade). We went here for lunch and opted for a selection of different seafood and vegetable dishes.
Parea Taverna (Fira) -
Parea Taverna is traditional 'no frills' Greek dining at its best. The outside of the restaurant is bright white with blue detail and typical to many Tavernas on the west coast. Dine alongside both locals and tourist in a small but cozy environment as the chefs present beautifully made dishes with good portions. Wine and seafood is an excellent option here, although the entire menu is very well done.
Budget-friendly
Pitogyros Traditional Grill House (Fira)
-
This super cheap eatery has become somewhat famous on the island and it's a place you just must try when visiting or staying in Fira. Pitogyros serves up fresh Gyros at low prices, perfect for a lunch-on-the-go. You can also grab a table outside and take a break from sightseeing. We highly recommend the pesto variety - it's quite an unusual find but it tastes delicious.
Santorini BBQ (Kamari) -
If you're visiting the eastern beaches of Santorini (and you love meat!), stop by Santorini BBQ in Kamari. This cheap and friendly restaurant has meaty BBQ dishes to satisfy even the hungriest travelers. Portions are plentiful, the flavors are great, and they have a nice outdoor patio area where you can catch some shade during the day or dine under the stars on an evening.
Restaurante Pizza Edwin (Oia) -
Oia may present itself as an upmarket area with many luxury hotels and fancy restaurants, however, you can still visit this stunning location and dine on a budget. Located right next to the Treasures Art Gallery, Restaurante Pizza Edwin is an excellent choice for Mediterranean/Greek food at attractive prices. The pizza is excellent, as is the mountaintop location, where you'll enjoy fabulous views of the coastline.
Nightlife in Santorini
Being one of the most popular tourist islands in Greece, you'll find many bars and local taverna's throughout Santorini, frequented by both visitors and locals. Outside of Fira, the nightlife vibe on the island is on the quieter side, although you can find the odd lively bar in some of the larger tourist towns. Sip on a cocktail and watch the sunset in an upmarket Oia lounge or drink with the locals in one of the smaller villages. Nightlife consists of going for a nice evening meal and then enjoying a few drinks in a bar/taverna.
If you want a livelier nightlife, Fira town is the place to go. Erythrou Stavrou is the main street where you'll find eclectic bars and dance clubs, open until the early hours. The atmosphere here is excellent if you're looking to party, however, if you're just looking for low-key cocktails or a beer with a view, there are plenty of calmer venues. Being located to the eastern center of the island, you can catch a quick cab to Fira from most of the main resorts.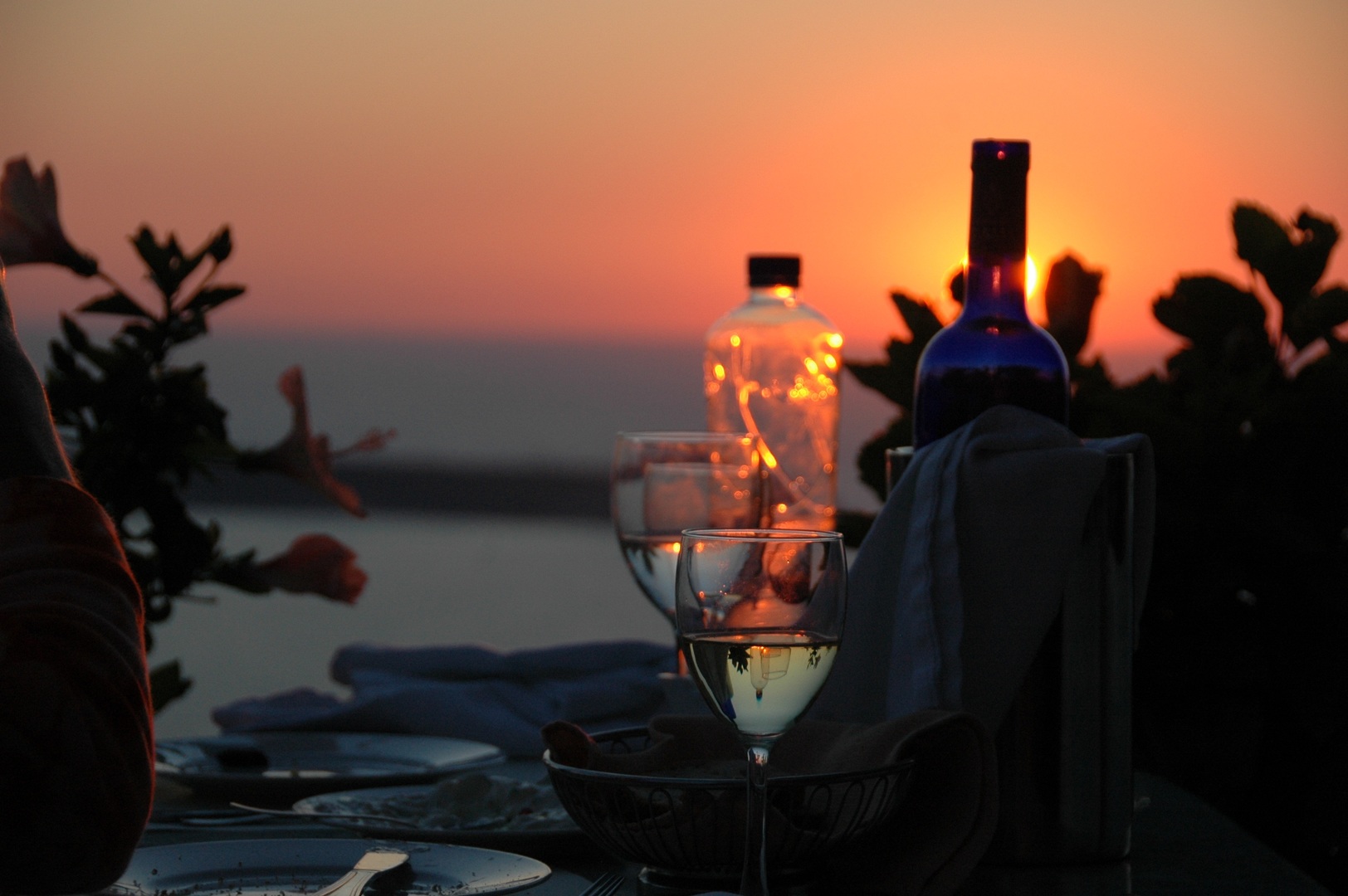 Here are some of our recommended bars and clubs in Fira:
PK Cocktail Bar -
Arguably the best place to sip cocktails and watch the sunset, PK Cocktail Bar is currently the number one rated bar in Santorini. The views alone are worth visiting for, but you'll also find friendly staff and a nice selection of drinks.
Enigma Club
and
Koo Club
are two of the main nightclubs in Santorini. Arrive late at night after checking out the other bars and dance the night away. As expected for a club, drinks are expensive but the menu is diverse. There's a small cover charge for each club.
Kira Thira Jazz Bar -
If you're looking for something low-key and chilled, Kira Thira is the place to go. This cozy little establishment is a refreshing break from the chart music in nearby bars and the drinks are excellent.
MoMix Bar Santorini -
A small but lively bar that prides itself on cocktails of all varieties. The staff is great fun and it's a great place to spend the night if you don't want to go to a club - it's open until 5 am.
Cool bars worth checking out elsewhere on the island:
Night Flight (Kamari) -
Night Flight is an upscale restaurant/cocktail bar with stylish decor. Enjoy a light lunch in the shade and return later that evening for hand-crafted cocktails. Night Flight is highly recommended if you're staying near the Kamari area.
Lioyerma Lounge Cafe Pool Bar (Oia)
- If you're in Oia to see the famous sunset, why not enjoy a drink and a dip in the swimming pool at the same time? Lioyerma's hillside location is ideal for capturing the orange glow of the skyline as the sun goes down.
The Beach (Akrotiri) -
A beautifully romantic setting for quiet drinks overlooking the beach, this bar is ideal for both daytime happy hour drinks or passing into the evening for cocktails over sunset. It's secluded and ideal for special occasions, such as a proposal.
Santorini money-saving tips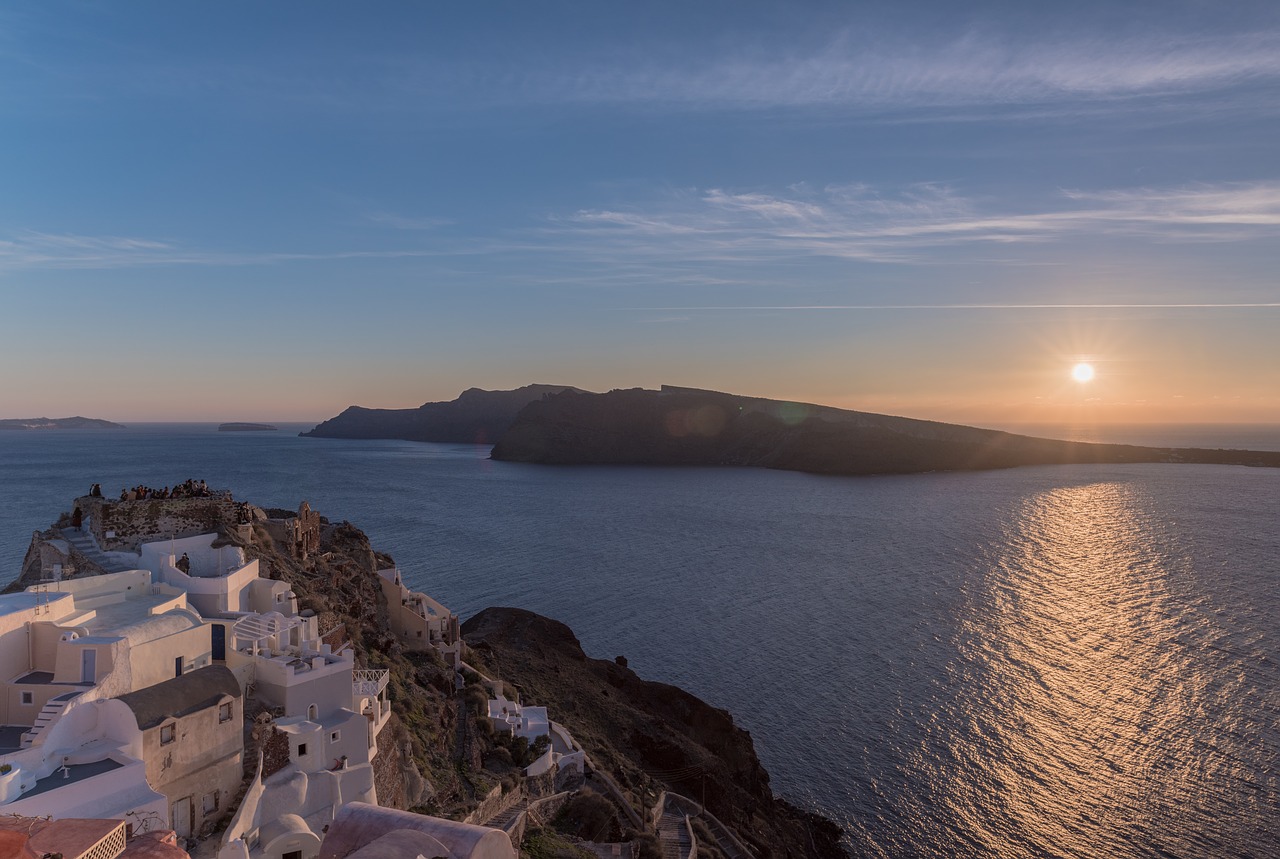 The local bus is a cheap (around 2 euros per journey) and effective way to travel between resorts and visit other parts of the island. Avoid taxis where you can.
There are plenty of things to do in Santorini without needing to buy anything other than your bus fare. Take the Fira to Oia hiking trail, visit local towns, beaches, and villages and tour the coastline to see the stunning views and scenery. The breath-taking terraces of Oia and surroundings are a must-see, and it won't cost you a penny.
Save money on accommodation by staying slightly outside of the main tourist centers; you can easily walk, drive or catch the bus to the town centers. Booking a private apartment rather than a hotel is another great way to save! Imerovigli is a particularly well-located area for visiting Fira and Oia, whilst keeping costs low.
Boat trips and tours of the volcano are common attractions to check out. Save money on these tours by booking a group tour with a large 'group tour' boat rather than the luxury catamaran and private tour options you'll see on offer.
Just like accommodation, the prices between restaurants can vary wildly. Research menus before arrival.
Look out for Happy Hour offers. You'll often find bars and restaurants offering 'Happy Hour' deals such as a snack and drink for 5 euros or less. This is available early to late afternoon and is commonplace across the island.
Flying to Santorini can be quite expensive, especially during peak times. Flying to neighboring Mykonos and catching a ferry/catamaran can be a much cheaper option, plus you get to see both islands!
Read about more things to do in Santorini
More information on Santorini:
Santorini Travel Costs