Rhodes On a Budget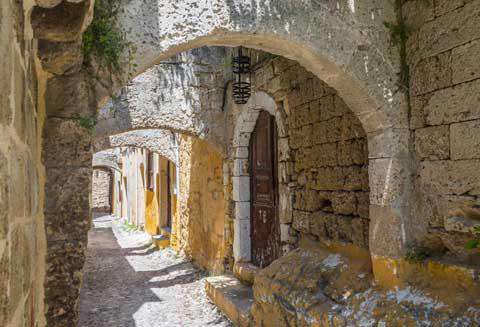 Rhodes Island is one of the largest and most visited islands in Greece both because of its diversity of sights and its wonderful climate. On the island are some beautiful beaches, well preserved historic sights, and lovely towns. Rhodes City is the capital city on the island of Rhodes and is famous as the former site of the Colossus. Colossus is one of the seven wonders of the ancient world and the oldest inhabited medieval town in Europe. Today Rhodes City has an interesting old town that is surrounded by the medieval wall. Inside you'll find countless souvenir shops and restaurants that cater to tourists. Cruise ships also frequent the island, so it's best visited during the off season when the crowds may be slightly less. You will also find that prices drop when the crowds are thinner and the cruise ships are scarce.
The weather in Rhodes is usually mild and sunny. It's a Mediterranean climate with warm summers and cooler, but mild winters. Spring and fall are excellent times to visit as this is when you can avoid some of the peak tourist crowds.
Sights
The most popular beaches on the island include Lindos, Kalithea, Faliraki, Ladiko Beach (Anthony Quinn Bay), and Gennadi Beach. Other fascinating sites around the island include Asklipio, Cape Prasonisi (the most southern tip of Rhodes), Castle of Kastellos, and Castle of Monolithos.
Another great side trip on the island of Rhodes is to head to the Castle of Monolithos. The best way to reach here is if you have access to your own car. Drive to the town of Gennadi and just north of the village, take via Vati across the island to Apollakia. There are some great views along the way. You want to make your way to Monolithos and behind the town you will find the castle, which is an impressive sight overlooking some wonderful views.
Neighborhoods
There are many settlements spread throughout the island of Rhodes. Afandou is a large village that is home to the golf course of Rhodes. Archangelos is the second largest town on the island, second only to the capital city of Rhodes City. Asklipio has a castle and old churches. If you're looking for a party then head to Faliraki. Gennadi is great for surfing and Ialysos is famous for windsurfing. Ixia is near the airport. Kalithea has some hotels and snorkeling opportunities. Laerma has a rich history and is near the largest monastery on the island. Lardos and Lindos have a quaint atmosphere and Pefkos is a tourist resort town.
Activities
There are many activities to enjoy around Rhodes. Water sports are particularly popular. Some of the most common include snorkeling, diving and surfing. Some people enjoy climbing Mt Attavyros. This hike is a difficult two or three hour climb to the island's highest point. You can access the trail by heading out of Embonas toward Siana. Drive up one of the agricultural roads to the left and park. You hike through the vineyards in the direction of the summit. The path isn't actually marked but as you reach the top there are rocks painted red that show the best route. It can be a difficult climb so prepare accordingly.
Food and Dining
Food on Rhodes can be quite expensive, but if you venture of the main roads and get a little out of the way you'll find some good quality food at a reasonable price. It's typical Greek food, and if you find a good restaurant, the ingredients should be quite fresh and delicious. Always add a salad to your meal as they are some of the best salads you will get.
Transportation
Rhodes Car Rental Prices
Compare prices across all major rental companies:
Greek Island Ferry Tickets
Public bus routes begin in Rhodes City and travel extensively throughout the island. There's a bus terminal at the New Market (Nea Agora) where you can find ticket booths, schedules and prices. You can also buy tickets on the bus. There are bus stops along the road, but you can usually flag down a bus from almost anywhere. Buses can become quite crowded, but they are a reliable way to get around the island.
Taxis are blue with white roofs. Prices are set and you can get a price list from the tourist information office. Sharing a taxi is also recommended and it is easy to do if you pick one up at the New Market.
Motorbikes and mopeds are a convenient way to get around the island. They're popular with the local youth because they can access areas that can't be reached with a car. You can easily rent one in town, but if you're heading out of town, make sure you have enough gas. Gas stations are rare in the countryside. Ask for a helmet when you rent the bike as some areas can be tricky to navigate or have more traffic.
Related:
Looking for a party in
Athens
or
Istanbul
?
Traveling alone to
Athens
or
Santorini
?
Find a
Contiki tour
to Europe.
Train and Bus Prices
The best prices for buses and trains in Greece
can be found on Omio
(formerly
GoEuro
). They let you search across all train, bus, and plane routes throughout Europe.