One of the best hostels that I have stayed so far. The staff is super friendly and happy to help you and the facility was amazing, especially the rooftop terrace. Although I stayed in a room of 12 it was very quiet and the curtains give you a lot of privacy. - Kim
What sets them apart?
This is a reliable hostel with a modern, minimalist style. The rooms are quiet at night but there are social activities where you can meet other travelers. The hostel's central location and welcoming environment make it a top pick for many travelers.
Who's staying here?
This hostel is great for backpackers, solo travelers, couples, and groups of friends. There are activities available and plenty of opportunities to meet other guests.
Insider Tip
Try to get a bed that doesn't have a face hole cut into the divider. If it can't be avoided, you can cover the hole with something to block the light.
2060 The Newton Hostel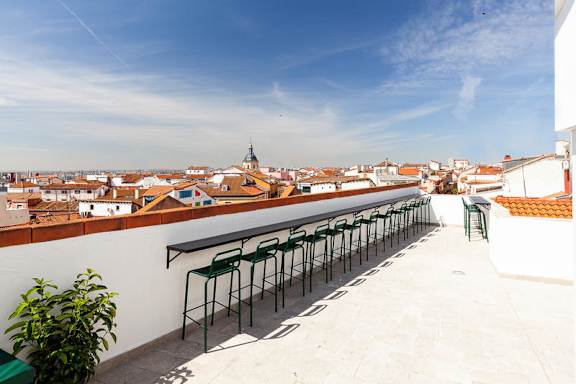 If you're looking for an affordable place to stay that's reliable and comfortable, then this is a good option. The staff is friendly, the location is central, and there are plenty of opportunities to meet other guests. The hostel also has a jacuzzi and sauna, which is a nice touch. The on-site bar is a nice area to hang out and there are pub crawls and tapas walks most days.
The Facilities
Dorms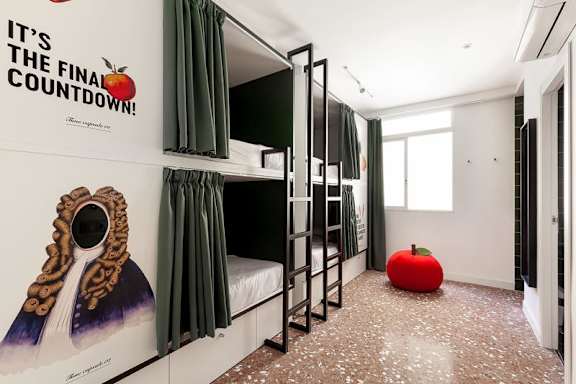 This hostel has four, eight, and twelve bed dorms and there are both co-ed and female only rooms to choose from. Some rooms have en-suites while others use shared bathrooms. The beds have privacy curtains and security lockers for guests. The rooms are decorated with a modern style with minimalist characteristics. Things are generally kept clean and the pod style bunks ensure guests have a lot of privacy.
Private Rooms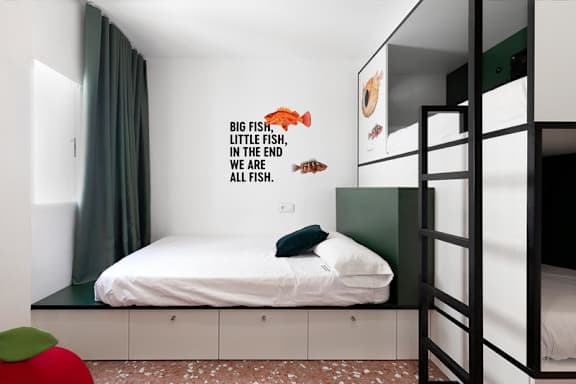 This hostel has a wide range of private rooms available. There are twin, double, three, and four bed rooms. All of the rooms have en-suite bathrooms and the types of beds can vary by rooms (doubles, bunks, etc).
Bathrooms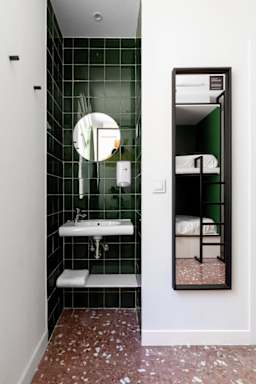 Some of the rooms in this hostel have en-suite bathrooms while others use shared bathrooms. The bathrooms are generally kept clean but they're a bit small and have a poor layout. They're still decent as far as hostels go, though.
Common Areas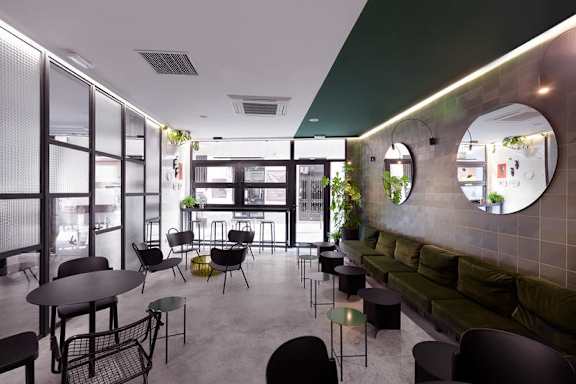 This hostel has a variety of places where guests can hang out. There is a rooftop bar, a dining area, a jacuzzi and sauna, and a television lounge. The indoor common areas are a bit small, but they're functional. There's also a shared kitchen which is also small but nice to have if you're planning to cook some meals.
Pool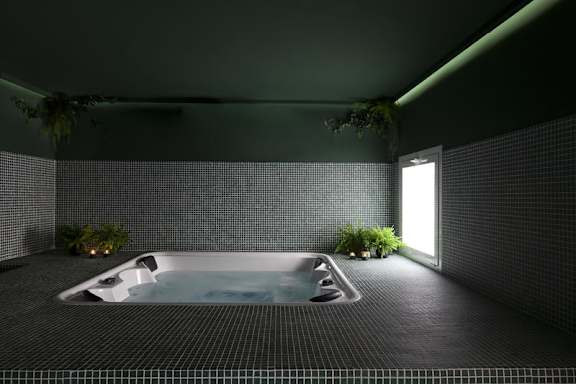 This hostel has a jacuzzi available to guests, that offers a nice place to relax and unwind after a busy day exploring the city. It's not always turned on, but you can request at the reception area that it be turned on, or ask about hours of operation.
The Location
Centro
Centro, or downtown Madrid, offers visitors a central location, lively plazas, plenty of shopping, and no shortage of entertainment. The area is filled with people, both local and foreign, who are exploring the neighborhood's great restaurants, hitting up some of the most popular shopping streets, or simply soaking up the atmosphere of street performers and a colorful atmosphere.
What's Nearby?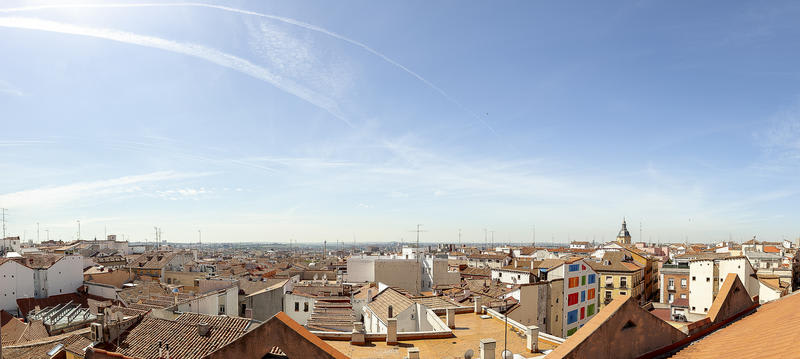 This hostel is centrally located in Madrid, but it is set back from the main streets and some people feel like the surrounding neighborhood feels a bit rough around the edges. The hostel is very close to many great sights and attractions though. It's walking distance to Puerta de Toledo, The Prado Museum, and Plaza Mayor. It's also about a thirteen minute walk from Mercado San Miguel. Other nearby sights include El Parque del Retiro, el Templo de Debod, el Palacio Real de Madrid, and el Museo del Ferrocaril de Madrid.
Nearby Transportation
The closest metro station is Tirso de Molina, which is on Line 1. The nearest airport is Adolfo Suarez Madrid-Barajas Airport, which is about 11 miles from the hostel.
Activities
This hostel works with a local tour agency to offer tapas and walking tours of the city. The tours are very popular, so you can expect a nice and social crowd. They are a fun and interesting way to learn more about the area, sample some local food, and meet some other travelers while you're in Madrid. In general, the tours are a good value for the money and highly recommended.
Amenities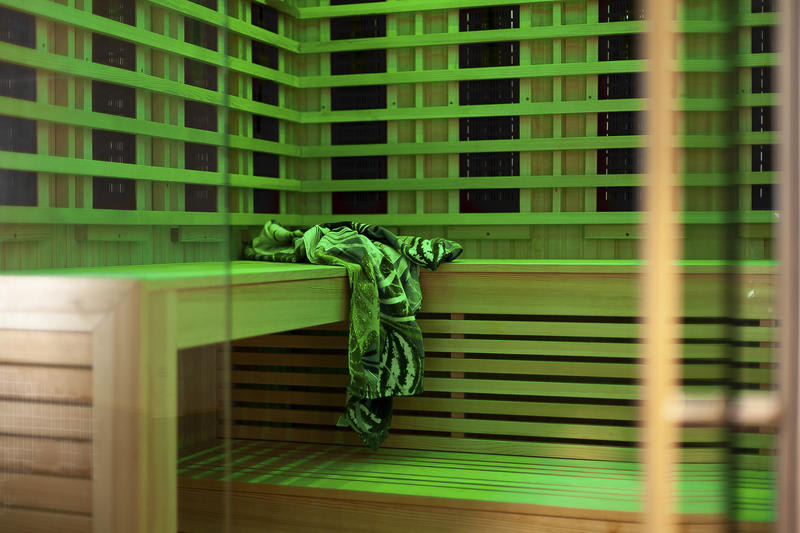 This hostel has many great amenities for travelers including wi-fi throughout, laundry facilities, and travel information. Luggage storage is available free of charge in a very secure locked room. There's also a shared kitchen that guests can use to prepare their meals. The hostel also has a jacuzzi and sauna that guests can use. Other fun amenities include board games, a book exchange, and movies. A breakfast of churros is available in the mornings for guests that want to eat before heading out to explore the city.
Staff
The staff here are professional and helpful. They organize a number of activities for guests. Many of the tours are outsourced to a tour agency. The agency does a great job, but they do often combine several hostels together so the groups can be quite large. Even so, you can expect a personalized and fun experience throughout your stay here.
Heads Up
This hostel is centrally located but set a bit back from the main drag, so the street can feel a bit rough.
2060 The Newton Hostel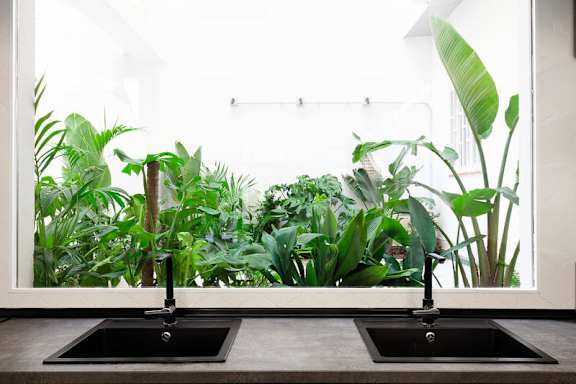 Do you have a favorite hostel that you would like to review? Let us know!