First time staying in a Generator and it did not disappoint. Hotel quality, everything clean, great modern facilities, comfy beds and amazing breakfast. The rooftop bar/terrace and jacuzzi area is amazing. - British Girl
What sets them apart?
Like other Generator Hostels around Europe, this hostel has top-of-the-line facilities that are clean, modern, and of hotel quality. The staff are helpful and friendly, and the central location can't be beat.
Hostel Personality
Who's staying here?
This is a large hostel with a great reputation, so it really attracts all types of travelers. It's large size means it can be a bit difficult for solo travelers to meet others, but there are plenty of activities and a great bar if you really want to make some new friends.
Insider Tip
As at the reception area if you the room temperature is too hot or cold. They can control the air conditioning from there.
Generator Madrid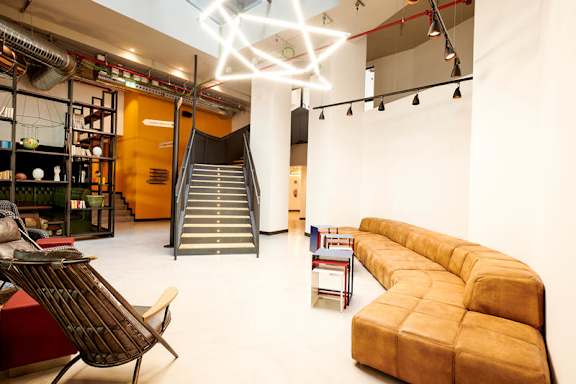 Generator Hostel Madrid is part of the Generator hostel chain, which is found throughout Europe. This is a very reputable chain and this hostel does not disappoint. The facilities are high quality, comparable to what you'd find at a hotel, and the staff are friendly and helpful. The hostel has a rooftop terrace with a bar and a jacuzzi. This area is a great place to relax after a busy day exploring the city. And seeing Madrid couldn't be easier as this hostel is conveniently located near many of the city's most popular tourist destinations.
The Facilities
Dorms
This hostel has 4 bed co-ed rooms as well as 8 bed co-ed or female-only rooms. The rooms are clean and quiet. Each bunk has a "privacy board" which is basically a short board that offers a barrier between where you put your head and the rest of the room. There are also electrical outlets (EU adaptor only), a decent sized storage locker, and a reading lamp. The female only rooms also have a hairdryer and a full length mirror. They're also slightly more expensive.
All of the rooms have en-suite bathrooms and air conditioning.
Private Rooms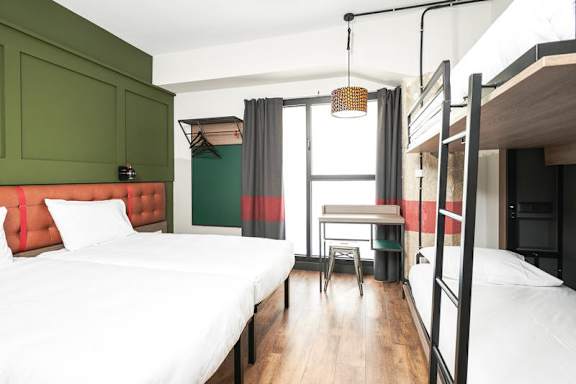 Generator Hostel also has several private rooms to choose from. There are twin rooms, family rooms, and private quad rooms. The twin rooms sleep two people in single beds. The family rooms have a bunk bed and two single beds, sleeping four people in total. This option is popular with small groups of friends or families traveling together. The private quad is a four bed dorm room that groups can reserve entirely for themselves.
All rooms have en-suite bathrooms and air conditioning.
Bathrooms
All of the rooms at this hostel have en-suite bathrooms that are clean, modern, and reliable. They can get a bit crowded during peak times in the eight bed dorms as there is only one bathroom shared between all of the guests. If you shower during the less popular times then this isn't a big annoyance.
Bar
The most popular place to hang out at this hostel is the rooftop bar. They have drinks, tables, and an awesome view of the city. This is the perfect place to unwind after exploring the city. There's also a jacuzzi on the rooftop where you can relax and unwind while you meet other guests.
Restaurant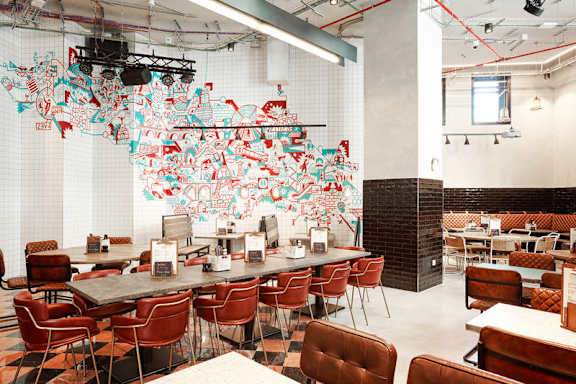 This hostel also has a restaurant that has good food if you're not in the mood to go out. The prices are a bit high compared to what you'll find around Madrid, but if you want something quick without much hassle, then this is a convenient option.
Common Areas
The bar is the most popular place where guests hang out. The rooftop is also where you'll find the jacuzzi. Other common areas include the restaurant and a small lounge which has a television and comfortable chairs where you can sit down with a good book.
The Location
Malasana
Malasana is a hip and trendy neighborhood that has plenty of bars, galleries, theaters, and music. This is a gathering place for young locals and travelers alike, particularly on the weekends when the nightlife is at its peak.
At the heart of the neighborhood is Plaza Dos de Mayo, which has bars, craft tents, and plenty of places to hang out outside. Shops in the area range from eclectic and artsy to hip and trendy. Malasana can feel a bit rough around the edges at times, but that's all part of its character.
What's Nearby?
Generator Madrid is located in a central part of the city near many of the most popular tourist attractions. It's right off of the lively Grand Via and at the intersection of Calle de Silva and Calle de San Bernardo. In the surrounding area there are plenty of galleries, bars, and restaurants. It's also just a couple minutes walk from the Royal Palace and about half a mile from Plaza Mayor.
The hostel is housed in a five story building that was originally built in 1930. There are many other historical buildings from this time period in the area and it's a fun neighborhood to walk around.
Nearby Transportation
This hostel's central location means you can walk to many interesting sights and restaurants. It's also conveniently located near the metro. The closest metro station is Santo Domingo, which is part of Line 2. Madrid - Barajas airport is 14 mi away.
Activities
The pub crawls at this hostel are fun and offer the best way to meet other guests. They're always popular as the hostel is large and there are always people looking to head out on the town.
Amenities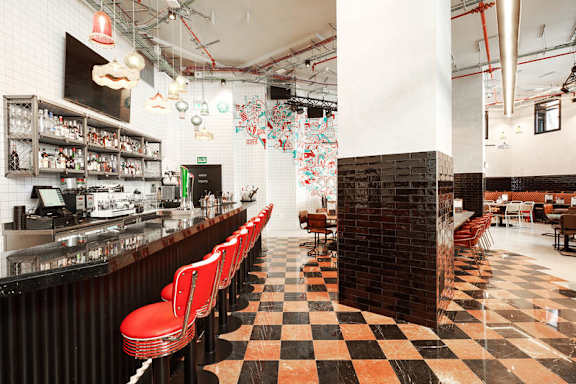 This is a large hostel with all of the standard amenities. The facilities are hotel quality and the amenities are impressive as well. Do take note that there is no kitchen available to guests but there is a restaurant and bar. Also note that outside food and drinks are not allowed in the hostel.
Staff
The staff here are the perfect combination of professional and fun. They are available to address any concerns you might have so don't hesitate to ask. They organize a handful of a events so guests can hang out and get to know each other, but if you're looking for a more chill experience, there's really no pressure to participate in anything. The staff do a great job balancing the work of running a large hostel with keeping things personal and fun.
Heads Up
This hostel offers excellent facilities and service, but it does come at a price. The rooms are a bit more expensive than other hostels in the area and you'll find that there are a lot of additional fees that can add up, so plan accordingly.
Generator Madrid
Do you have a favorite hostel that you would like to review? Let us know!