Penang On a Budget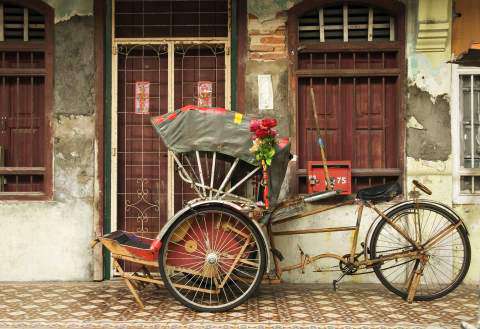 Just off the northwestern coast of Malaysia is the charming and diverse island state of Penang. As the link between the ancient kingdoms of Asia and Europe's colonial empire, this area is enriched with Malay, Chinese, Indian and European influences. This exciting culture is centered in George Town, the main city of the state.
Full of tropical beauty, fishing villages and mountainous jungles, Penang is a paradise for travelers from all over the world – even with a warm and humid climate.
Sights
For a good overview of the island, take a funicular ride to the top of Penang Hill for a stunning view and a breath of fresh air. It only takes five minutes to reach the top of this 2,750-foot hill, and it's completely worth it.
Because of the city's historical past, there are some wonderful colonial buildings around town. Some of the more popular include Cheong Fatt Tze Mansion, Municipal Council of Pulau Pinang Hall, Fort Cornwallis, and Leong San Tong Khoo Kongsi. If you're interested in doing some shopping, there are some great neighborhoods around town to explore. Definitely be sure and check out Little India and the Little Penang Street Market. There are some great shopping malls around town as well such as the Bukit Jambul Complex, Gurney Plaza, and One-Stop Midlands Park.
To learn a little more about this island's multi-cultural history, visit the Penang State Museum. Located in a former school from the 1800s, this museum gives a great overview and background of Penang's history, architecture and diverse population.
If you're looking for a more lively way to immerse yourself in the local culture, spend some time at the China House. The stunning refurbished area of the warehouse district is 10,000 square feet of food, drinks, shopping and, on weekends, there is live local music. It's worth a stroll even just to see the gorgeous, weathered design including exposed beams and cement floors.
And of course, for those interested in simply seeing a beautiful beach, there's the Taman Negara Pulau Pinang. This 3,100-acre stretch of jungle beach is a unique spot to unwind and get away.
Neighborhoods
The state of Penang is divided into two sections. There is the turtle-shaped Penang Island located in the Straits of Malacca. Then, there is the rectangle shaped district on the mainland known as Sebarang Perai.
George Town is at the northeastern corner of the island, and home to the ferry docks. From the docks, most places in George Town are within walking distance, including Little India. Most of the eastern coastline of the island is developed, although the better beaches are on the western, northern, and southern side.
The airport is at the southeastern corner of the island.
The northwestern area of the island is home to Taman Negara Pulau Pinang, a protected park region with much less development.
Activities
For those seeking a bit more of an outdoorsy adventure, there is plenty to be found in Penang National Park. With trails winding through jungle territory, you can wander through the natural beauties of Malaysia. Camping is also an option, with the right permits.
There are also biking trails, if cycling is more your style. Most begin at the visitor's center in Balik Pulau and cover areas of the island far from George Town. These guided tours offer a vastly different experience than the one you'll find in the metropolitan city.
Don't forget about the underwater adventures. Arrange to spend a day snorkeling at the Pulau Payar Marine Park and get friendly with Malaysia's fish. Arranged tours are available and recommended.
Food and Dining
Penang is the kind of place where when you ask the locals for the best place to eat, they'll tell you the best place to eat. While in many other regions of the world you'd have to worry they're just trying to scam a tourist, the Malaysians genuinely know the best foodie spots and are willing to share them, no matter where they are.
In George Town, visit Little India for some great hole-in-the-wall Indian restaurants.
While visiting you have to be sure to try the iconic asam laksa. This is sweet, sour, and spicy fish-based noodle soup is served with mint and cucumber and is certainly not to be missed.
Transportation
The main city of George Town is completely walkable so long as you wear light clothes and don't forget your sunblock. While the city is pretty walker friendly, be sure to look both ways when crossing the street, as traffic can get a little hectic.
The local city buses are a great option, too. The vehicles have recently been updated to the latest RapidPenang buses, and the new signage is clear and completely understandable for tourists. Keep in mind, the drivers don't carry change, so when boarding you must have exact fare.
Car rentals are also a possibility. If this is the route you choose, remember there are plenty of one-way streets and narrow roads in Penang. Drive at your own risk.
If you should take a taxi, be prepared to negotiate, as many drivers are reluctant to use meters. Agree on a price before getting in the car.
Another, more unique option for getting around Penang is the trishaw. This three-wheeled, human-powered cart is best for a pleasant tour of the city. Many drivers are very knowledgeable and make fantastic tour guides. Negotiate the fare upfront and be ready to haggle.
Related:
Looking for a
hostel in Malaysia
or
Indonesia
?
Traveling alone to
Kuala Lumpur
or
Penang
?
Looking for a
party in Singapore
or
Bali
?