Kota Kinabalu On a Budget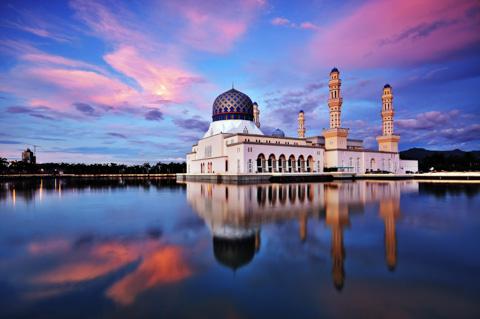 Kota Kinabalu, originally Jesselton, is the capital of Sabah, which is on the northern part of the island of Borneo. Kota Kinabalu is located just between the western side of the island and Tambunan Rafflesia Forest Reserve. Most of Kota Kinabalu's historic buildings were destroyed by bombing during World War II, so the city had to be rebuilt.
KK
, as it's commonly called, is a compact, but booming town today, with its new shopping centers, seaside condominiums, and bustling marketplaces.
While KK isn't a destination on many travelers' lists, it's an excellent takeoff point to go onward to other adventures, like climbing Mount Kinabalu, or to collect yourself after such treks. Many who have visited KK know the locals to be extremely friendly and helpful.
While climate is generally steady throughout the year with temperatures hovering between the lows of mid 70s to highs in the low 90s, rainfall varies. The driest time of the year is from January to March. While the rest of Sabah gets more rain between October and November, KK gets drier, making for another good time to visit, especially if you want to avoid the heat and humidity of the summer months.
However, if you don't mind the heat, you may want to schedule your travels to KK during May, when Sabah Fest takes place. This is the biggest cultural celebration of the year, during which you'll experience spectacular productions of music, dance, theater, and other art.
Those seeking retail therapy (even on a budget), may find visiting between June and September especially beneficial. During this time, the annual Malaysia Mega Sales Carnival offers the biggest shopping discounts of the year.
Sights
Within the city, only three historical buildings remain after the WWII bombings: the General Post Office, the Land and Survey Building, and the Atkinson Clock in the city center.
You can see the ornate golden dome of the Sabah State Mosque from many parts of the city, but you'll undoubtedly want to visit this one up close, as it's one of the country's largest mosques. Non-Muslims are welcome to visit, but be sure to dress appropriately, take off your shoes, and avoid visiting on Fridays.
Check out the Filipino Market, named because it's predominantly run by Filipino immigrants. It's open everyday from 7 a.m. to 7 p.m. and sells handicrafts, like baskets, bags,and souvenirs, as well as traditional medicines and cultured pearls (but beware of fake pearls!).
If you're hungry, head over to the Central Market, located just further north for grilled chicken and murtabak, a spicy, stuffed pancake.
Activities
KK has plenty of natural scenery and activities for adventurers, including trekking, island-hopping, and water sports.
Just two miles west of KK is Tunku Abdul Rahman National Park, established in 1974 to protect the coral reefs of its five islands. Take a boat to island-hop among Pulau Gaya, Pulau Sapi, Pulau Manukan, Pulau Mamutik, and Pulau Sulug. Here, you can kayak, parasail, snorkel, and explore the waters for lionfish, batfish, and clownfish. Camping is allowed on all islands except Pulau Manukan and Pulau Sulug.
If you're seeking an adrenaline rush, head over to the Coral Flyer, the world's longest zipline which connects Pulau Sapi to Pulau Gaya. Caution: this zipline isn't for the faint-hearted, as you may reach speeds of 37 mph.
Divers may want to visit Pulau Sipadan, one of the top 10 diving spots in the world. KK is about 173 miles away, so you can take a 8-10 hour bus ride or an hour-long flight to reach Tawau before heading to the port town of Semporna (about 1.5 hours away), and then taking a boat (50-60 minutes) to the island.
Meanwhile Trekkers can begin their ascent to the summit of Mt. Kinabalu, which clocks in at 13,435 feet. Not a trekker? For a less-strenuous experience, explore the lowland forests, meadows, and botanical gardens at the base of the mountain in Kinabalu Park. Afterward, head over the Poring Hot Springs to rejuvenate in your own or shared mud bath.
About 37 miles east of KK is the Tambunan Rafflesia Forest Reserve, in the Crocker Mountain Range. This reserve was set up specifically to protect the Rafflesia, the largest flower in the world. Rafflesias are especially interesting because of the putrid scent of rotting flesh they release in order to lure in carrion flies, which pollinate them. These flowers only bloom once in nine months and even then, for only a few days before wilting, so call the information center in advance to find out blooming schedules.
Food and Dining
Because the population of KK is so diverse with Chinese, Filipinos, Indians, Indonesians, Kadazan-Dusun, and Brunei-Malays, among other ethnic groups, the food is likewise varied and you will have no problem satisfying your palate in this city.
You'll easily find a variety of great food and accommodations around historical Jalan Gaya, the main tourist area of KK. Along the seafront are the more expensive 4-5 star resorts, while cheaper accommodations remain around Jalan Gaya and Australia Place.
You can't leave KK without at least tasting some of the fresh seafood at KK's night market. A plethora of stalls are available along the waterfront for your very own food crawl, from grilled stingray to seafood claypots to deep fried fish. Local specialties include Kon Lau mee, which translates to dry sauce noodles, served with barbecued pork and mustard greens and Sang Nyuk Mian, which are pork noodles served in a clear broth.
Food courts are also available inside shopping malls, which are perfect if you're on a budget. On the third floor of the Suria Sabah Shopping mall is the Suria Food Court, where self-service is the norm.
Transportation
To get into KK, hop a flight into Kota Kinabalu International Airport, just four miles from the city center. Airlines serve all major cities within the country and international flights to and from
China
,
Indonesia
, the
Philippines
,
Australia
,
Hong Kong
,
Taiwan
,
Singapore
, and
Korea
.
From the airport, you can take an airport bus into town, which leave at about every hour. Minibuses are another means to get to the center for a low-cost. While you may opt to take a taxi, but beware that fares may increase 50% between midnight and 6 a.m.
If you are arriving by bus, the North Bus Terminal is the only one current in use and it's located about 6 miles from the center. Again, fares may increase by as much as double if you take the bus at night.
To get to KK by sea, take the three-hour long ferry ride from Labuan daily at 8:30 a.m. or 1 p.m. and arrive at the Jesselton Point Ferry Terminal.
You can also opt to take a comfortable, air-conditioned train ride on the Sabah State Railway, which stops in KK, Putatan, Kinarut, Kawang, Papar, Kimanis, Bongawan, Membakut, Beaufort, Saliwangan, Halogilat, Rayoh, Pangi and Tenom.
KK is walkable because it's so compact and you'll easily find everything you need on foot. However if you need a ride or are going a longer distance, Uber and Grab (Malaysia's version of Uber) are both available and may be more comfortable for foreigners.
Related:
Looking for a
hostel in Malaysia
or
Indonesia
?
Traveling alone to
Kuala Lumpur
or
Penang
?
Looking for a
party in Singapore
or
Bali
?