Malaysia On a Budget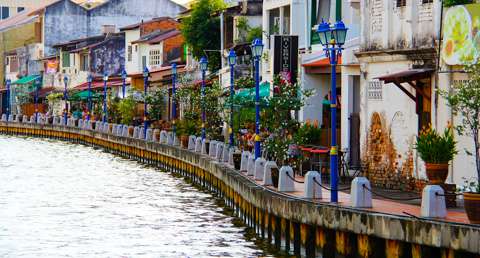 Modern Malaysia has exquisite beaches, bustling cities, diverse food options, and friendly people. The population is about 60% Malay people, with the rest consisting of Chinese, Indian, and other ethnic groups. The traditions, culture, festivals, and religions of the nation are equally diverse. The country has a strong technology industry and is one of the richest countries in Southeast Asia. Public transportation in this country is wonderful, from local subways and bus systems, to intercity bus transit, it is very easy to get around. English is also a commonly spoken language here. It is a very welcoming environmental and locals are eager to show you around their country. Whether you're a first time traveler to Asia, or if you've visited many of the area's culturally unique countries, Malaysia is sure to surprise and impress. It has a well established travel and tourist infrastructure, and it is still an incredibly affordable destination, even by Southeast Asian standards. It appeals to all travel types, from backpackers to luxury vacationers, there really is something for everybody.
Although travel costs in general are quite low in Malaysia, there are some good tricks you can use to save money. Most taxis don't have meters so make sure you negotiate a price in advance. The food is delicious, and there are plenty of street stalls that offer cheap and authentic meal options. If you're looking to improve your negotiating skills, head to a local market where you can pick up anything from food for a meal to souvenirs to take home. You can often get some excellent deals in the markets. Also consider eliminating alcohol. Although drinks flow freely in most of Southeast Asia, Malaysia is a Muslim country. You can definitely find alcohol, but consider passing as it is disrespectful to the local culture, and skipping the drinks will dramatically cut down on your travel expenses.
Malaysia is a diverse country with many things to offer travelers. Whether you're visiting for the beaches, the culture, or the nightlife, you're likely to find so much more than you expected in this fascinating country. It's perhaps the easiest country to navigate in Southeast Asia, and makes for a wonderful introduction to the region for those that have never experienced it.
At A Glance
There are many discount airlines that fly into and out of Malaysia and throughout all of the Southeast Asia. In particular, if you're booking a flight, look into Air Asia, Air Asia X, and Malaysia Airlines, all of which are well known to have frequent flights with good deals.


The cheapest way to get around this country is by bus. Almost every town, whatever the size, will have a bus terminal. The bus schedule is usually posted. Generally, the buses are a high quality and are quite reliable, particularly when compared to elsewhere in Southeast Asia.


Although the official language of the country is Malay, which is somewhat similar to Indonesian, English is compulsory in all schools so most residents have at least a basic understanding of the language.


Off the east coast of peninsular Malaysia you will find some of the most popular diving spots in the country. The diving season is limited in this area to the months between April and September, so if you are planning to do any diving you must take this into account.


Drug offenses are taken very seriously in this country. It is best not to find yourself in a situation where you must defend your actions. If traces of illicit drugs are found in your system, even if they were taken in another country, you will be charged.
Related:
Looking for a
hostel in Malaysia
or
Indonesia
?
Traveling alone to
Kuala Lumpur
or
Penang
?
Looking for a
party in Singapore
or
Bali
?
Top Tourist Attractions
Cameron Highlands:
A beautiful and temperate part of Malaysia, the Cameron Highlands are the agricultural heart of the country. The countryside is lined with beautiful tea plantations that are worth a visit. Particularly during the hottest times of the year, this area is a great place to escape the tropical heat. Also don't miss out on the opportunity to "pluck your own" fruit.
George Town:
A colonial city on the island of Penang, George Town, is known for it's wonderful cuisine. In particular, head to the Little India area where you'll find authentic and delicious Indian restaurants. The owners will eagerly offer you the most delicious dishes and you'll pay a fraction of what you might pay at home. Street vendors also sell some of the most delicious local specialties that are all worth a try.
Taman Negara:
This is a national park that is a great place to experience the rainforest on mainland Malaysia. There are some good camping options, but many people choose to stay in hostels in town and explore the hiking trails during the day. The town also offers a good number of restaurants that are lined up along the river. The weather can be variable but it's a beautiful place where you might have some luck spotting some local wildlife.
Popular Foods
Malaysian food is heavily influenced by both the Chinese and Indian cultures. In addition to Malay cooking, you'll find plenty of Indian or Chinese restaurants in even the smallest towns. George Town, on the island of Penang, is an excellent place to visit if you're looking for some of the country's best food. The diversity of options available around the country highlight the area's rich ethnic diversity.
Nasi lemak:
Nasi lemak is a Malay breakfast dish that is made from rice, coconut cream and milk. It's often served wrapped in a banana leaf. It is found almost everywhere and many claim it to be the national dish of the country.
Rendang:
Rendang is a dry curried dish that is made with meat that is stewed until all of the spices are absorbed. It is typically served during celebratory festivals, particularly those with strong ties to Indonesia.
Satay:
Satay are spiced and seasoned meat skewers that are typically made with either chicken or beef. They are grilled and then served with a peanut dipping sauce. You can often find them at street stalls and they make a great, cheap late night snack option.