Melaka On a Budget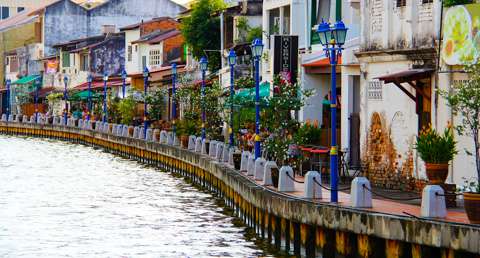 Melaka (or Malacca) is a large city on the western coast of Malaysia about half way between
Singapore
and Kuala Lumpur. This historical city grew up as a result of trading in the region due to its position on the namesake Straights of Malacca, a natural waterway formed from the peninsula of Malaysia and the Indonesian island of Sumatra. The city is a UNESCO World Heritage Site.
Sights
With a wealth of history, plenty of sights and attractions can be found around town.
The Portugese conquered the area in the early 1500's, and multiple significant architectural and historical structures can be found in the city dating back to this colonial time. The A Formosa fort is one, and various churches such as Christ Church and St. Paul's are also popular tourist attractions.
A large Chinese population also settled in the area, and their influence can be found not just in the Chinatown area of the city, but also in much of the cuisine, festivals, and other cultural locations.
Transportation
It's quite easy to get to Malacca from Kuala Lumpur by direct train or bus. The bus is often cheaper.
From Singapore, it's cheaper and easier to cross the border into Malaysia first at Johor Bahru. Then, from JB, take the train or bus to Malacca from the main stations.
The Malacca airport, although modern, is rather small and only serves flights within the Southeast Asia region to KL and some spots in Indonesia and other nearby countries. International visitors will need to fly into KL or Singapore first and then connect or take land-based transportation.
Day trips from KL or Singapore to Malacca are offered by various tour companies if you don't want to stay the night, although you really should in order to see everything.