Provincie Friesland On a Budget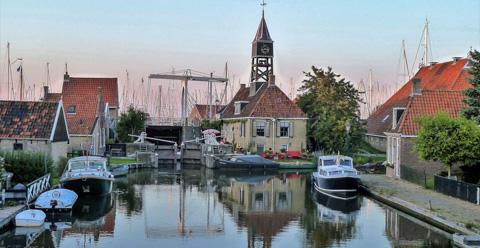 Friesland is the northwestern province in the Netherlands with a population of 646,000. Frisian and Dutch are the two languages spoken in this province. Including all of the water in the province, it is the largest in the Netherlands. Friesland is visited by many people who have an interest in water sports, as there are many canals, lakes, rivers, and sea throughout the province. In fact, most towns are connected by water as well as by road. UNESCO deems the Wadden Sea a World Heritage Site for its stunning nature.
Sights
The mummies of the Hervormde Church are located in the town of Wieuwerd. They were discovered in a crypt in 1765 and the bodies were barely deteriorated when they were found, most likely due to the atmosphere in the crypt. Originally there were 11, but today 4 remain. The mummies are believed to be from a protestant religious movement during the 17th century.
The oldest working planetarium in the world is located in Friesland in a town called Franeker. It is called the Eise Eisinga Planetarium and is open to the public as a museum.
The Afsluitdijk is a dike that connects Friesland to North Holland. It was built in the late 1920's and its purpose was to act as a dam to transform the Southern Sea into a freshwater lake (Ijsselmeer). Today it protects from flooding and is a large motorway with cycling and walking paths where you can enjoy views of the Wadden Sea on one side and the Ijsselmeer on the other.
Regions
Leeuwarden is one of the larger cities in Friesland. This city has interesting landmarks and buildings throughout the city. Harlingen is another city in Friesland. You can catch a ferry here to take you to the Frisian Islands, which are beautiful places to visit in the summer, full of Dutch heritage. On these islands, it is common to rent bikes and ride around the island, view all the ships that are docked in the harbor, and eat deliciously fresh seafood! In Harlingen, you can rent a room inside of a lighthouse if you decide to stay the night. Bolsward is known for its brewery that brews not only beers but single malt whiskey as well. This town was built on man-made mounds, and there is a church atop one of these mounds, which was constructed sometime before Christ. Sneek is a town famous for water sports; specifically for the sailing competition they hold every year. Herenveen is a town in Friesland that is famous for its sporting accomplishments and accommodations. The Abe Lenstra football stadium (soccer for those of you that are confused) is located here and the Dutch football team, SC Herenveen plays here.
Activities
Water sporting events are held in Friesland every summer. Sneekweek is one of these events; it is a sailing competition but also has music, fireworks, parades, and even a carnival. Fierljeppen is another Frisian tradition, which is a sporting event where people pole vault across bodies of water.
During certain times, you can walk to the Frisian Islands. It is called mud hiking and during low tide, many people walk from the main land to an island off shore. Be sure to inquire about this hike before doing it, and it is best that a guide accompanies you.
Food and Dining
Friesland has a couple of traditional food items that you will want to try while visiting. The first is called Fryske dúmkes, which is a hazelnut cookie. Buttercake (Drabbelkoeken) is another Frisian favorite. Last is Sûkerbôle, which is sweet bread with cinnamon and sugar.
Friesland also has it's own unique array of drinks as well. The first is Beerenburg and is an herbal liqueur. This is known as the national drink of Friesland. Frysk Hynder is a type of whiskey that is distilled in the town of Bolsward. There are also many Frisian beers; Ús Heit is the brewery where they are brewed, and it is located in Bolsward.
Transportation
To get to Friesland by train, you will want to head towards Harlingen, Leeuwarden, Sneek, or Heerenveen. It depends on where exactly in Friesland you wish to visit. Once in Friesland, buses can connect you between towns. You can also take a bus over the Afsluitdijk to connect you between North Holland and Friesland and witness the beautiful views of the Wadden Sea and the IJslemeer. Of course you can get around Friesland by boat as well; all the towns can be accessed by water.
Related:
Looking for a party? Find a
hostel in Amsterdam
,
London
, or
Paris
.
Traveling alone to
Brussels
?
Train and Bus Prices
The best prices for buses and trains in Netherlands
can be found on Omio
(formerly
GoEuro
). They let you search across all train, bus, and plane routes throughout the region.