Rotterdam On a Budget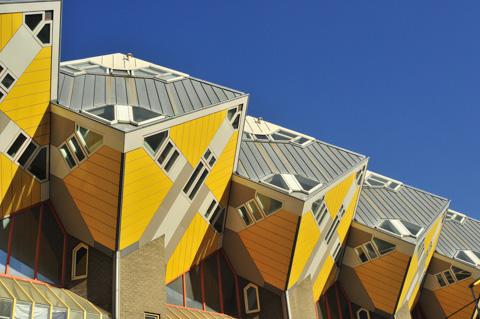 Rotterdam is the second largest city in the Netherlands and has the largest port in Europe. It's famously known as a city of architecture. In a few square kilometers of the city center you can get a complete overview of twentieth century architecture within Rotterdam.
Rotterdam is a very diverse, international, and hard working city. Nearly half of the city's population is not native to the Netherlands or have at least one parent from outside the country. Muslim's make up a significant portion of the population. Other area's represented include Cape Verde and the Dutch Antilles.
There's an air of optimism that permeates the entire city. There are frequent events, festivals and performances, making Rotterdam an enjoyable place to spend some time. Water is also an integral part of the city design.
Sights
Museums in Rotterdam are quite impressive and many are worth a visit. Be sure and check out the Museum Boijmans Van Beuningen, Kunsthal, Nederlands Fotomuseum, and the Maritime Museum. Also make sure you visit the Windmills De Ster and De Lelie, a fun sight for visitors of all ages. These are the only windmills open to visitors on a regular basis. In all, there are only seven windmills left in the city. The others are open to the public when the windmill is turning or there is a blue flag flying.
Other impressive buildings in the city are the City Hall, Grote of Sint Laurenskerk, and Pilgrimfathers' church.
The Rotterdam Zoo was opened in 1857 and is a popular place to visit. It's only a 20 minute walk from the Central Train Station. It is divided into sections that represent different parts of the world and you can see many interesting animals in their natural habitat.
Neighborhoods
The city center of Rotterdam has the most impressive architecture and many different sights and attractions. Kralingen is about fifteen minutes away from the center and has a young and international vibe. Kop van Zuid is a popular area for young expats. It's a trendy area with a fun atmosphere. Hillegersberg is a suburb to the northeast of the city. It still has an old village vibe and is well connected by buses and trams.
Activities
There are many interesting activities you can do around Rotterdam. An interesting option is to try skydiving with Skydive Rotterdam. You can try a tandem skydive or take an entire course.
There's a beach about half an hour outside of town at Hook of Holland. It can be accessed by train and its a good option if you're interested in swimming or relaxing. The atmosphere at Scheveningen is more like a beach party. There you will find many beachside bars, restaurants and clubs. It can be very crowded though, particularly during the peak season. You can reach Scheveningen by taking a train to Den Haag HS station and then catching tram 1. Alternatively, you can take the train to Den Haag Centraal and take tram 9.
Popular events and festivals around town include the International Film Festival, Art Rotterdam, the World Tennis Tournament, Poetry International and World Port Days.
Food and Dining
The restaurant scene in Rotterdam continues to grow and thrive. You'll find new restaurants opening regularly to meet the needs of the locals and tourists alike. The area around metrostation Blaak known as Oude Haven or Old Harbour is a great place to find a good pub or restaurant, although there is little else to see there. Many restaurants in the area are mid range or high end, but the food is quite good and is often Dutch or French in style.
There are pubs around town and many are surprisingly diverse. Consider what style you're looking for and then select a neighborhood and you're likely to find a bar that you'll enjoy. Nightlife is generally vibrant and many bars are open late into the night.
Transportation
Like elsewhere in the Netherlands, Rotterdam is easy to navigate on bike and you will find many of the locals traveling around on bicycle. Even so, there is an excellent public transportation system that integrates a metro, bus, and tram system to ensure that it is efficient and comprehensive.
The metro has five lines and trains are generally frequent and efficient. There are ten tram lines and all of them, with the exception of line 2, stop at Rotterdam Centraal. You'll find a map of the system at each of the tram stops. Trams run every ten minutes, more often during rush hour. There are several different bus companies around town. They share some bus stops but each has its own route number. RET is the largest operator.
Related:
Looking for a party? Find a
hostel in Amsterdam
,
London
, or
Paris
.
Traveling alone to
Brussels
?
Train and Bus Prices
The best prices for buses and trains in Netherlands
can be found on Omio
(formerly
GoEuro
). They let you search across all train, bus, and plane routes throughout the region.